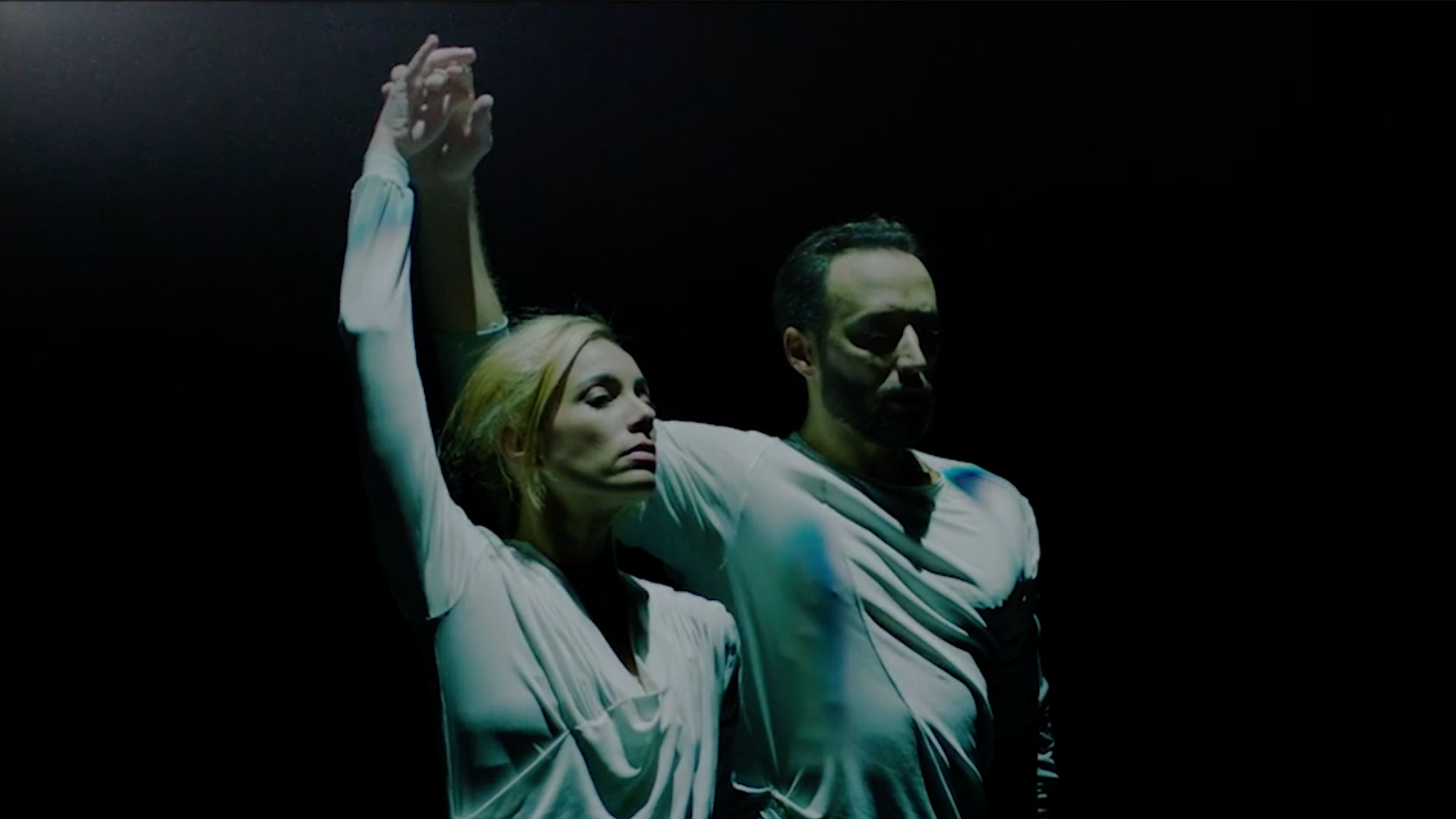 From the archive:
Reunion
Reunion
Our return to the stage
English National Ballet returns to live performances with five works by renowned choreographers and rising talents.
Created and released as films during our critically acclaimed Digital Season in late 2020, these original pieces are performed live on stage for the first time.
Sidi Larbi Cherkaoui reimagines Laid in Earth as a "torn apart" quartet. It is set to Purcell's famous aria from Dido and Aeneas – sung live by mezzo soprano Catherine Backhouse, as well as new electronic music composed by Olga Wojciechowska.
In Echoes, Russell Maliphant creates ever shifting choreography and uses light as an integral partner in the creative process. Collaborating with video artist Panagiotis Tomaras and with commissioned sound design by Dana Fouras, the result is mesmerising.
A former principal dancer with the Bolshoi Ballet, Royal Danish Ballet and San Francisco Ballet, world-renowned choreographer Yuri Possokhov works with a UK company for the first time. His piece for four dancers, Senseless Kindness, is based on Vasily Grossman's great novel, Life and Fate, about a Russian family caught in the Second World War, and set to Shostakovich's Piano Trio No1.
In creating Take Five Blues, ENB Associate Choreographer Stina Quagebeur was inspired by Nigel Kennedy's take on Bach in Vivace and his interpretation of Desmond's Take Five, and the way in which contemporary jazz and classical music are uniquely married together. Her eight dancers play with the unexpected melodies and rhythms, feeding off each other's energy in this high-spirited number that pushes past classical ballet's rules and boundaries into new territories.
Arielle Smith's Jolly Folly is like your favourite dance number in an old movie musical: fast-paced, surprising, and full of uncontainable energy. Driven by the Klazz Brothers' latin-infused covers of Tchaikovsky, Strauss and Mozart, it will make you grin from ear to ear.
The music for Laid in Earth and Senseless Kindness is performed live by musicians of English National Ballet Philharmonic.
Performances will be to socially-distanced audiences, subject to UK Government guidance.
English National Ballet is an Associate Company of Sadler's Wells.
MEET THE PRINCIPAL CAST
Senseless Kindness
Laid in Earth
Take Five Blues
Echoes
Jolly Folly
CREATIVE TEAM
Laid in Earth
Sidi Larbi Cherkaoui
Choreography
Jason Kittelberger
Assistant Choreographer
Dries Van Noten
Costume Design
Olga Wojciechowska
Electronic Music
Catherine Backhouse
Mezzo Soprano
Echoes
Russell Maliphant
Choreography and Lighting Design
Dana Fouras
Sound Design
Panagiotis Tomaras
Video Projections and Lighting Design
Stevie Stewart
Costume Design
Senseless Kindness
Yuri Possokhov
Choreography
Dmitri Shostakovich
Music
Federica Romano
Costume Design
Take Five Blues
Stina Quagebeur
Choreography
Johann Sebastian Bach
Music
Paul Desmond
Music
Stina Quagebeur
Costume Design
Jolly Folly
Arielle Smith
Choreographer
The Klazz Brothers
Music
Arielle Smith
Costume Design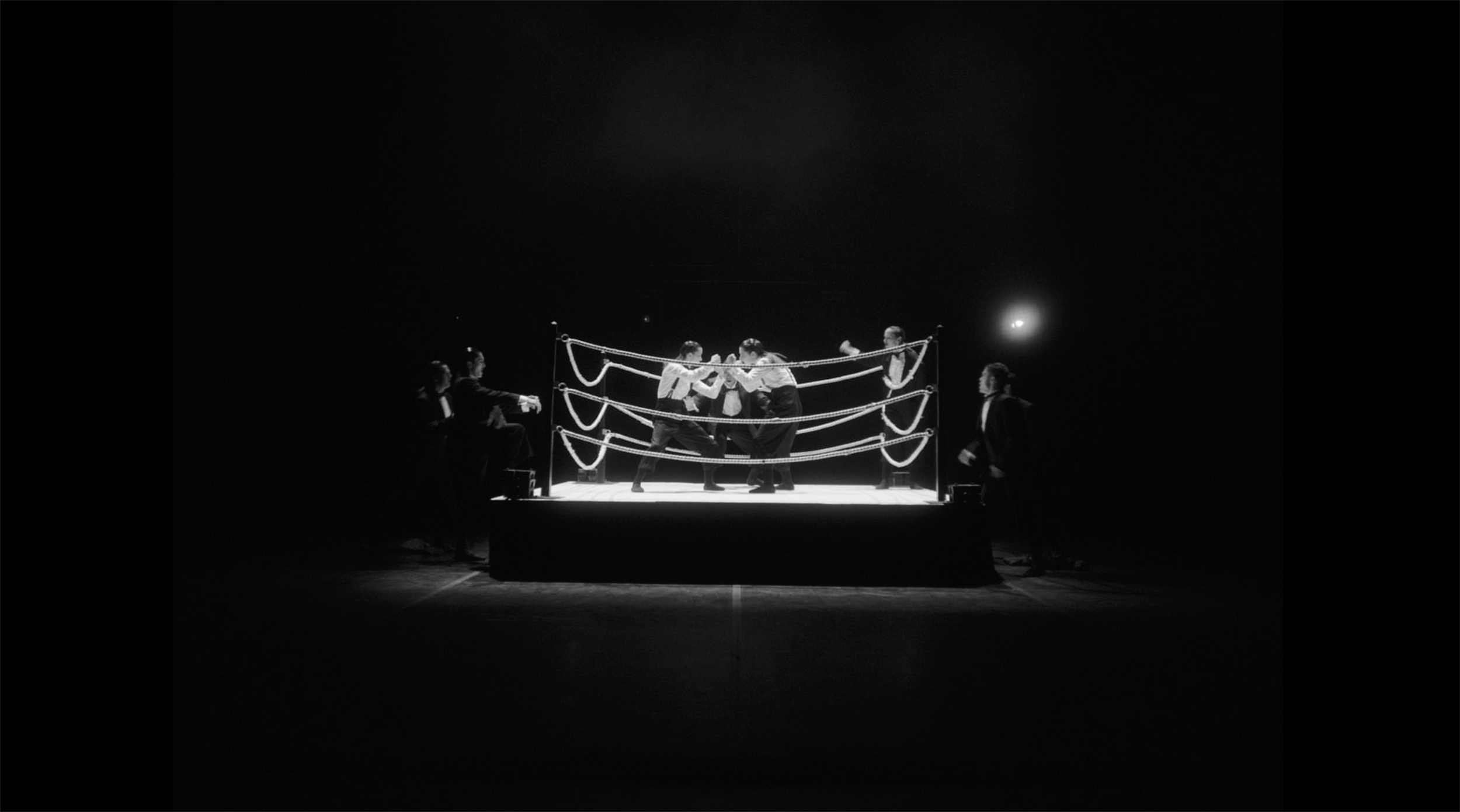 Reviews
---
"A terrific return to the stage"
"Rubber-band bodies and a rush of energy"
"A magical mixed bill to welcome us back"
Credits
Lead Supporters
Sarah and Dominic Murphy
Principal Supporter for Take Five Blues
Charles Holloway
Meet the principal cast
Sadler's Wells, Mon 17 May 2021, 7.30pm
Senseless Kindness
Francesco Gabriele Frola
Emma Hawes
Isaac Hernández
Alison McWhinney
Laid in Earth
Precious Adams
Jeffrey Cirio
James Streeter
Erina Takahashi
Take Five Blues
Aitor Arrieta
Matthew Astley
Fernando Carratalá Coloma
Henry Dowden
Shiori Kase
Katja Khaniukova
Rentaro Nakaaki
Angela Wood
Echoes
Isabelle Brouwers
Eireen Evrard
Giorgio Garrett
Anjuli Hudson
Fernanda Oliveira
Fabian Reimair
Junor Souza
Jolly Folly
Georgia Bould
Joseph Caley
Julia Conway
Daniel McCormick
Ken Saruhashi
Erik Woolhouse
Francesca Velicu
Rhys Antoni Yeomans
Sadler's Wells, Tue 18 May 2021, 7.30pm
Take Five Blues
Aitor Arrieta
Matthew Astley
Fernando Carratalá Coloma
Henry Dowden
Shiori Kase
Katja Khaniukova
Rentaro Nakaaki
Angela Wood
Laid in Earth
Precious Adams
Jeffrey Cirio
James Streeter
Erina Takahashi
Senseless Kindness
Francesco Gabriele Frola
Emma Hawes
Isaac Hernández
Alison McWhinney
Echoes
Isabelle Brouwers
Eireen Evrard
Giorgio Garrett
Anjuli Hudson
Fernanda Oliveira
Fabian Reimair
Junor Souza
Jolly Folly
Georgia Bould
Joseph Caley
Julia Conway
Daniel McCormick
Ken Saruhashi
Erik Woolhouse
Francesca Velicu
Rhys Antoni Yeomans
Sadler's Wells, Wed 19 May 2021, 2.30pm
Take Five Blues
Claire Barrett
Henry Dowden
Matei Hadrian Holeleu
Senri Kou
Victor Prigent
William Simmons
Eric Snyder
Emily Suzuki
Laid in Earth
Precious Adams
Joseph Caley
Noam Durand
Francesca Velicu
Senseless Kindness
Aitor Arrieta
Rebecca Blenkinsop
Natascha Mair
Skyler Martin
Echoes
Giorgio Garrett
Anjuli Hudson
Amber Hunt
Chloe Keneally
Sarah Kundi
Van Le Ngoc
Lucinda Strachan
Jolly Folly
Alice Bellini
Ivana Bueno
Breanna Foad
Adriana Lizardi
Miguel Angel Maidana
Daniel McCormick
James Streeter
Rhys Antoni Yeomans
Sadler's Wells, Wed 19 May 2021, 7.30pm
Take Five Blues
Aitor Arrieta
Matthew Astley
Fernando Carratalá Coloma
Henry Dowden
Shiori Kase
Katja Khaniukova
Rentaro Nakaaki
Angela Wood
Laid in Earth
Precious Adams
Jeffrey Cirio
James Streeter
Erina Takahashi
Senseless Kindness
Francesco Gabriele Frola
Emma Hawes
Isaac Hernández
Alison McWhinney
Echoes
Isabelle Brouwers
Eireen Evrard
Giorgio Garrett
Anjuli Hudson
Sarah Kundi
Fernanda Oliveira
Fabian Reimair
Jolly Folly
Georgia Bould
Joseph Caley
Julia Conway
Daniel McCormick
Ken Saruhashi
Erik Woolhouse
Francesca Velicu
Rhys Antoni Yeomans
Sadler's Wells, Tue 25 May 2021, 7.30pm
Take Five Blues
Matthew Astley
Fernando Carratalá Coloma
Henry Dowden
Emma Hawes
Rentaro Nakaaki
Victor Prigent
Emily Suzuki
Angela Wood
Laid in Earth
Precious Adams
Joseph Caley
Noam Durand
Francesca Velicu
Senseless Kindness
Aitor Arrieta
Emma Hawes
Natascha Mair
Skyler Martin
Echoes
Isabelle Brouwers
Eireen Evrard
Giorgio Garrett
Anjuli Hudson
Fernanda Oliveira
Fabian Reimair
Junor Souza
Jolly Folly
Alice Bellini
Georgia Bould
Ivana Bueno
Breanna Foad
Miguel Angel Maidana
Daniel McCormick
Ken Saruhashi
Rhys Antoni Yeomans
Sadler's Wells, Wed 26 May 2021, 7.30pm
Take Five Blues
Aitor Arrieta
Matthew Astley
Fernando Carratalá Coloma
Henry Dowden
Katja Khaniukova
Senri Kou
Rentaro Nakaaki
Angela Wood
Laid in Earth
Precious Adams
Jeffrey Cirio
James Streeter
Erina Takahashi
Senseless Kindness
Francesco Gabriele Frola
Emma Hawes
Isaac Hernández
Alison McWhinney
Echoes
Isabelle Brouwers
Eireen Evrard
Giorgio Garrett
Anjuli Hudson
Sarah Kundi
Fernanda Oliveira
Fabian Reimair
Jolly Folly
Georgia Bould
Julia Conway
Miguel Angel Maidana
Daniel McCormick
Ken Saruhashi
Erik Woolhouse
Francesca Velicu
Rhys Antoni Yeomans
Sadler's Wells, Thu 27 May 2021, 2.30pm
Take Five Blues
Claire Barrett
Henry Dowden
Emma Hawes
Matei Hadrian Holeleu
Victor Prigent
William Simmons
Eric Snyder
Emily Suzuki
Laid in Earth
Joseph Caley
Noam Durand
Francesca Velicu
Anna-Babette Winkler
Senseless Kindness
Aitor Arrieta
Emma Hawes
Natascha Mair
Skyler Martin
Echoes
Giorgio Garrett
Anjuli Hudson
Amber Hunt
Chloe Keneally
Sarah Kundi
Van Le Ngoc
Lucinda Strachan
Jolly Folly
Ivana Bueno
Emilia Cadorin
Julia Conway
Breanna Foad
Pedro Lapetra
Miguel Angel Maidana
Daniel McCormick
James Streeter
Sadler's Wells, Thu 27 May 2021, 7.30pm
Take Five Blues
Aitor Arrieta
Matthew Astley
Fernando Carratalá Coloma
Henry Dowden
Shiori Kase
Katja Khaniukova
Rentaro Nakaaki
Angela Wood
Laid in Earth
Precious Adams
Jeffrey Cirio
James Streeter
Erina Takahashi
Senseless Kindness
Francesco Gabriele Frola
Emma Hawes
Isaac Hernández
Alison McWhinney
Echoes
Isabelle Brouwers
Eireen Evrard
Giorgio Garrett
Anjuli Hudson
Fernanda Oliveira
Fabian Reimair
Junor Souza
Jolly Folly
Georgia Bould
Joseph Caley
Julia Conway
Pedro Lapetra
Miguel Angel Maidana
Ken Saruhashi
Francesca Velicu
Rhys Antoni Yeomans
Sadler's Wells, Fri 28 May 2021, 7.30pm
Take Five Blues
Aitor Arrieta
Matthew Astley
Fernando Carratalá Coloma
Henry Dowden
Shiori Kase
Katja Khaniukova
Rentaro Nakaaki
Angela Wood
Laid in Earth
Precious Adams
Jeffrey Cirio
James Streeter
Erina Takahashi
Senseless Kindness
Francesco Gabriele Frola
Emma Hawes
Isaac Hernández
Alison McWhinney
Echoes
Isabelle Brouwers
Eireen Evrard
Giorgio Garrett
Anjuli Hudson
Sarah Kundi
Fernanda Oliveira
Fabian Reimair
Jolly Folly
Georgia Bould
Joseph Caley
Julia Conway
Daniel McCormick
Ken Saruhashi
Erik Woolhouse
Francesca Velicu
Rhys Antoni Yeomans
Sadler's Wells, Sat 29 May 2021, 2.30pm
Take Five Blues
Claire Barrett
Henry Dowden
Emma Hawes
Matei Hadrian Holeleu
Victor Prigent
William Simmons
Eric Snyder
Emily Suzuki
Laid in Earth
Precious Adams
Joseph Caley
Noam Durand
Francesca Velicu
Senseless Kindness
Aitor Arrieta
Rebecca Blenkinsop
Natascha Mair
Skyler Martin
Echoes
Giorgio Garrett
Anjuli Hudson
Amber Hunt
Chloe Keneally
Sarah Kundi
Van Le Ngoc
Lucinda Strachan
Jolly Folly
Alice Bellini
Ivana Bueno
Julia Conway
Breanna Foad
Adriana Lizardi
Miguel Angel Maidana
Daniel McCormick
James Streeter
Sadler's Wells, Sat 29 May 2021, 7.30pm
Take Five Blues
Aitor Arrieta
Matthew Astley
Fernando Carratalá Coloma
Henry Dowden
Shiori Kase
Katja Khaniukova
Rentaro Nakaaki
Angela Wood
Laid in Earth
Precious Adams
Jeffrey Cirio
James Streeter
Erina Takahashi
Senseless Kindness
Francesco Gabriele Frola
Emma Hawes
Isaac Hernández
Alison McWhinney
Echoes
Isabelle Brouwers
Eireen Evrard
Giorgio Garrett
Anjuli Hudson
Amber Hunt
Chloe Keneally
Junor Souza
Jolly Folly
Georgia Bould
Joseph Caley
Julia Conway
Daniel McCormick
Ken Saruhashi
Erik Woolhouse
Francesca Velicu
Rhys Antoni Yeomans
Sadler's Wells, Sun 30 May 2021, 2.30pm
Take Five Blues
Claire Barrett
Henry Dowden
Matei Hadrian Holeleu
Senri Kou
Victor Prigent
William Simmons
Eric Snyder
Emily Suzuki
Laid in Earth
Joseph Caley
Noam Durand
Francesca Velicu
Anna-Babette Winkler
Senseless Kindness
Aitor Arrieta
Rebecca Blenkinsop
Natascha Mair
Skyler Martin
Echoes
Giorgio Garrett
Anjuli Hudson
Amber Hunt
Chloe Keneally
Sarah Kundi
Van Le Ngoc
Lucinda Strachan
Jolly Folly
Alice Bellini
Ivana Bueno
Emilia Cadorin
Julia Conway
Miguel Angel Maidana
Daniel McCormick
James Streeter
Rhys Antoni Yeomans