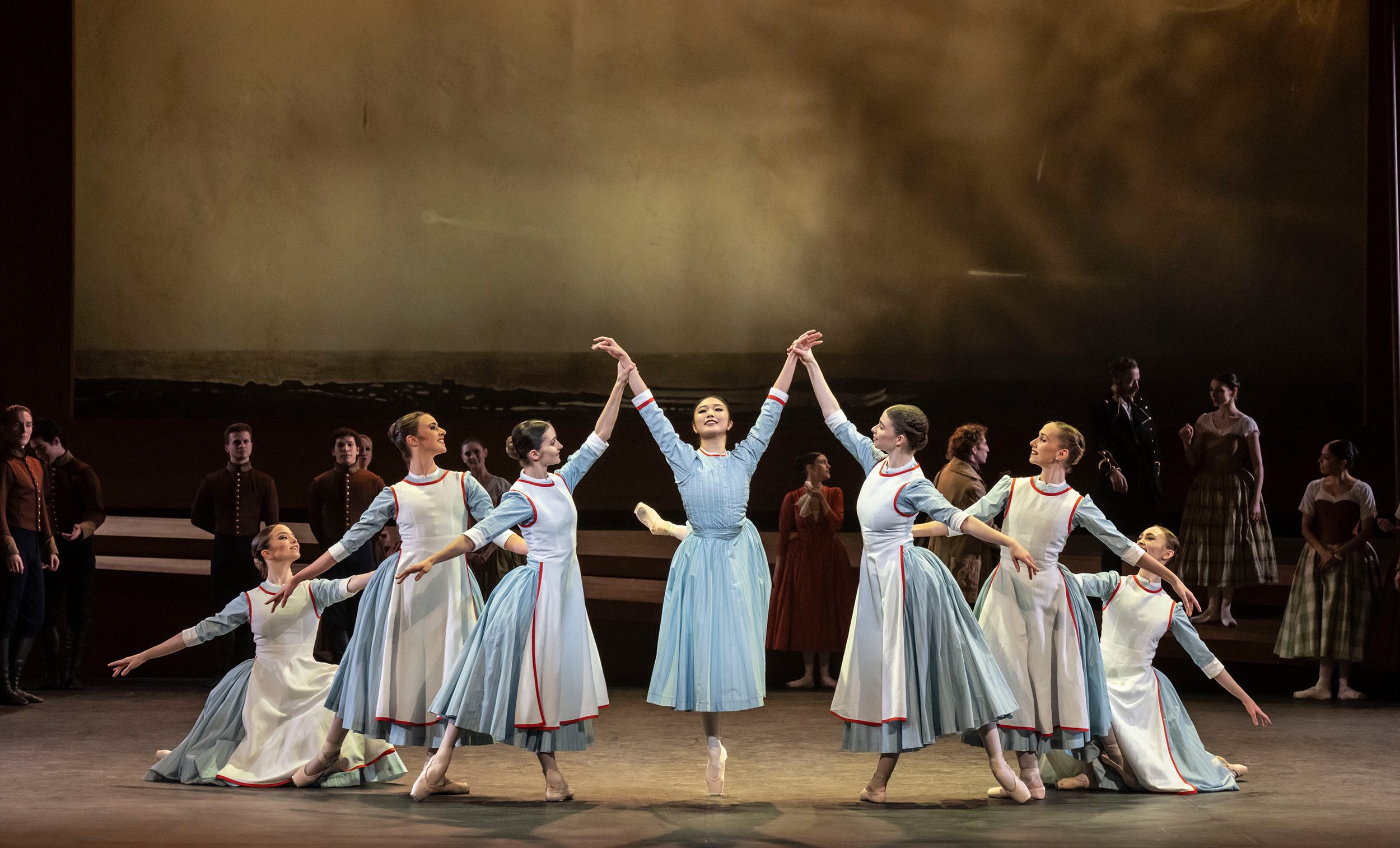 National Dance Awards 2021
Three Wins for English National Ballet
13 Jun 2022
ENB wins the Outstanding Company award, and Jeffrey Cirio and Emily Suzuki each take home a trophy
Congratulations to everyone at English National Ballet, on stage and behind the scenes, whose work has been recognised by the Stef Stefanou Award for Outstanding Company. Thank you to the Critics' Circle National Dance Awards for this honour.
Artistic Director Tamara Rojo was not able to attend the ceremony but accepted the award via video, and at the same time was able to belatedly accept the award for Best Company Response to the Pandemic, which English National Ballet won at the 2020 National Dance Awards.
Tamara Rojo said:
This is my last year at English National Ballet. It has been a true honour to lead this Company for ten years. I couldn't be happier or prouder of what we have achieved together.
Tamara thanked the dancers, musicians, artists, crew, technicians and staff as well as the many supporters and audience members whose support has been so vital.
She said:
Thank you everyone for your work, for your support, for your belief in this vision, which is now a reality. I also want to wish everyone all the best for the future – I know this Company will continue to be exceptional.
Jeffrey Cirio in Creature by Akram Khan © Ambra Vernuccio
Congratulations to Jeffrey Cirio, who won the award for Outstanding Male Classical Performance for his performance in the title role in Creature by Akram Khan! Jeffrey was involved with the work from its earliest research and development phase and had the role of Creature created upon him by Akram Khan. He performed the role for Creature's world premiere at Sadler's Wells in 2021 and reprised it for the production's international premiere when it toured to the Harris Theater in Chicago earlier this year. Jeffrey leaves English National Ballet at the end of this season to return to Boston Ballet; this award is a very fitting send off and everyone at English National Ballet offers their congratulations. He was also nominated at this Awards for the Dancing Times Award for Best Male Dancer.
Aitor Arrieta and Emily Suzuki in Creature by Akram Khan © Laurent Liotardo
Congratulations to Emily Suzuki, who has won the Emerging Artist Award! Throughout 2021, Emily performed the role of Marie in Creature by Akram Khan at Sadler's Wells, was seen in Stina Quagebeur's Hollow and the final pas de deux from Dust by Akram Khan as part of SOLSTICE at the Royal Festival Hall, and danced many featured roles in the Company's Christmas season of Wayne Eagling's Nutcracker at the London Coliseum. We recently announced that, as of the beginning of the 2022–23 season, Emily has been promoted to the position of Junior Soloist with English National Ballet.
Congratulations to all of today's nominees, especially to our own Francesco Gabriele Frola (nominated for the Dancing Times Award for Best Male Dancer) and Erina Takahashi (nominated for Best Female Dancer), and to our friend and associate Arielle Smith, who was nominated for Best Classical Choreography for Jolly Folly, which she created for the Company.
The 22nd National Dance Awards celebrate both live and digital works performed in the UK between 1 January and 31 December 2021. The awards were presented by Begoña Cao and ENB's own Giorgio Garrett.