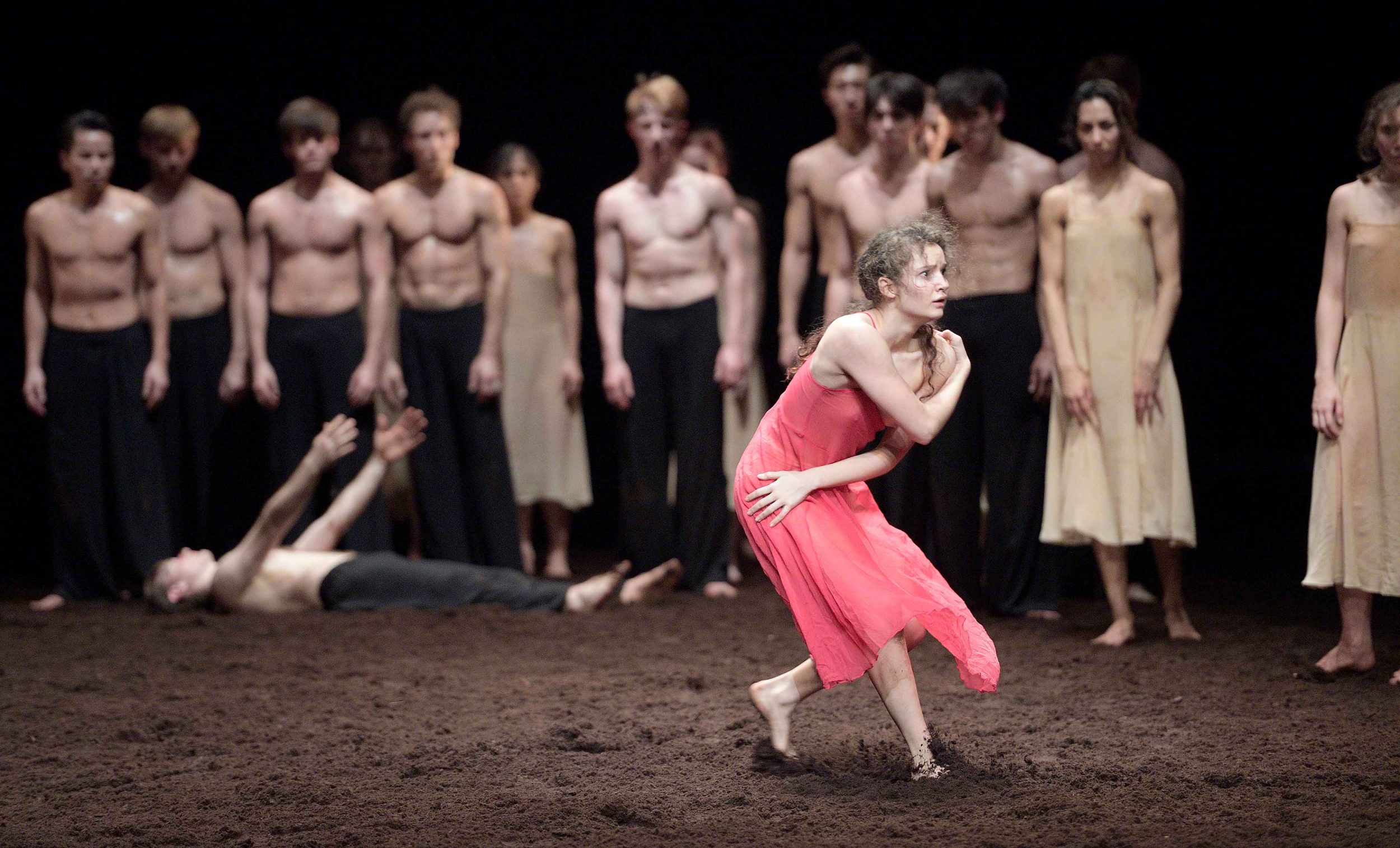 Francesca Velicu receives an Olivier Award nomination
07 Mar 2018
First Artist Francesca Velicu received an Olivier Award nomination, in the category Outstanding Achievement in Dance, for her performance as The Chosen One in Pina Bausch's Le Sacre du Printemps.
Francesca happened to be in New Zealand when the nominations were announced, as we just finished performing Akram Khan's Giselle in Auckland. So she was fast asleep at that time: "I only realised a few hours later when I woke up with so many notifications and messages from friends and family!".
When we reached out to her, she told us: "I feel amazing! So speechless: I never thought I would be nominated for such a prestigious award so early in my career".
At 19 years of age, she is the youngest named nominee of this year's awards.
The nomination feels particular special to her: "When I was 13 my ballet school took me and my classmates to see the movie Pina, the documentary about Pina Bausch and her work. I found her style and the way she spoke to the audience very interesting and unique: it was different to everything I knew. It took me a lot of mental training to be able to put myself into such an intense character as The Chosen One, but I relished the challenge."
"Pina Bausch has a very special place in my heart so I'm happy to share the nomination with "her"", she added.
https://www.instagram.com/p/BSA6ncUhY-X/
Instagram post from Francesca Velicu, following her first performance in Pina Bausch's Le Sacre du Printemps, March 2017
Her performance has already earned her a "Star of the Corps" accolade in Pointe Magazine, and two nominations at the 2017 Critics' Circle's National Dance Awards, in the Emerging Artist and Outstanding Female Performance (Modern) categories. She has also been nominated by her peers in the company to compete at Emerging Dancer 2018 (on 11 June at London Coliseum).
Reflecting on her journey so far, Francesca said how much she enjoyed learning from "Jo Ann Endicott and the Tanztheater Wuppertal artists who worked with us: Kenji, Barbara, Jorge and Dominique are such inspirational people and helped me find a different aspect of myself".
Everyone at English National Ballet is thrilled that Francesca Velicu is receiving such a recognition. She joins the small group of our dancers to have received an individual Olivier Award nomination in the past: Koen Onzia (1983, and special mention in 1988), Patricia Ruanne (1984), Thomas Edur (1995, 1997, 2004), Altynai Asylmuratova (1998, as Guest Artist) and Agnes Oaks (2004).
We are also particularly proud that her nomination is for performing in Pina Bausch's masterpiece, as we are only the second ballet company in the world to perform it.
We also want to congratulate her fellow nominees: flamenco genius Rocio Molina, and the great Zenaida Yanowsky.
The Olivier Awards will be announced on Sunday 8 April. Until then, "I'll give it a few days to actually process what is happening!", says Francesca.