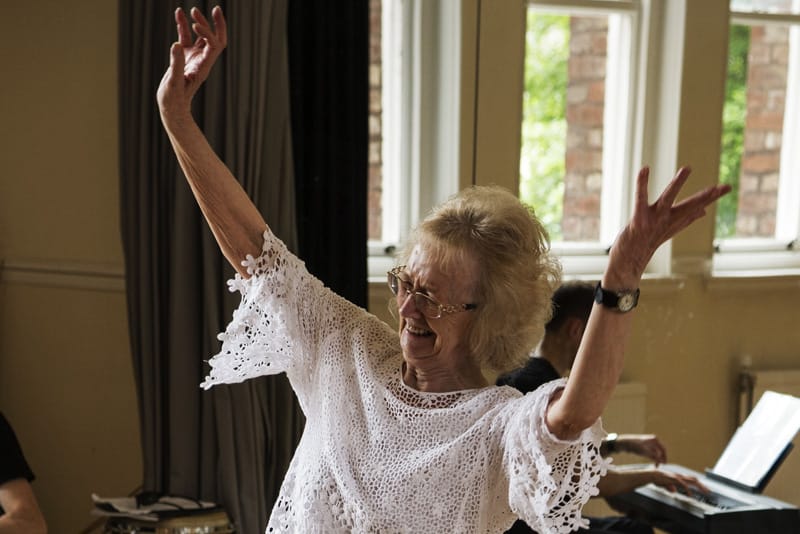 Dance for Parkinson's – Helena and Anne's story
08 Jul 2015
English National Ballet has developed a successful national programme of dance classes for people with Parkinson's in five different hub locations across the UK. Our aim is to extend opportunities for people with Parkinson's, their carers, friends and family members to engage in artistic dance activity inspired by our repertoire.
We recently met with Helena and Anne, two sisters who attend our weekly classes on a Thursday afternoon in Liverpool, where the class is delivered in partnership with one of the UK's leading strategic dance agencies, MDI. Helena has Parkinson's and her sister, Anne, travels to meet her each week.
Here they talk about how dancing has had a positive impact on both of their lives.
Helena on the value of getting together to dance
"Anne saw the details of the London class on TV and she suggested that we go along. Every week we look forward to getting together: we have lunch and make a day of it before heading to the class in the afternoon. On your own you may not do it but with Anne's support it makes it much easier."
"You don't want to look different when you're out and about so it would be easy to stay at home, but with the support here in the class you can be yourself with Parkinson's and that's very liberating. You have to think positively, when you're not well you could easily say 'I can't' but this class is worth making the extra effort for."
"There is no distinction in the class between men, women, people with Parkinson's, companions or carers – it's a community of equals – all doing the same, equally well and not so well! I also really enjoy the coming together of personalities in the class. You find out things about people – it's a spiritual connection really."
Why dance for Parkinson's?
For Helena, "the dance classes have the effect of normalising Parkinson's. They focus on what you can do rather than what you can't do. There is a real sense of freedom in dancing; it's lovely to get beyond the condition. When you are diagnosed, getting past Parkinson's can be hard, but in these classes you relate to people as people, gaining an opportunity to connect to one another through movement."
"The humour and fun helps too! The teachers enjoy their time with you just as much as you are enjoying being with them. There's a strong sense of commitment and community. All our classes use live music which is very motivating and powerful; it adds to the richness of it."
"You can see a lot of thought has gone into the lessons and learning about the different ballets is fantastic! We have done traditional ballets as well as modern and contemporary work. This term we have been working on Lest We Forget [dance works reflecting on World War I] which is very powerful and different to what we had done before."
"Going to see the ballets is a treat too, and English National Ballet makes us feel so supported and a part of the organisation. It's part of the attraction: being part of a prestigious ballet company is something very special".
Anne's perspective
"I thought it sounded like a way to do something proactive towards managing the situation and not just letting it happen to Helena. I come to support my sister but I have gotten a great deal out of it myself actually! There are many health benefits to me generally as an older dancer even without Parkinson's; I find myself more confident to join in with other activities and have enjoyed learning about a new art form immensely. It's an incredible rich experience with many layers."
"I was immediately impressed by the care and attention of the staff and teachers from English National Ballet and MDI, and the level of importance they placed on the programme."
Why should people join Dance for Parkinson's?
Helena is evangelic about the therapeutic benefits of the class: "Dancing helps me regain a sense of control, taking back a choice to do something about it rather than simply tolerating it and letting it happen."
"When I leave this class I'm glad I've been and I want to come again; it's not miraculous; it's not a cure; but I keep coming because I enjoy it, I have a day out and when I get home I feel it's a day really well spent, I've learnt something new, I've expressed myself, I've seen my sister, and I have a good night's sleep – satisfaction! I wouldn't miss it for the world".
 
English National Ballet have five classes in locations across the UK: Liverpool with MDI, Cardiff with National Dance Company Wales, Ipswich with DanceEast, Oxford with Oxford City Council, and London at the home of English National Ballet in Kensington. For more information or for a place on one of these classes contact 0207 581 1245, email learning@ballet.org.uk, or visit the website: www.ballet.org.uk/parkinsons