Volunteers' Week – Q&A with Ioanna
03 Jun 2021
We spoke to one of our wonderful volunteers, Ioanna, about her experiences volunteering for our Dance for Parkinson's (DfP) programme and becoming a part of the close-knit DfP community.
Q: How long have you been volunteering at our Dance for Parkinson's classes?
A: It has been already seven years since I first started volunteering for ENB's Dance for Parkinson's classes!
Q: What motivated you to volunteer for the DfP programme in the first place?
A: It was in one of the academic dance lectures during my first year at the University of Roehampton that Dr. Sara Houston spoke about the study, commissioned by English National Ballet, which was researching the experience of dancing with Parkinson's. I was interested in finding out more about the research and how the classes are designed – and with my love to offering something to people, I started volunteering.
Q: Do you have a background in dance?
A: Yes, I started my first ballet and music classes at the age of three in Athens, Greece. Following my graduation from the National Music Conservatoire of Athens and some performances with Athens Children's Ballet Company, I came to London to expand my dance education and broaden my horizons. I completed my undergraduate and postgraduate dance studies at the University of Roehampton [BA (Hons) Dance Studies, MA Dance Philosophy and History]; and my vocational ballet training and teaching qualification [Advanced 2 Diploma in Classical Ballet, Licentiate of Royal Academy of Dance] at Royal Academy of Dance. Now, I am freelancing as a performing and teaching dance artist.
Ioanna (centre) and Dance for Parkinson's participants at Mulryan Centre for Dance, English National Ballet's east London premises. © Photography by ASH 2020
Q: What do you enjoy about Dance for Parkinson's classes and volunteering?
A: I love the sense of community that is cultivated among the participants, volunteers and teachers. Throughout the years, I have had the opportunity to experience meeting so many participants, to be part of their ups and downs and have some lovely chats with them. I enjoy dancing with them and being part of their lives every Saturday afternoon. It is also an interesting process for me to approach ballet repertoire in a different setting.
Q: How do you support participants within the class?
A: I support the participants in various ways, such as demonstrating the exercises, dancing with them and assisting them when needed. Incorporating live music and dance, the classes start with a set of seated exercises and they gradually progress to a set of standing ones. However, some of the participants might not be able to stand during the class, so there will be a seated version for them to meet their needs and abilities, for which I might be asked to assist with the demonstration. When striding or waltzing at the centre, I might need to support a few participants from underneath their forearms, holding their elbows or wrists. Through experience, I get to know the methods that work best for each individual to learn a movement, and to deal with symptoms during the class. Some participants learn movement by copying, whilst others learn by mirroring. If participants freeze during the class, which is one of the Parkinson's symptoms, I sometimes place my foot in front of them for them to step over, or I start singing a rhythm and marching on the spot for them to mimic me. Some need to physically feel which of their limbs they need to move and how to move them, whilst others need to constantly hear the rhythm. Sometimes the participants may need a break, so bringing them a cup of water or taking them to a place where they can have some fresh air is always helpful. Lastly, within the class, just by dancing with them – it helps with their self-confidence, it makes them feel stronger and part of a community.
Ioanna during a Dance for Parkinson's class at Mulryan Centre for Dance, English National Ballet's east London premises. © Photography by ASH 2020
Q: Can you go into detail what it's like to learn movement inspired by ENB's repertoire?
A: ENB's DfP sessions are inspired each term by the Company's seasonal repertoire. Adapting music scores, rhythms, props, gestures, and dance vocabulary for the needs of DfP classes, the sessions progress from week to week, so that there is always something new to look forward to. Each term's selected theme, characters and music make the movements expressive, meaningful and memorable for the participants. The participants are offered the opportunity to express themselves through creative movement and voice tasks and to bring their own interpretations during the classes.
Q: Is there a certain aspect of the class that you particularly enjoy; voice work, striding etc?
A: The port de bras and striding exercises are two of my favourite sections. The port de bras warms up gently the whole body and offers the opportunity for self-expression, and the striding exercise leads the class to a resolution. However, the voicework is what I find more challenging, fun and creative! No-one hesitates to experiment with sounds and facial expressions, and the result is always amazing and inspiring for the movement exercises!
Q: What is your favourite English National Ballet dance work that you've explored with the programme?
A: After so many productions, it is hard to pick just one! I loved exploring and watching the pieces from the Lest We Forget (2014) and She Said (2016) programmes. Liam Scarlett's No Man's Land and Yabin Wang's M-Dao are two of my favourite ENB works.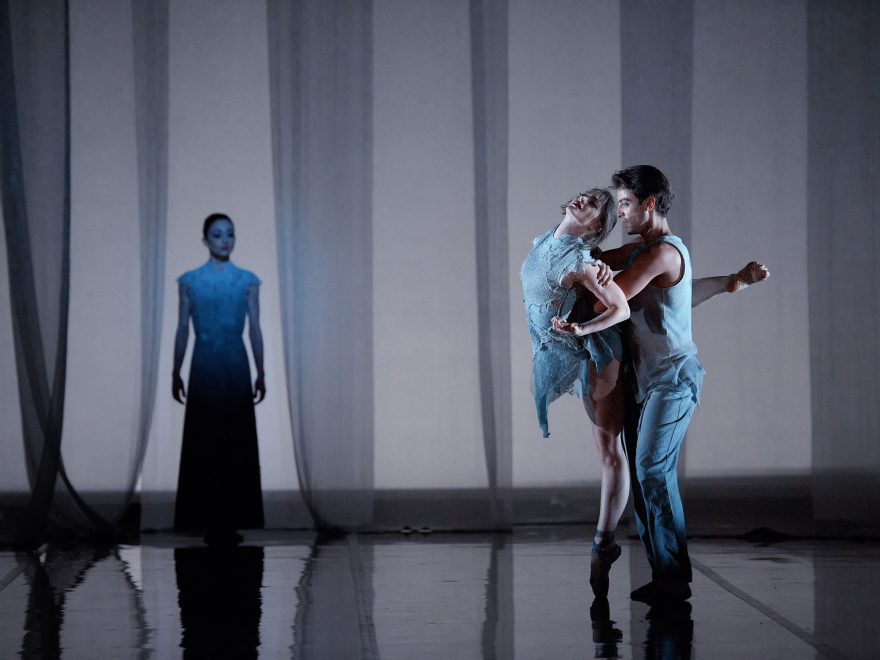 Laurretta Summerscales, Madison Keesler and Fernando Bufala in Yabin Wang's M-Dao. © Laurent Liotardo
Q: Are there any opportunities for volunteers to take part in cultural activities that support the programme?
A: Yes, attending cultural events such as theatre trips, behind the scenes events and stage rehearsals offering further production insights and bringing everyone together for social interaction.
Q: How do you think volunteers can benefit the programme and support the participants, and vice-versa?
A: Due the big number of participants, the volunteers have an important role into the programme. They support the participants, both for safeguarding and community reasons, before, after and throughout the class, but also during other cultural activities. For the volunteers, the programme is a great opportunity to gain substantial practical experience in DfP classes, develop various skills and be part of a lovely community.
Q: How has Covid-19 affected you as a volunteer and have you been able to volunteer for ENB's online DfP classes? How have you found them?
A: During the first wave of Covid-19, it was a shock for me to do not be able to volunteer in person. I love communicating with people and connecting with them through dance and I believe that physical presence is irreplaceable. However, seeing the tragic results of this pandemic, I adapted to the new reality and continued offering to DfP participants through the virtual environment. It was great to continue dancing with the participants and maintaining the sense of community after so many years of active volunteering! As a volunteer, it was no longer possible to physically support the participants in standing exercises, such as striding, but I continued helping with the demonstration of the seated and standing versions of the exercises and leading creative tasks at the breakout rooms. Finally, the virtual end-of-class tea/coffee time was what reminded to all of us of how close we can become with the use of technology during such challenging periods. Everyone's safety is a priority and therefore DfP online classes were the safest option for all of us!