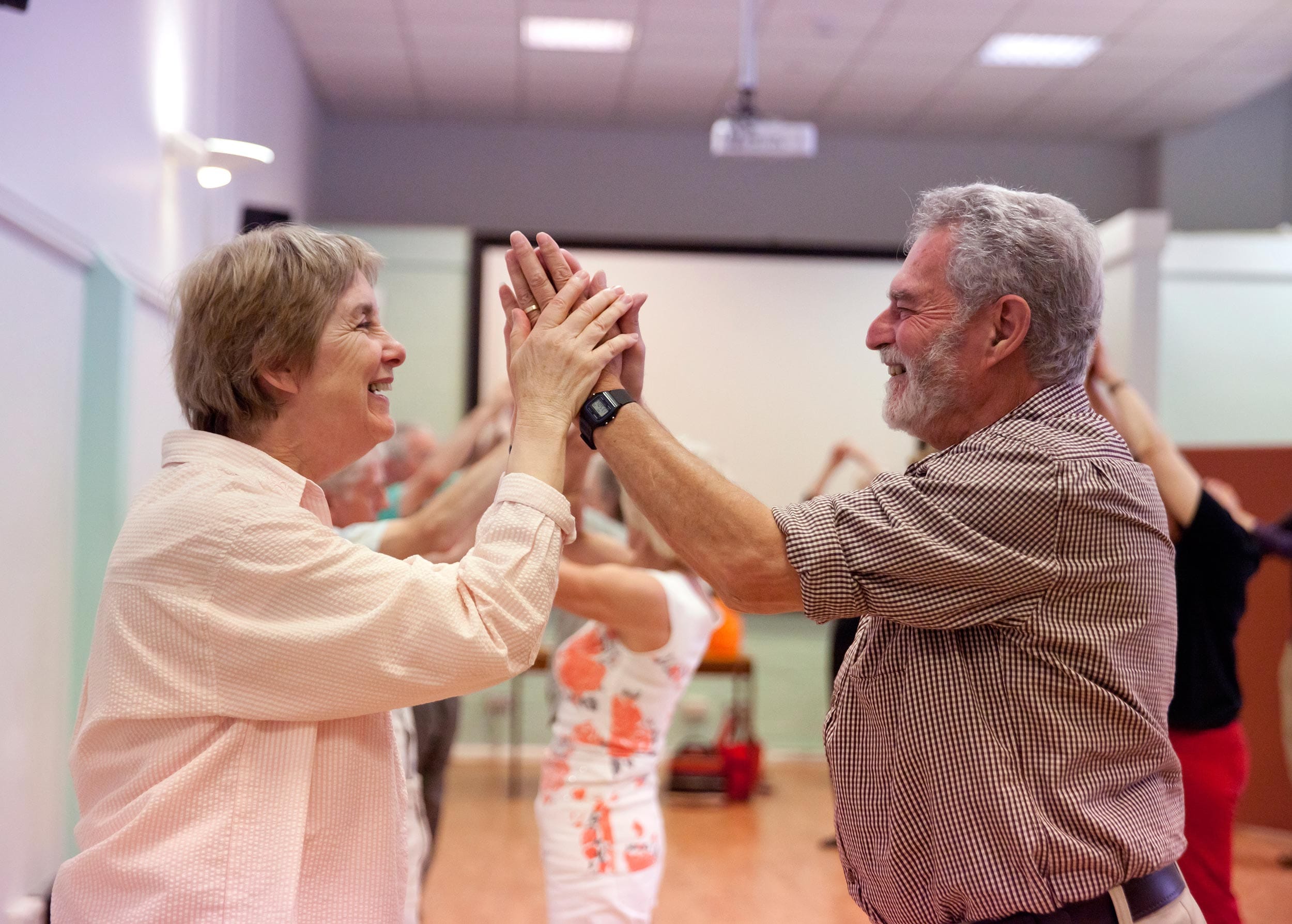 Dance for Parkinson's Classes
Supporting people with Parkinson's through dance.
Experience the joy of dancing to live music, socialising and meeting new people, seeing dance performances, and enjoy unique opportunities to meet creatives and world renowned guest artists.
The components of the dance class, the artistic freedom and the social aspect of ENB's Dance for Parkinson's can help with managing daily living with Parkinson's. Dancing can enhance fluidity of movement, develop postural stability, flexibility of the spine and improve balance. The use of rhythm and voice can help with cueing movement and expression.
English National Ballet's Dance for Parkinson's programme takes place regionally in partnership with hub partners and affiliated hub partners across the UK.
For further information about the programme and to book a space in the classes, please contact your nearest hub directly.
Autumn Term 2023
Online National Offer
22 September – 1 December
Fridays, 11am – 12.30pm
Held on Zoom
Online classes
No class on 27 October
£40 for the term
BOOK NOW
London, English National Ballet
20 September – 1 December
Wednesdays, 11am – 1pm
English National Ballet, Mulryan Centre for Dance
No class on 25 October
£60 per 10-week term (includes refreshments)
Book by contacting dancehealth@ballet.org.uk
London, Royal Albert Hall
Monthly classes
Please note each monthly class has a separate booking link with places set to go on sale approx. 3 weeks in advance.
Next class is on Tuesday 12 December: BOOK NOW
Face-to-face classes, sign-in from 10.30am
£6 per class
Ipswich
20 September – 29 November
Wednesdays, 2pm – 3.15pm
Face-to-face classes
No class on 25 October
Book by contacting DanceEast

Oxford
2 October – 4 December
Mondays, 1pm – 2.45pm
Face-to-face classes
Book by contacting Oxford City Council
Cardiff
18 September – 27 November
Thursdays, 2pm – 3.15pm
Face-to-face classes
No class on 1 June
Book by contacting National Dance Company Wales

Liverpool
28 September – 14 December
Thursdays, 1.30pm – 3.30pm
Face-to-face classes
No class on 2 November
Book by contacting dancehealth@ballet.org.uk

Venue information
Liverpool Hope University
Dates & venues
Liverpool Hope University
Thu 28 Sep - Thu 14 Dec 2023
Thursdays, 1.30am – 3.30pm