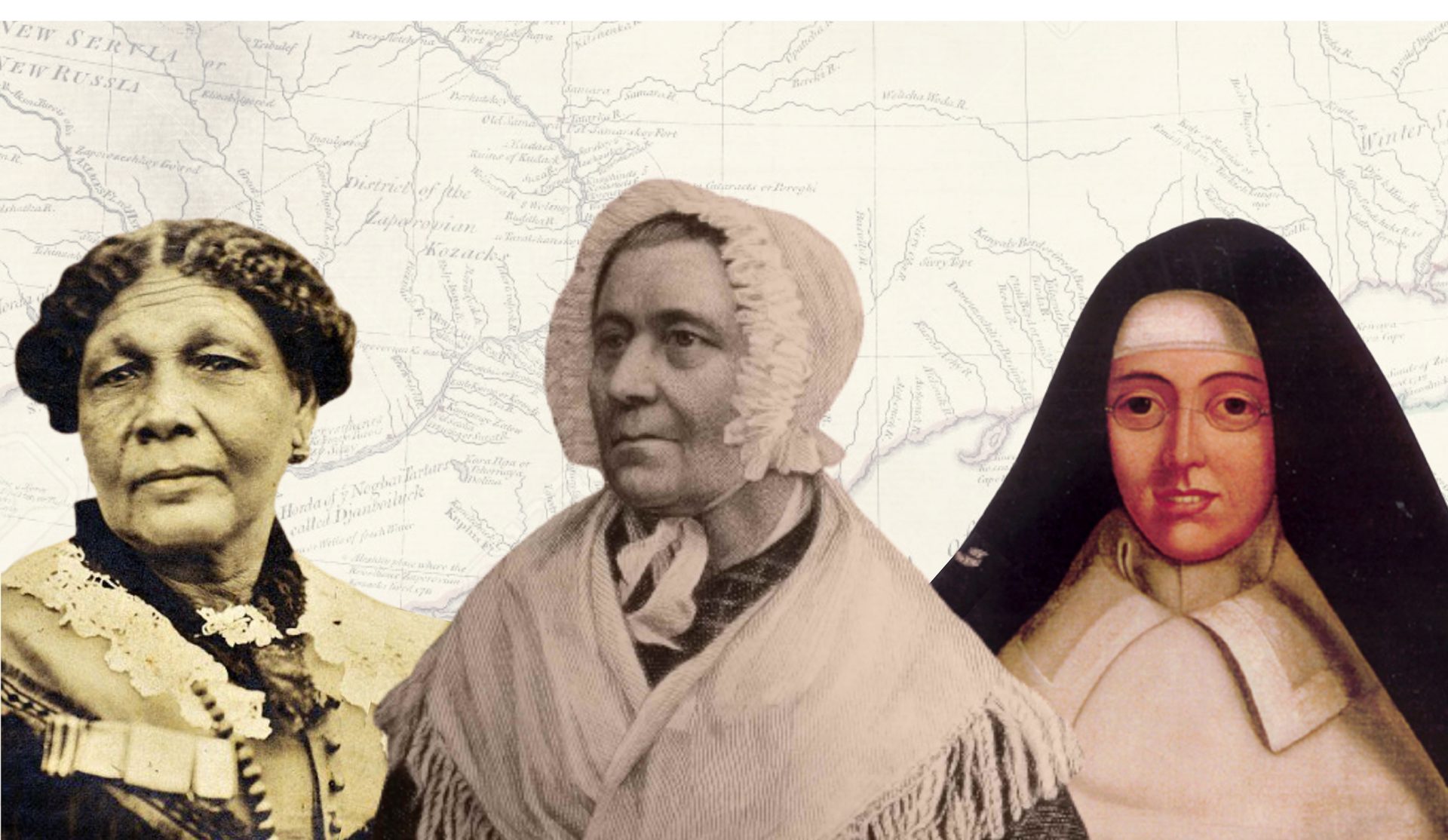 The Trailblazing Nurses of the Crimean War
15 Nov 2021
Learn about the lives and legacies of some of the remarkable frontline nurses who served alongside Florence Nightingale during the Crimean War and have inspired our production of Raymonda. 
'Camp of the 4th Dragoon Guards, Convivial Party, French and English.' Photograph by Roger Fenton, 1855.
Over 200 women are listed alongside Florence Nightingale on the register of 'Nurses sent to the Military Hospital in the East'.
Although Florence Nightingale is the most celebrated nurse to have served during the Crimean War, she was joined in the Crimea by many remarkable women who deserve similar acclaim. Here are three of them.
Mary Seacole (1805-1881)
Perhaps the most well-known Crimean War nurse after Nightingale is Mary Seacole. Born in Jamaica in 1805, Seacole was the daughter of a Scottish officer and a 'doctress' (a healer and herbalist who practices traditional Creole medicine). Seacole learnt nursing skills from her mother and by the age of twelve, she would help to care for her mother's patients.
After hearing about the Crimean War, Seacole became determined to help the troops she had once known in Jamaica (a British colony at the time). However, she was rejected as a nurse by the British military hospitals. She later reflected that this was racial discrimination. Still fiercely determined, Seacole travelled to the Crimea and established her own business, the British Hotel, which functioned as a general store, canteen, and nursing unit. She often journeyed onto the battlefield to provide soldiers with emergency assistance. The soldiers affectionately called her 'Mother Seacole' for her medical and emotional support.
In 1856, Seacole returned to England penniless – she had donated all the profits her hospital had made. This hardship encouraged her to write an autobiography, The Wonderful Adventures of Mrs Seacole in Many Lands (1857), which served as the first published memoir written by a black woman in Britain. She continued nursing in London and Jamaica until she died in 1881. In 2004, Seacole was named the Greatest Black Briton for her entrepreneurship and services to nursing.
Sketches of Mary Seacole's British Hotel by Lady Alicia Blackwood (1818-1913)
Betsi Cadwaladr (1789-1860)
Another inspirational woman was Welsh nurse Betsi Cadwaladr. After many years of travelling and training as a nurse, she volunteered to serve in the Crimean War at the age of 65. She was posted to the Scutari hospital run by Nightingale, where the two women frequently clashed. Nightingale enforced strict hospital regulations that Cadwaladr often skirted in favour of a more intuitive approach to nursing. Cadwaladr eventually moved hospitals to work closer to the frontline at Balaclava where she provided emergency medical assistance.
The gruelling work mixed with her increasingly ill health forced Cadwaladr to return to London to a life of poverty. She died five years after returning from the Crimea – her war effort almost entirely forgotten. Her work has only recently received recognition as the largest health board in Wales was renamed the Betsi Cadwaladr University Health Board in 2009 and the Royal College of Nursing commemorated her heroism in 2012. In 2014, she was named one of the greatest Welsh people of all time.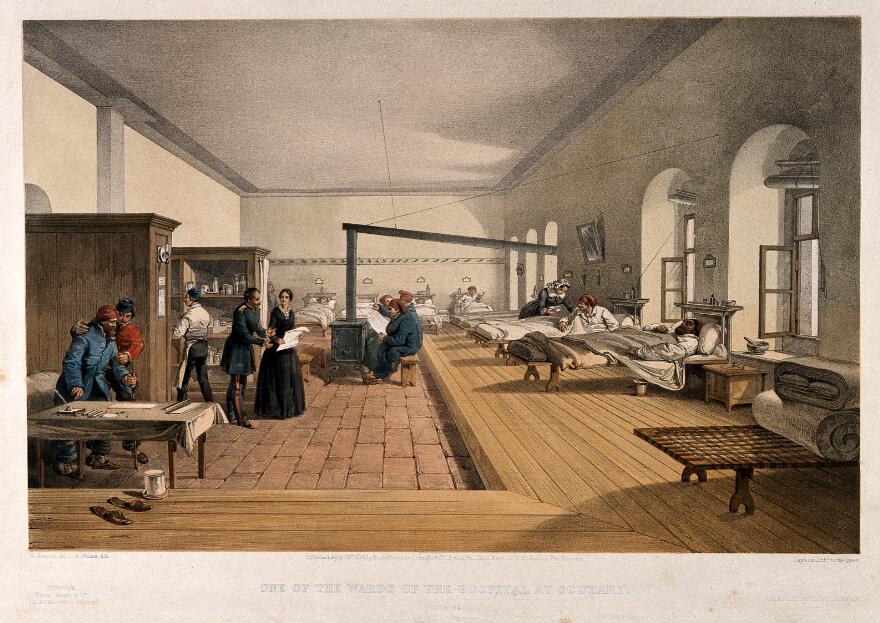 'One of the wards of the hospital at Scutari.' Lithograph by William Simpson.
Sister Mary Clare Moore (1814-1874)
Sister Mary Clare Moore was one of the first nurses deployed during the Crimean War. Moore was born into an Irish Protestant family in 1814. After the death of their father, the family converted to Catholicism. Moore joined a convent in 1832, where she became a skilled nurse and helped treat victims of the 1832 cholera epidemic in Dublin. Devoted to her faith, she became a Superior nun and latterly founded eight convents across England.
When the British War Office needed skilled nurses to deploy to Scutari, they called upon the Irish Sisters of Mercy working in London. Moore and the Sisters were the first to leave and met Nightingale and her nurses en route. The two women went on to have a lifelong friendship.
Nightingale was impressed by Moore's nursing experience and devout lifestyle. When Moore became ill and had to return to England, Nightingale wrote to her: "Your going home is the greatest blow I have had yet… You were far above me in fitness for the General Superintendency." As Moore passed away in 1874, Nightingale tenderly wrote: "It is we who are left mother-less when she goes." The two women are depicted together tending to the wounded in Jerry Barrett's painting 'The Mission of Mercy: Florence Nightingale receiving the Wounded at Scutari'.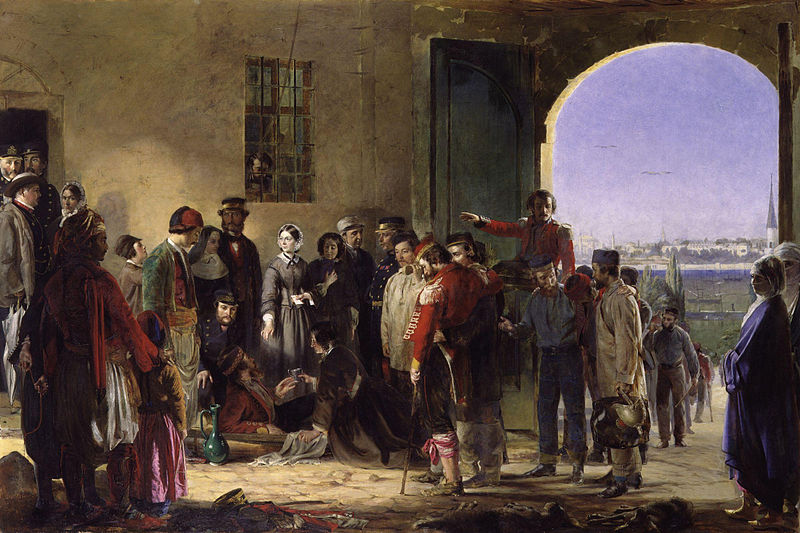 'The Mission of Mercy: Florence Nightingale receiving the Wounded at Scutari' by Jerry Barrett 1857 © National Portrait Gallery, London.
You can discover more about some of the frontline nurses who served during the Crimean War at the Florence Nightingale Museum.
Book your tickets for Raymonda to see how these extraordinary frontline nurses have inspired our production. You can find out more about our reimagination of the classic ballet in this video.