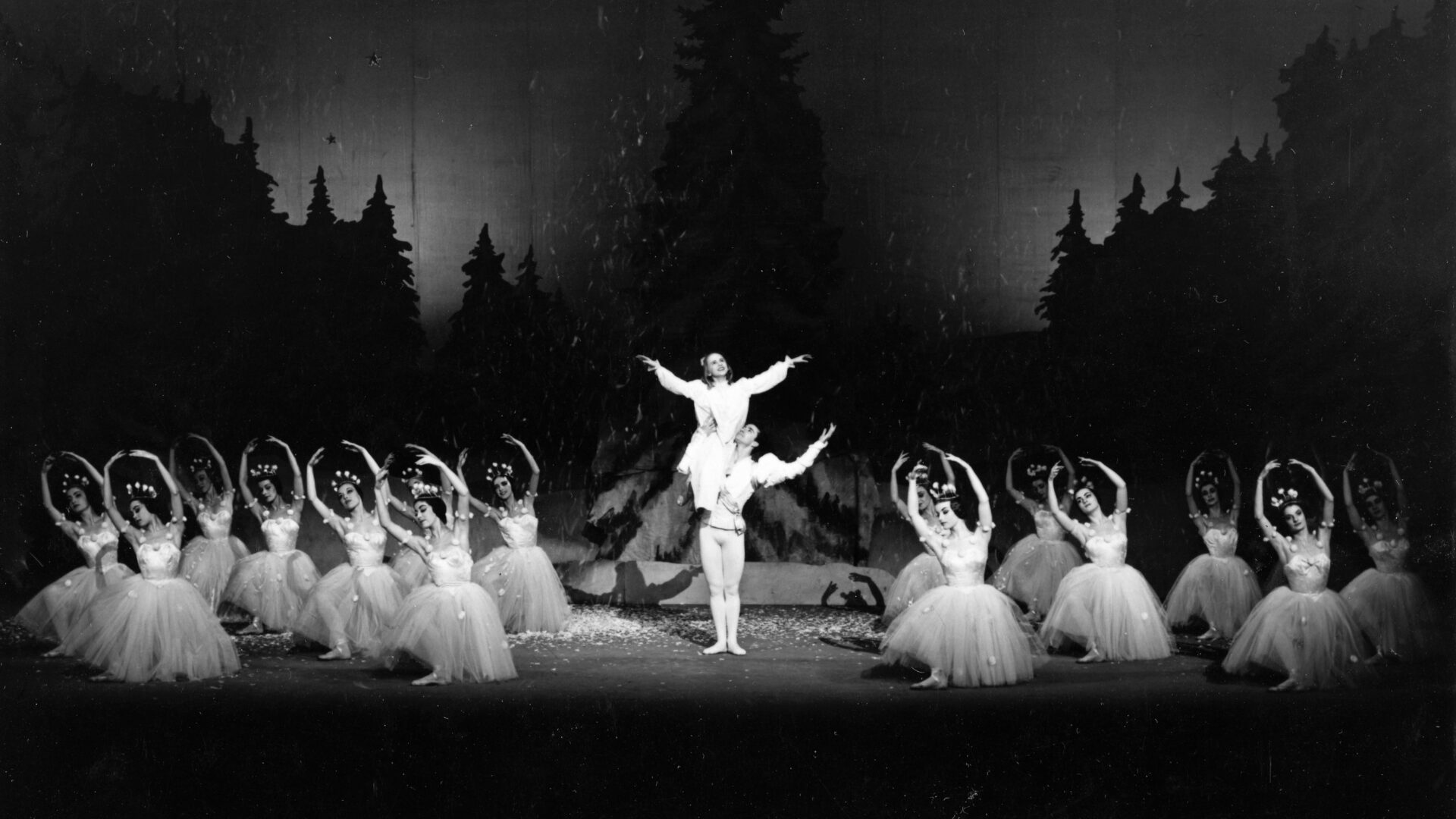 The changing face of English National Ballet's Nutcracker
For many fans of dance across the globe, it's impossible to imagine Christmas without Nutcracker. This festive ballet has been at the heart of our repertoire since the company was established in 1950. We have performed a version of Nutcracker every year since then, staging ten different versions to date and bringing the classic story and Tchaikovsky's iconic score to life, delighting audiences with fresh interpretations of Marius Petipa's original choreography.
The story of Nutcracker: creating a festive classic
Set on Christmas Eve, the ballet's plot is an adaptation of E.T.A. Hoffmann's 1816 short story The Nutcracker and the Mouse King.  It follows a young girl Clara who receives an enchanted Nutcracker as a Christmas present. Together, they discover a magical world where she battles with the Mouse King and meets a handsome stranger. As the air grows colder, Clara and her valiant Nutcracker are transported to the glistening land of Snow where a puppet theatre comes to live with dancers from around the world.
 Three years after working together on their acclaimed production of The Sleeping Beauty, Marius Petipa and Pyotr Ilyich Tchaikovsky collaborated again, this time to choreograph a two-act ballet for the composer's score The Nutcracker Op. 71.
Although this production was not initially well-received when it first premiered in 1892, Nutcracker gradually became more popular. Choreographers addressed some of its initial criticism by adapting the role of the Sugar Plum Fairy and introducing adult dancers in the leading roles of Clara and the Nutcracker Prince instead of children.
The first complete performance of Nutcracker outside Russia took place in England in 1934, staged by Nicholas Sergeyev after Petipa's original choreography. The second act, known as 'Divertissement of Sweets', quickly became popular in Britain in the 1930s. It was not until the 1950s that the full ballet began to gain international recognition, thanks to productions by London Festival Ballet (as ENB was originally called) and by George Balanchine for New York City Ballet in the USA.
ENB has performed ten different versions of Nutcracker throughout our history – each one places the action in a different time period – from 19th-century Germany and Tchaikovsky's Russia to 1990s Britain. From the traditional to the unexpected, all our Nutcrackers have one thing in common: these productions have been amongst our audiences' most cherished Christmas memories.
"The best Christmas present ever!" – my son's description of his first-ever ballet to see #ENBNutcracker at the London Coliseum today.

Alison Cross (@AlisonJoyCross)
Read more audience reactions here.
Ready to time travel into English National Ballet's Nutcracker history?
1950: "Divertissment of Sweets"
Our very first performance, in August 1950, included Act II and its suite of dances, with designs by George Krista.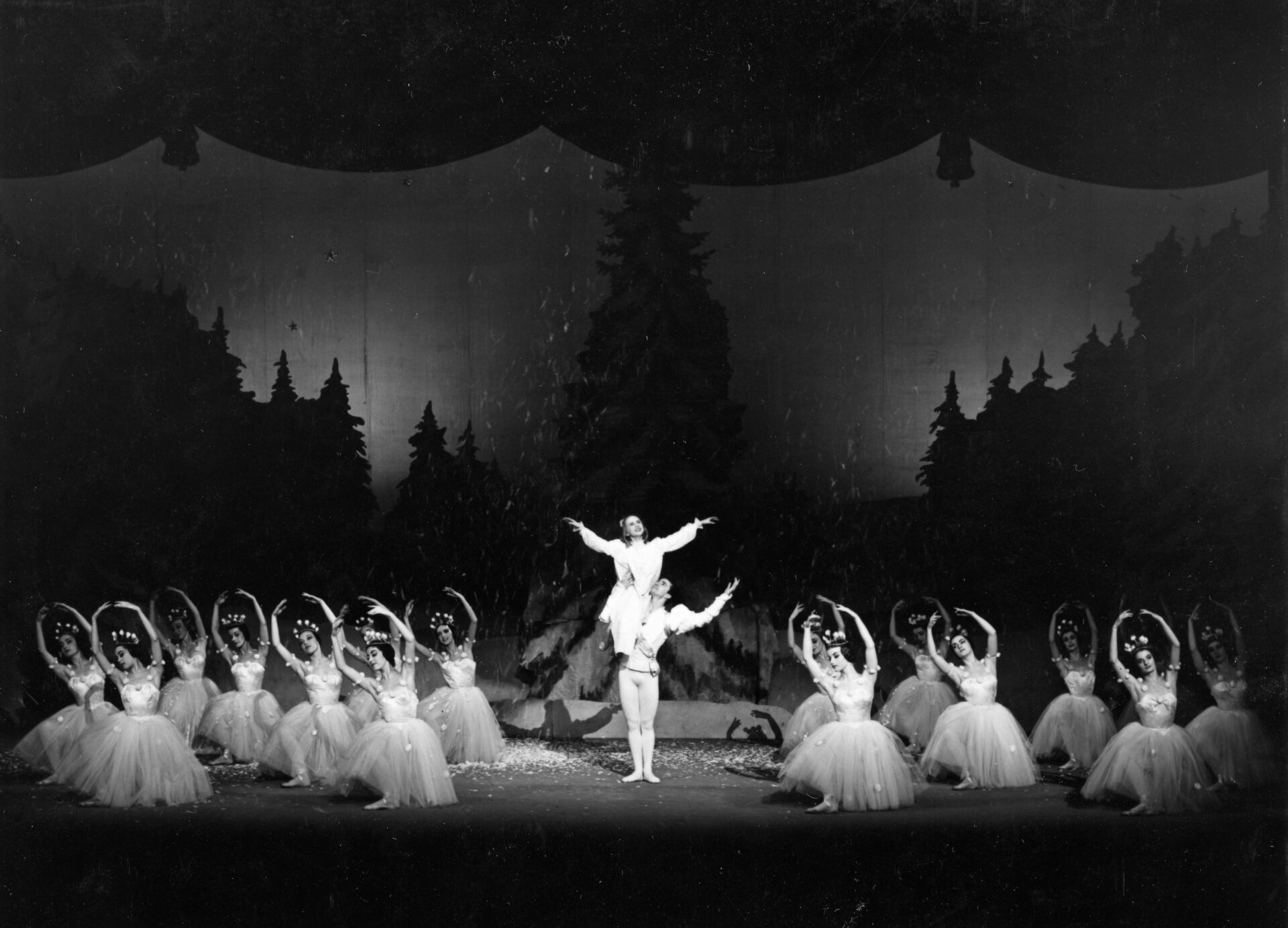 1957: A beloved Nutcracker
One of the most renowned productions of Nutcracker of its time was that choreographed by David Lichine in 1957, with designs by Alexandre Benois.
Taking into consideration the dimensions of the stage of the Royal Festival Hall in London, Benois ingeniously developed a setting in which the scenic elements rotated. In 1965, Benois's designs were reworked by Norman McDowell (assisted by Philip Prowse and Peter Docherty) to enable the production to tour in Jack Carter's new staging, which proved very popular.
1976: A complete change
Ronald Hynd's new production of Nutcracker premiered in 1976. It featured new sets by Peter Docherty, based around a grandfather clock dominating the room in Act I, and then opening up into the oriental set for the Kingdom of Sweets, transforming the clock face as a window through which Clara and Drosselmeyer could watch the action unfold.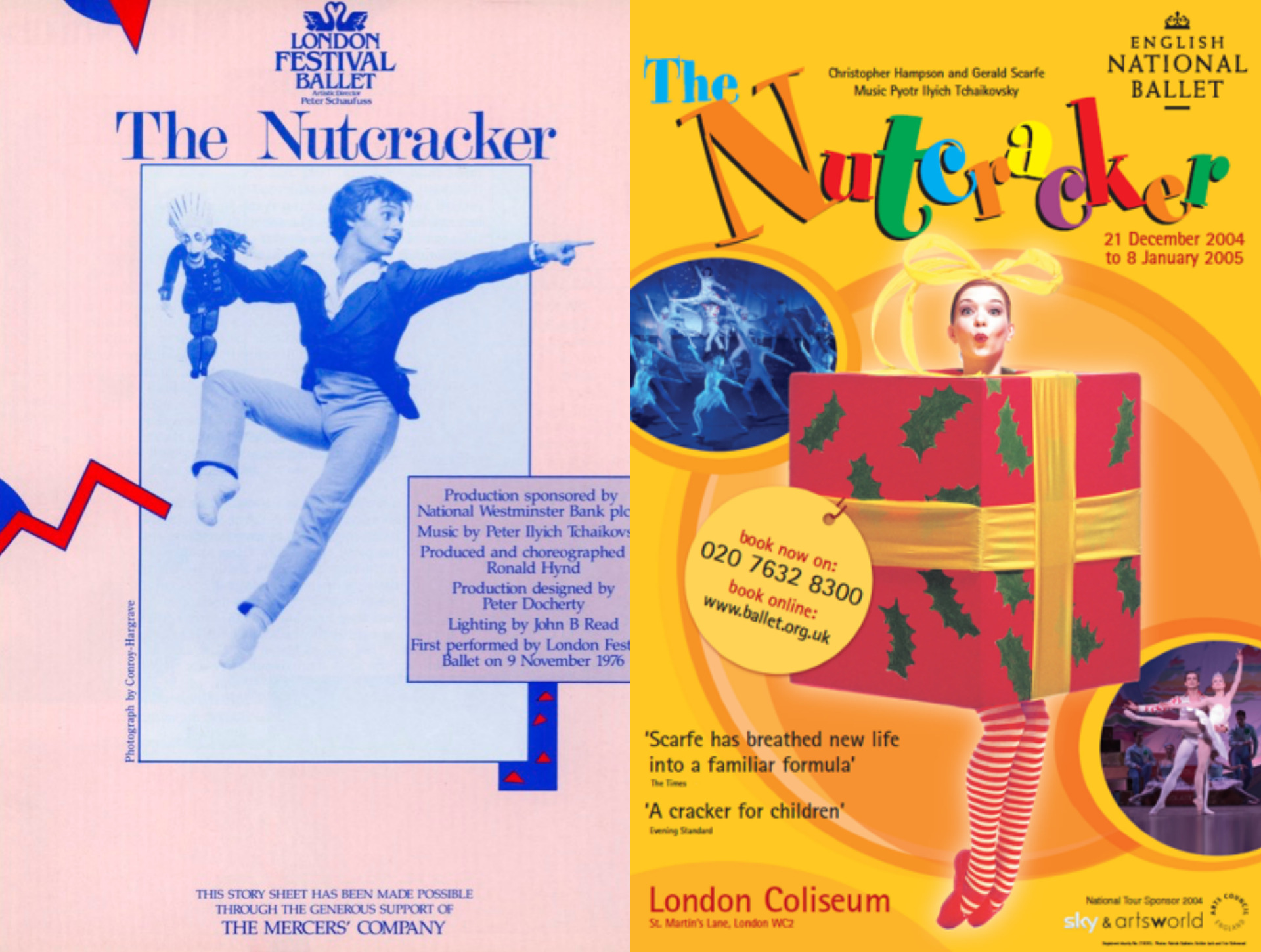 1986: A composer's perspective
In 1986, David Walker's charming designs for Peter Schaufuss's production placed the action in Russia, with the party set at the home of Tchaikovsky's beloved sister, Sasha, and the composer appearing as the Drosselmeyer figure.
1997: A celebration of sweets
Before the end of the millennium, the company premiered a new version of Nutcracker by former Artistic Director Derek Deane, who choreographed other much-loved ballets for ENB such as the innovative Swan Lake in-the-round.
The striking designs by Sue Blane presented the dancers dressed in chic black outfits for the party set in a Belgravia home. The sweets in Act II were immediately recognisable as Smarties and Liquorice Allsorts.
2002: Nutcracker in a new light
In 2002, Christopher Hampson – currently the Artistic Director and CEO of Scottish Ballet – created an unconventionally modern rework of Nutcracker. The set designs by famous cartoonist Gerald Scarfe saw a pile of chocolate boxes as a viewing platform overlooking ice-cream mountains, with snowflakes and jack frost characters jumping out of a freezer!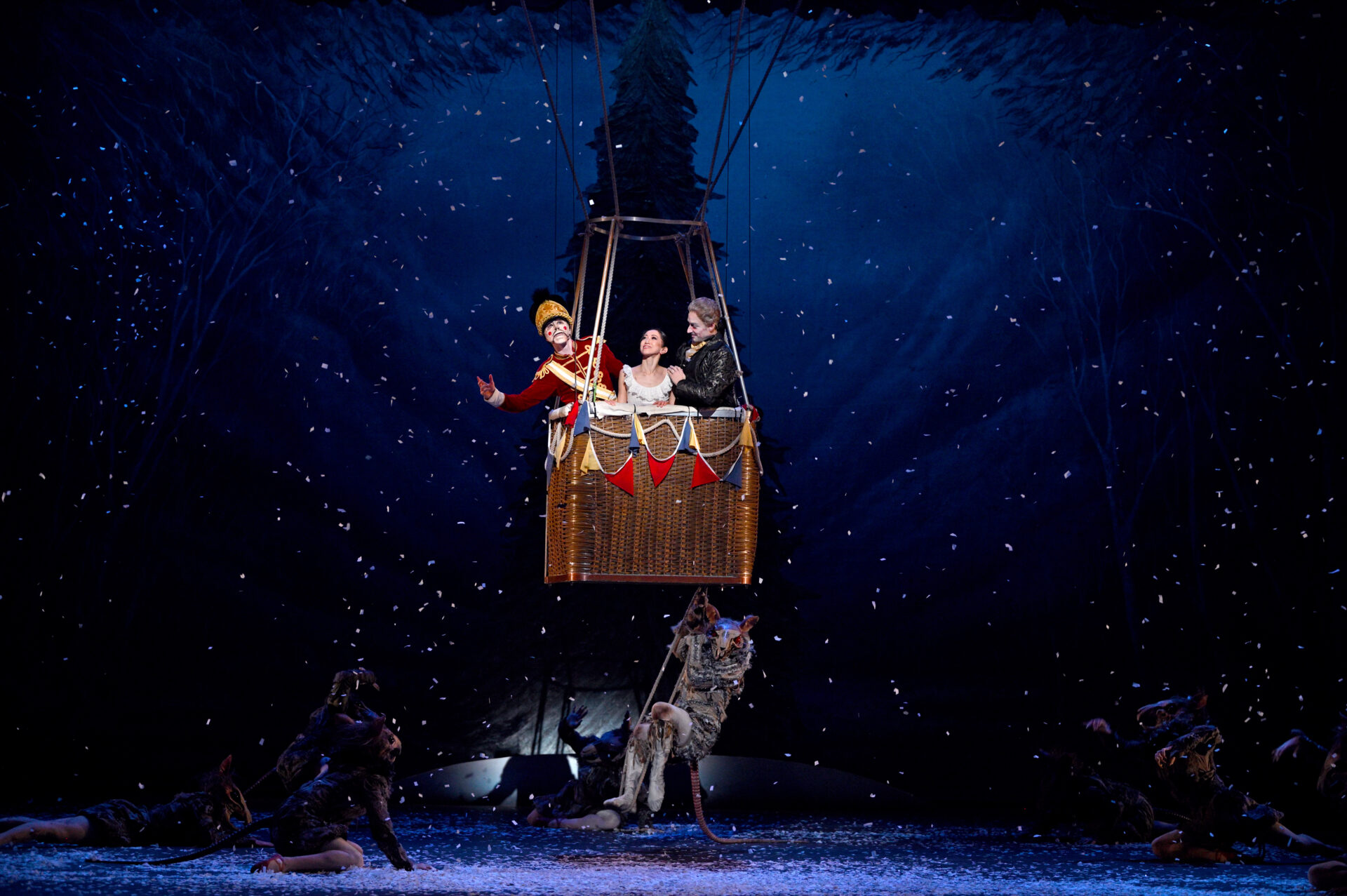 2010: A festive tradition for years to come
Former Artistic Director, Wayne Eagling's Nutcracker opened in 2010 with beautiful designs by Peter Farmer. It remains a hugely popular production and is still performed by the company today. From the magic of the party scene, to the mesmerising dance of the Snowflakes and iconic Waltz of the Flowers, this delightful interpretation has been enjoyed by over 850,000 audiences to date!
Read our blog "Five reasons English National Ballet's Nutcracker is special" to discover more.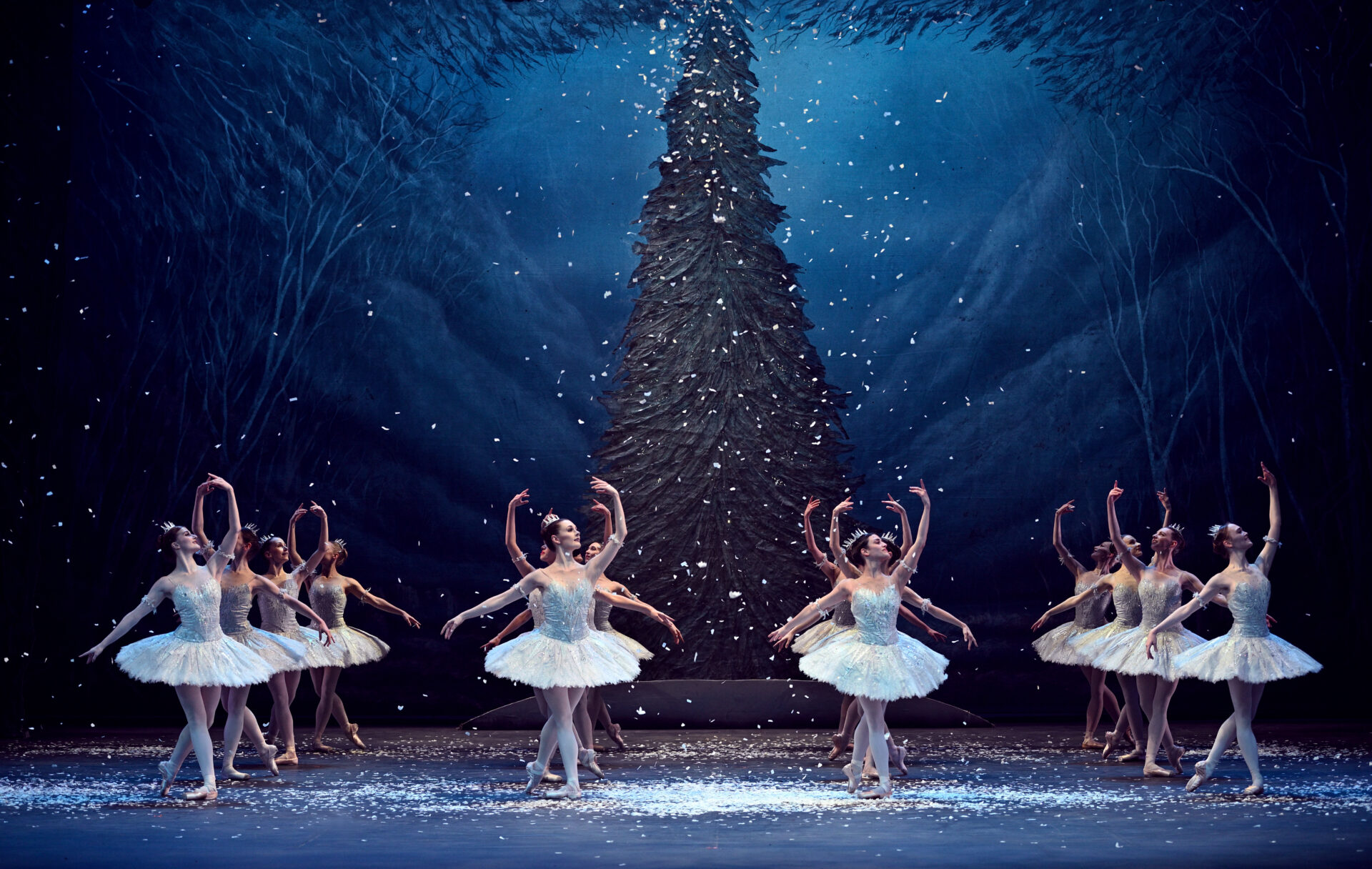 English National Ballet's beloved production returns to Mayflower Theatre, Southampton, from 29 Nov – 2 Dec, and to the London Coliseum from 14 Dec – 7 Jan 2024. Book your Nutcracker tickets here.