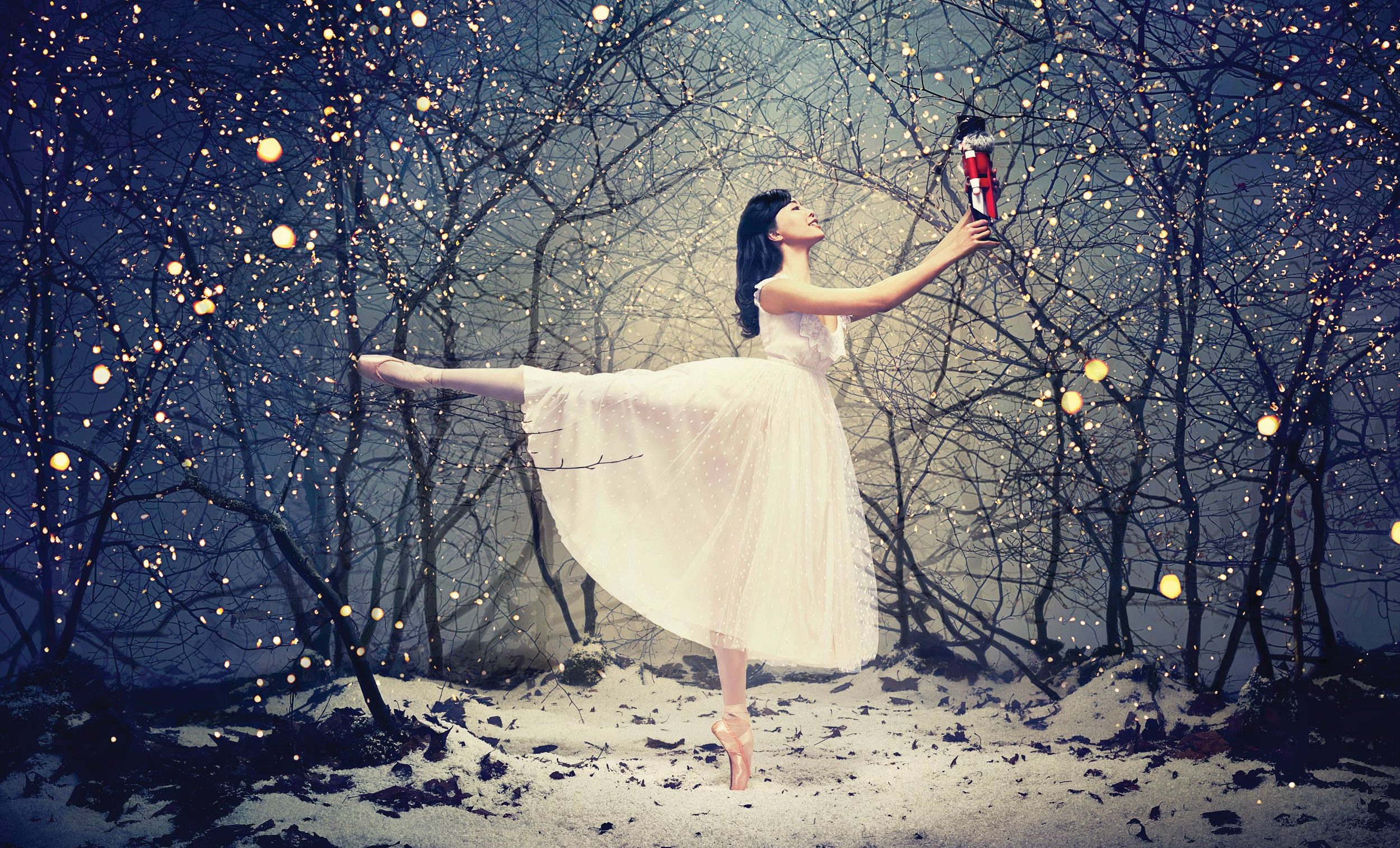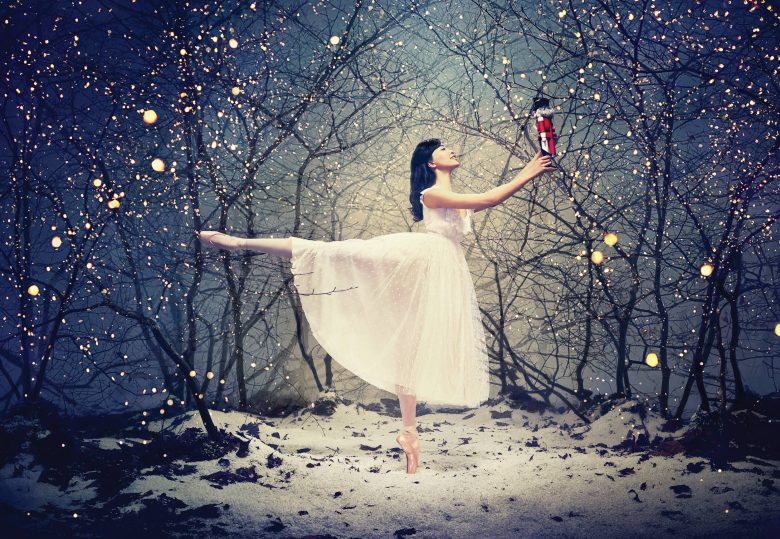 From the archive:
Nutcracker
Nutcracker
The magical Christmas tradition for all the family.
Over 100 dancers and musicians bring Nutcracker to life with exquisite dancing, beautiful sets and Tchaikovsky's popular score played live.
On a sparkling Christmas Eve in a frost-dusted Edwardian London, Clara receives an enchanted Nutcracker as a present. Together, they discover a magical world where she battles with the Mouse King and meets a handsome stranger. As the air grows colder, Clara and her valiant Nutcracker take a hot air balloon ride across London to the glistening Land of Snow where a puppet theatre comes to life with dancers from around the world.
From the sound of the orchestra tuning up, to the final bows and cheers, a trip to English National Ballet's Nutcracker is an unforgettable Christmas treat.
Nutcracker returns following sold out performances in 2017 and 2018, when thousands of audience members – young and old – made it part of their holiday celebrations.
With deft and delightful choreography and a wonderful display from the ENB Philharmonic, this is a splendid Nutcracker and perfect Christmas treat

The Sunday Express
A limited number of £10 standing tickets are available to buy in person from the London Coliseum Box Office on the day of each performance.
Main image: Shiori Kase © Jason Bell. Art Direction and Design Charlotte Wilkinson Studio.

MEET THE PRINCIPAL CAST
CREATIVE TEAM
Wayne Eagling
Concept and Choreography
Toer van Schayk
Concept
Pyotr Ilyich Tchaikovsky
Music
Peter Farmer
Design
David Richardson
Lighting
Synopsis
Act 1
Clara's bedroom
It is Christmas Eve; Clara's family is having a party and everyone is invited. All the family is excited, especially Clara and Freddie who are looking forward to seeing their friends and Father Christmas. Clara is especially excited about seeing her best friend Charlotte whilst their mother and big sister Louise look on fondly. Outside people skate on the frozen Thames.
The Party
Dr Drosselmeyer, a rather mysterious old family friend, arrives. With him is his nephew, fresh from Military School. The guests arrive, presents are starting to gather under the Christmas tree and the children's excitement builds. Dr Drosselmeyer introduces a puppet theatre, in which puppets perform to the delight of the guests. Louise and her three admirers are inspired to dance by the puppets' performance. Dr Drosselmeyer presents Clara with her Christmas present – a Nutcracker doll. Clara is thrilled and begins to dance with her new much-loved gift. Freddie grabs the doll so enthusiastically from Clara that he manages to break it. In despair, Clara turns to Dr Drosselmeyer for help. He, as if by magic, manages to put the doll back together again. Clara is delighted and forgives her brother. The guests depart, the children go up to bed and the house becomes eerily quiet.
The Battle
Clara has a nightmare in which her Nutcracker is attacked by the evil Mouse King. The clock strikes midnight. Giant rats and mice led by the Mouse King appear as the living room undergoes a transformation. The Nutcracker becomes a dashing soldier and a battle between the two sides ensues. The Mouse King and his army are victorious and the Nutcracker is injured. Everything melts away to leave Clara and the Nutcracker alone as snow starts to fall.
The Land of Snow
The living room is magically turned into a winter wonderland filled with sparkling snowflakes. Clara dances with the Nutcracker who seems to be Drosselmeyer's nephew. The Mouse King pursues Clara through the snow. Clara, the nephew and Dr Drosselmeyer escape in a balloon, flying across the glistening, frosty landscape with the Mouse King clinging onto the side.
Act 2
The Puppet Theatre
The balloon lands beside the puppet theatre. Dancers from all over the world representing China, Arabia, Russia and Spain come to life and leap out of the theatre. The Mouse King is finally vanquished by the heroic nephew and a magnificent celebration begins. The dancers perform divertissements. The puppet theatre disappears to reveal a beautiful garden, amongst which dancers perform the Waltz of the Flowers. Finally, Clara dances a glorious pas de deux as the Sugar Plum Fairy with the nephew as the Prince. They are joined by all the characters from around the world.
Suddenly Clara wakes up with a jolt back in her bedroom. Freddie and Clara run outside into the snow to wave a final goodbye to Drosselmeyer and his nephew.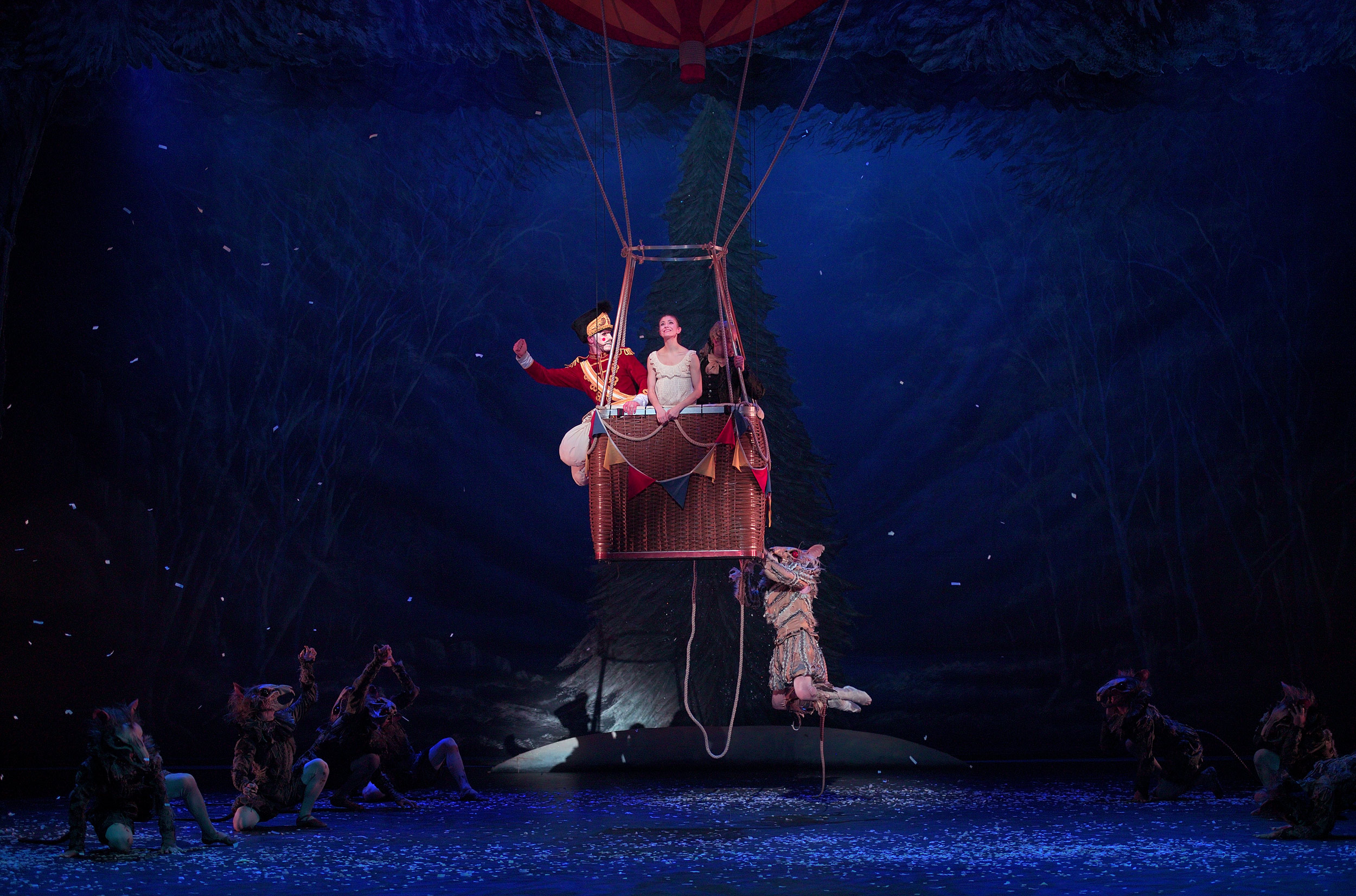 Reviews
---
"A splendid Nutcracker and perfect Christmas treat"
"Fully deserves its place at the centre of London's Christmas celebrations"

Access All Areas
Become a member to get access to exclusive events
Your support makes a vital contribution to English National Ballet's core work, helping to nurture and develop our dancers and musicians who create some of the most extraordinary, high quality ballet performances.
Discounts
LONDON COLISEUM
Only one discount per ticket. Subject to availability. Available from the London Coliseum Box Office, on all performances and all price bands unless stated otherwise.
Children
Up to two children (under 16) can attend half price with every full paying adult. Children under 5 are not allowed in the auditorium, except at our Family-Friendly performance.
Family-Friendly performance
Sun 5 Jan 2pm
Children under 5 may attend this performance, and up to two children (under 16) can go free with each full paying adult. Please call 020 7845 9300 to book.
Friends of English National Ballet
20% off Stalls, Dress and Upper Circle seats, max 6 per person. Not available on top-price seats in the Stalls.
Multibuy
Book for two or more English National Ballet productions at the London Coliseum (Nutcracker, Le Corsaire, 70th Anniversary Gala) at the same time and save 15%
Groups 10+
Save 30% per ticket. Valid Mon-Thu (all performances) and Fri matinees. Call 020 7845 9300 to book.
Students / Senior Citizens / Westminster Rescard / Registered Unemployed
£5 off each ticket
Under 30's
Two-for-one on top-price tickets (normally £80 per ticket). Call 020 7845 9300 to book. Tickets will be held for collection.
School Matinees
Tue 17 Dec and Wed 18 Dec 2.30pm
£8 per pupil + 1 free teacher ticket per 10 students. Available on selected areas only. For all other performances, the Groups rate and conditions apply.
Wheelchair Rate
£19/£9.50
Terms and Conditions
We regret that refunds cannot be given on tickets purchased, and exchange is subject to conditions and availability. English National Ballet reserves the right to make alterations to the programme, casting, dates, times, discounts and prices as necessary. Information subject to change.
Meet the principal cast
London Coliseum, Wed 11 December 2019, 7.30pm
Erina Takahashi
Clara
Francesco Gabriele Frola
Nephew
Skyler Martin
Nutcracker
London Coliseum, Thu 12 December 2019, 7.30pm
Katja Khaniukova
Clara
Jeffrey Cirio
Nephew
Daniel McCormick
Nutcracker
London Coliseum, Fri 13 December 2019, 7.30pm
Shiori Kase
Clara
Brooklyn Mack
Nephew
Junor Souza
Nutcracker
London Coliseum, Sat 14 December 2019, 2.30pm
Fernanda Oliveira
Clara
James Forbat
Nephew
Henry Dowden
Nutcracker
London Coliseum, Sat 14 December 2019, 7.30pm
Katja Khaniukova
Clara
Joseph Caley
Nephew
Aitor Arrieta
Nutcracker
London Coliseum, Sun 15 December 2019, 2.30pm
Erina Takahashi
Clara
Francesco Gabriele Frola
Nephew
Skyler Martin
Nutcracker
London Coliseum, Tue 17 December 2019, 2.30pm
Julia Conway
Clara
Daniel McCormick
Nephew
Erik Woolhouse
Nutcracker
London Coliseum, Tue 17 December 2019, 7.30pm
Katja Khaniukova
Clara
Joseph Caley
Nephew
Aitor Arrieta
Nutcracker
London Coliseum, Wed 18 December 2019, 2.30pm
Fernanda Oliveira
Clara
James Forbat
Nephew
Henry Dowden
Nutcracker
London Coliseum, Wed 18 December 2019, 7.30pm
Erina Takahashi
Clara
Francesco Gabriele Frola
Nephew
Skyler Martin
Nutcracker
London Coliseum, Thu 19 December 2019, 2.30pm
Emma Hawes
Clara
Aitor Arrieta
Nephew
Skyler Martin
Nutcracker
London Coliseum, Thu 19 December 2019, 7.30pm
Katja Khaniukova
Clara
Jeffrey Cirio
Nephew
Daniel McCormick
Nutcracker
London Coliseum, Fri 20 December 2019, 2.30pm
Francesca Velicu
Clara
Ken Saruhashi
Nephew
Matthew Astley
Nutcracker
London Coliseum, Fri 20 December 2019, 7.30pm
Shiori Kase
Clara
Brooklyn Mack
Nephew
Junor Souza
Nutcracker
London Coliseum, Sat 21 December 2019, 2.30pm
Erina Takahashi
Clara
Francesco Gabriele Frola
Nephew
Skyler Martin
Nutcracker
London Coliseum, Sat 21 December 2019, 7.30pm
Julia Conway
Clara
Daniel McCormick
Nephew
Erik Woolhouse
Nutcracker
London Coliseum, Sun 22 December 2019, 2.30pm
Fernanda Oliveira
Clara
Isaac Hernández
Nephew
James Forbat
Nutcracker
London Coliseum, Tue 24 December 2019, 2pm
Fernanda Oliveira
Clara
Isaac Hernández
Nephew
James Forbat
Nutcracker
London Coliseum, Thu 26 December 2019, 4pm
Emma Hawes
Clara
Aitor Arrieta
Nephew
Fernando Carratalá Coloma
Nutcracker
London Coliseum, Fri 27 December 2019, 2.30pm
Katja Khaniukova
Clara
Jeffrey Cirio
Nephew
Daniel McCormick
Nutcracker
London Coliseum, Fri 27 December 2019, 7.30pm
Fernanda Oliveira
Clara
James Forbat
Nephew
Henry Dowden
Nutcracker
London Coliseum, Sat 28 December 2019, 2.30pm
Francesca Velicu
Clara
Ken Saruhashi
Nephew
Matthew Astley
Nutcracker
London Coliseum, Sat 28 December 2019, 7.30pm
Alina Cojocaru
Clara
Isaac Hernández
Nephew
James Forbat
Nutcracker
London Coliseum, Sun 29 December 2019, 2.30pm
Shiori Kase
Clara
Brooklyn Mack
Nephew
Junor Souza
Nutcracker
London Coliseum, Mon 30 December 2019, 2.30pm
Julia Conway
Clara
Daniel McCormick
Nephew
Erik Woolhouse
Nutcracker
London Coliseum, Mon 30 December 2019, 7.30pm
Katja Khaniukova
Clara
Joseph Caley
Nephew
Aitor Arrieta
Nutcracker
London Coliseum, Tue 31 December 2019, 2pm
Erina Takahashi
Clara
Francesco Gabriele Frola
Nephew
Skyler Martin
Nutcracker
London Coliseum, Thu 2 January 2020, 7.30pm
Katja Khaniukova
Clara
Jeffrey Cirio
Nephew
Daniel McCormick
Nutcracker
London Coliseum, Fri 3 January 2020, 7.30pm
Alina Cojocaru
Clara
Isaac Hernández
Nephew
James Forbat
Nutcracker
London Coliseum, Sat 4 January 2020, 2.30pm
Francesca Velicu
Clara
Aitor Arrieta
Nephew
Matthew Astley
Nutcracker
London Coliseum, Sat 4 January 2020, 7.30pm
Erina Takahashi
Clara
Francesco Gabriele Frola
Nephew
Skyler Martin
Nutcracker
London Coliseum, Sun 5 January 2020, 2pm
Fernanda Oliveira
Clara
James Forbat
Nephew
Junor Souza
Nutcracker