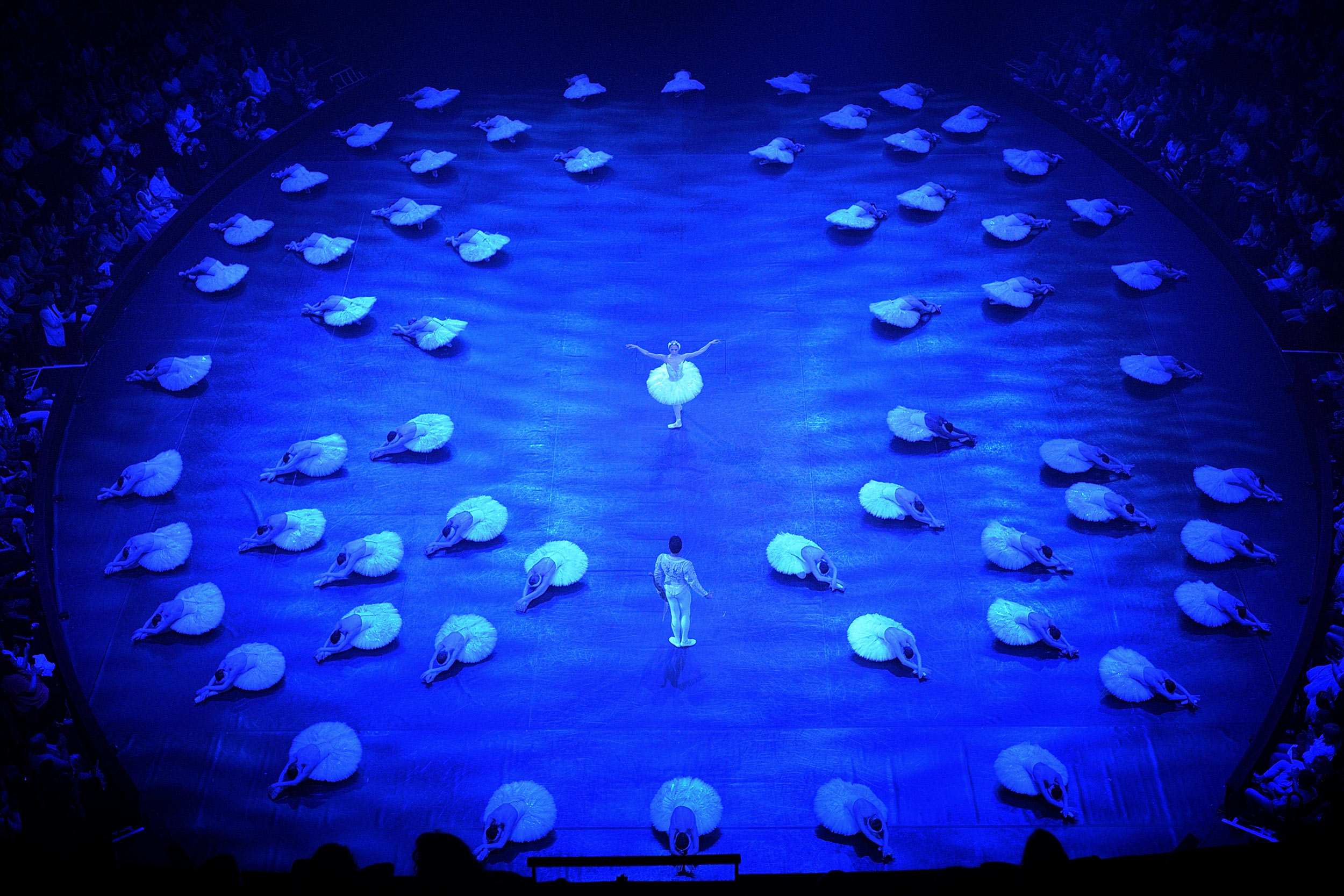 Derek Deane's
Swan Lake in-the-round
Royal Albert Hall, London
Wed 12 - Sun 23 Jun 2024
Royal Albert Hall, London
Book now
2 hours 50 minutes including a pause after Act I and two intervals of 20 minutes
The splendour of ballet on a grand scale.
Derek Deane's Swan Lake in-the-round caused a sensation at its premiere in 1997, and has since been enjoyed by over 500,000 people worldwide.
With 60 swans, stunning costumes and atmospheric lighting, this breathtaking in-the-round production transforms the Royal Albert Hall into a magical lake.
Combining gorgeous spectacle, compelling drama and touching intimacy, it enthrals and delights, from the lakeside seats to the top of the Hall, with Tchaikovsky's memorable score played live by the English National Ballet Philharmonic.
A remarkable and grand achievement.

★★★★ Financial Times
Presented by Royal Albert Hall and English National Ballet
Main Image: English National Ballet in Swan Lake in-the-round. Photo © Laurent Liotardo.
MEET THE PRINCIPAL CAST
CREATIVE TEAM
Derek Deane
Choreography and Direction
Pyotr Ilyich Tchaikovsky
Music
Howard Harrison
Lighting Design
Synopsis
Act I
The Courtyard of the Castle
It is Prince Siegfried's birthday and the townsfolk have gathered excitedly at the palace. The ladies and gentlemen of the court dance for him and acrobats and jugglers entertain the young prince.
The celebrations are in full swing when the Queen presents her son with a gift of a magnificent crossbow. Prince Siegfried is delighted with the gift but his mood changes when his mother pulls him aside and reminds him that he must now find a suitable wife. Preoccupied by the reminder of this obligation, Prince Siegfried dismisses his guests. Suddenly, his thoughts are interrupted by the spectacular sight of a flock of swans in the distance. Grabbing his new crossbow, he hurries from the palace to hunt them.
Act II
The Lakeside
At the Lakeside a dark and mysterious force is lurking. It is Rothbart, a strange half-man, half bird, with sorcerer's powers and a piercing glare. This monstrous creature rises from the depths of the misty lake to survey all he owns, beating his huge black wings. He vanishes into the water seconds before Prince Siegfried arrives at the lakeside with his crossbow.
The prince is amazed to find that each of the swans he followed is a young woman bewitched by the evil sorcerer, Rothbart. They are only able to return to human form for a few hours at night. Among them is their queen, Odette. The flock protects her fiercely but slowly Odette begins to trust the prince who is utterly captivated by her beauty and elegance.
When Rothbart reappears, the frightened swan-maidens scatter. In the chaos Odette flees, closely followed by Siegfried who chases her into the night. Enraged, Rothbart summons all his powers and draws the woman back to the lake. Prince Siegfried breathlessly declares his undying love for Odette and swears to remain faithful to her for all time. Jealous Rothbart wrenches them from their embrace, and he takes Odette away, leaving Prince Siegfried desperate and alone.
Act III
The Great Hall of the Castle
Back at the palace, a formal celebration is taking place in honour of Prince Siegfried's birthday. Royalty from all over the world have been invited and there are impressive displays of national dances. Among the guests are several princesses specially selected by the Queen as potential brides for Prince Siegfried. He politely dances with each woman but remains aloof, knowing he will never marry anyone but Odette. Suddenly, with a flourish of trumpets and a crack of lightning, Rothbart arrives with his daughter, Odile. She is quite beautiful and dressed sleekly all in black. Unbeknownst to Siegfried, Rothbart has cast a spell over his own daughter, transforming her into an exact likeness of the beautiful Odette. He plans to trick Prince Siegfried and force him into betraying Odette.
This clever impostor's movements seem familiar to Siegfried and he is utterly convinced he is dancing with Odette. He is so mesmerized by her he fails to see Odette desperately beating her wings at the window, pleading with her eyes. Prince Siegfried declares to the guests, the court and his mother the Queen that he intends to marry this mysterious guest. His cruel plan complete, Rothbart is triumphant and reveals Odette to expose his trickery. Realising he has betrayed Odette, Prince Siegfried is full of anguish and pushes past the guests heading for the lake to beg for Odette's forgiveness.
Act IV
The Lakeside
Knowing that she has been betrayed, Odette returns to her companions gathered at the Lakeside. Siegfried arrives to beg for Odette's forgiveness, which she eventually grants. When Rothbart arrives a fight ensues; a struggle of good over evil. In the end, Rothbart's evil spell is broken by the power of Siegfried and Odette's love for each other and Rothbart is destroyed by the swan-maidens who are released from their enslavement. As the dawn of a new day rises, Siegfried and Odette are united in eternal love.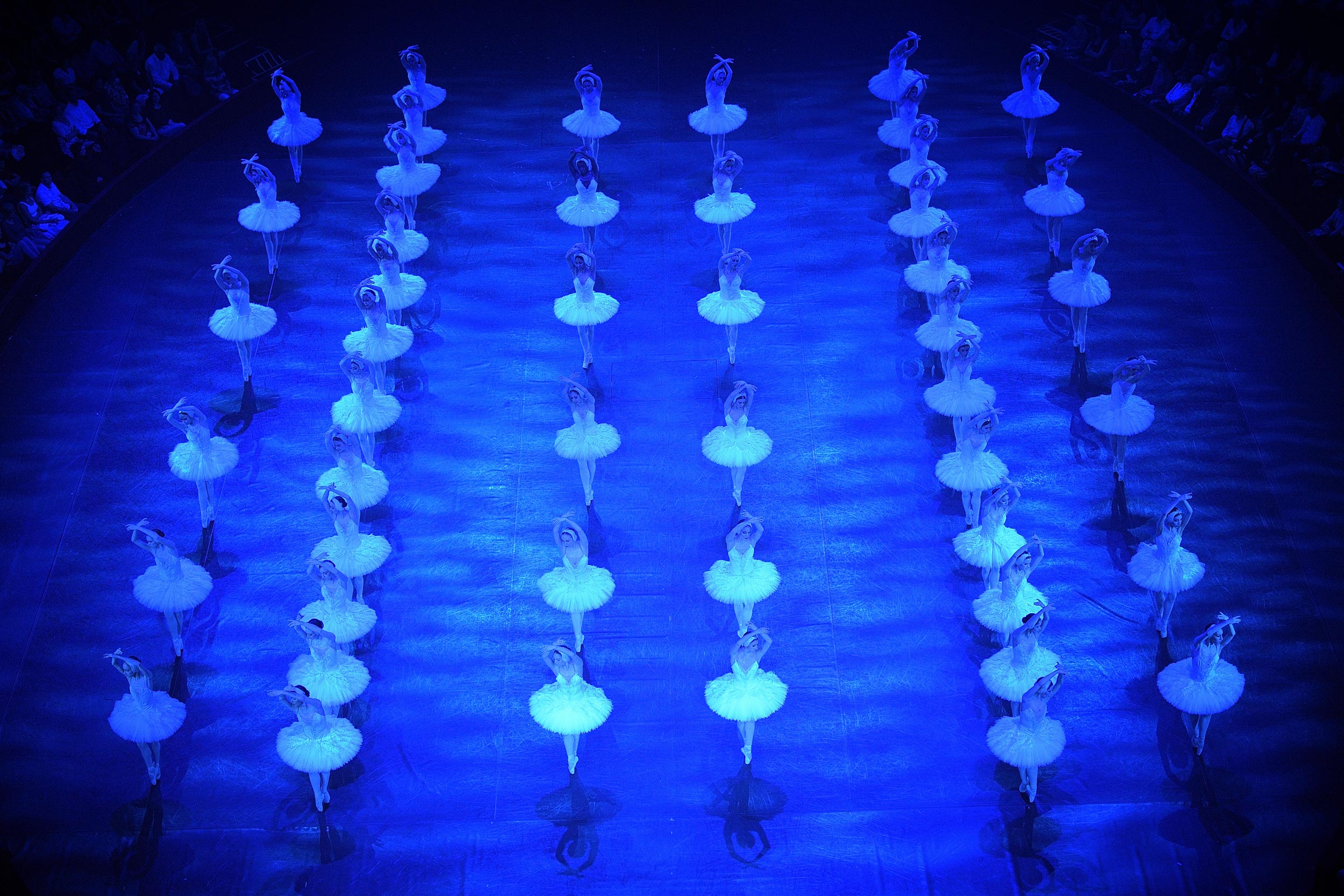 Reviews
"A remarkable and grand achievement. A true, honourable Swan Lake."
Meet the principal cast
Royal Albert Hall, Wed 12 Jun 2024, 7.30pm
Royal Albert Hall, Thu 13 Jun 2024, 7.30pm
Royal Albert Hall, Fri 14 Jun 2024, 7.30pm
Royal Albert Hall, Sat 15 Jun 2024, 2.30pm
Royal Albert Hall, Sat 15 Jun 2024, 7.30pm
Royal Albert Hall, Sun 16 Jun 2024, 2.30pm
Royal Albert Hall, Tue 18 Jun 2024, 7.30pm
Royal Albert Hall, Wed 19 Jun 2024, 7.30pm
Royal Albert Hall, Thu 20 Jun 2024, 2.30pm Casting TBC
Royal Albert Hall, Thu 20 Jun 2024, 7.30pm
Royal Albert Hall, Fri 21 Jun 2024, 7.30pm
Royal Albert Hall, Sat 22 Jun 2024, 2.30pm Casting TBC
Royal Albert Hall, Sat 22 Jun 2024, 7.30pm
Royal Albert Hall, Sun 23 Jun 2024, 2.30pm