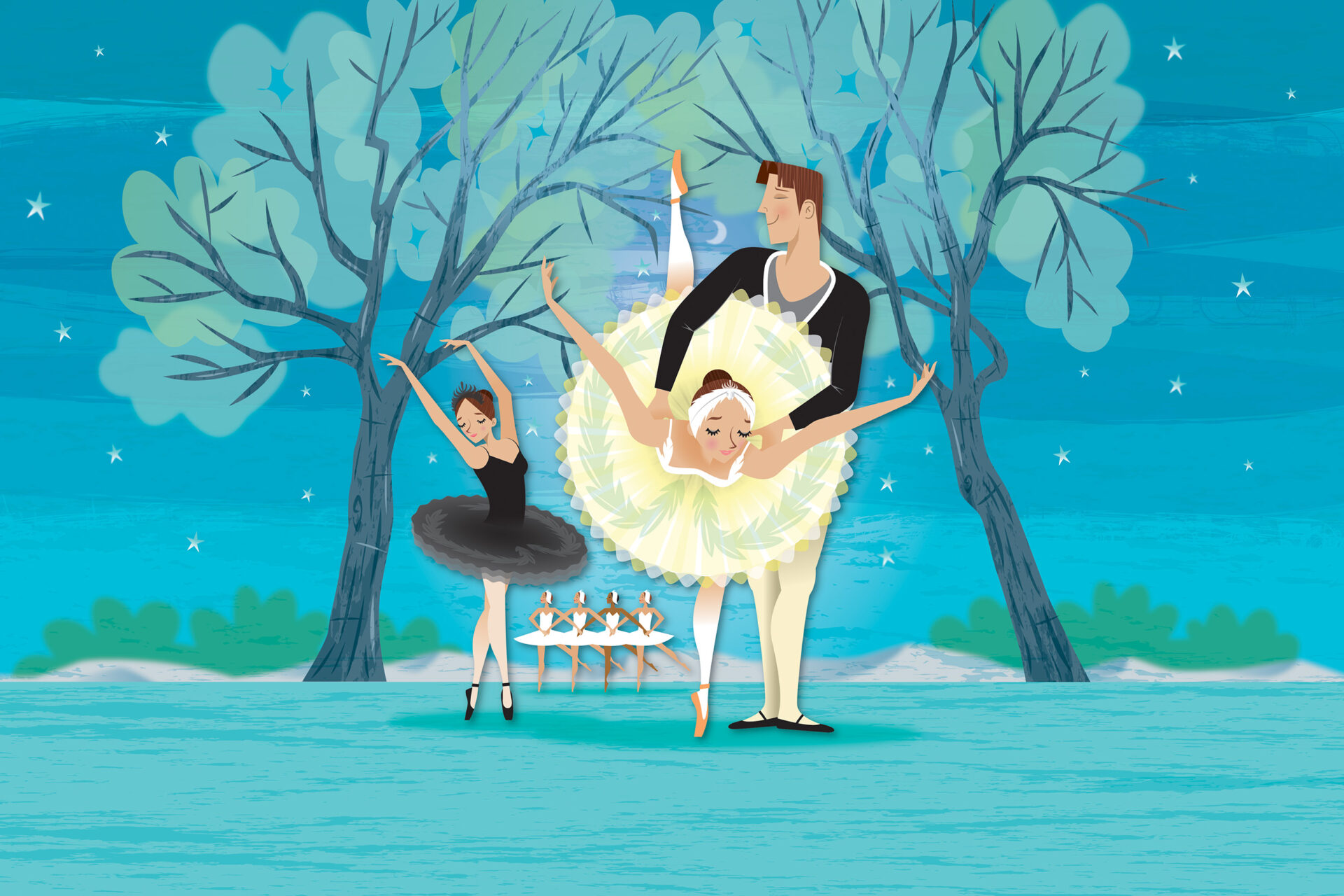 My First Ballet: Swan Lake
Peacock Theatre, London
Thu 04 - Sat 13 Apr 2024
The Peacock, London
Book now
1 hour 30 minutes including one interval
A first introduction to the magical world of ballet
Experience the thrill of the world's most famous ballet with your little ones, in this specially adapted version for children aged three upwards.
The magician Rothbart has turned the princess Odette into a swan: only at night can she return to human form. Will Prince Siegfried be able to save her, or will he fall for Rothbart's sorcery? Featuring choreography by Antonio Castilla, English National Ballet's Repetiteur, this version follows the familiar story from a different point of view.
With a narrator to help follow the story, a shortened version of Tchaikovsky's wonderful music, beautiful dancing by students from English National Ballet School, and all the elegant costumes you could wish for, this is the perfect introduction to the joy of live ballet.
Since its creation in 2012, over 320,000 people have enjoyed English National Ballet's My First Ballet series. This fantastic day out for the family returns to the Peacock Theatre in Easter 2024.
Main Image: Illustration by Mark Ruffle
CREATIVE TEAM
Antonio Castilla
Choreography
Pyotr Ilyich Tchaikovsky
Music
Gavin Sutherland
Music Arrangement
Peter Farmer
Original Set & Costume Design
Synopsis
Prologue
A young, ambitious wizard called Rothbart wants to gain the affection of Odette, a princess who is friends with his little sister Odile. He asks her to marry him, but when she says no he places an angry spell on her and turns her into a swan.
Act I scene 1
Meanwhile, at the nearby palace, Prince Siegfried is having a party with his friends to celebrate his 18th birthday. While they are enjoying themselves, his mother the Queen appears with a gift, a crossbow. She tells him that it's time for him to grow up – he must stop playing out so much and find a bride at the royal birthday party the following evening. He doesn't want to. He just wants to run in the fields, have adventures, fall in love. The Queen is very unhappy and leaves. Siegfried is also unhappy and his friends try to cheer him up. They see a flock of swans and decide to follow them into the forest.
Act I scene 2
The friends chase the swans but lose them. They go further into the forest to try to find them, leaving Siegfried behind. Suddenly he sees one lonely swan that is about to land by the lake. The sun is setting as he tries to shoot the swan with his crossbow, but Odette appears just where the swan landed. He is curious and talks to her – she explains that she and her friends have been put under a spell by Rothbart – they have been turned into swans and only at night, when they are beside the lake, can they become humans again. The spell can only be broken if someone who has never loved before swears to love her forever. Rothbart appears and pulls Odette away from the Prince.
As the Prince looks for Odette again he sees more swans, and finds Odette amongst them. She begs him not to hunt her friends, they talk, and they begin to fall in love. Rothbart appears once more and tries to steal Odette again. He chases Siegfried away and takes control of her. He hatches a plan to convince the Prince to swear his love to another girl so that his spell on Odette will not be broken.
Act II scene 1
It is Siegfried's birthday costume ball at the palace. The Queen has invited princesses from faraway lands: Spain, Italy and Russia. They dance for him. He does not want to marry any of them. He is miserable and just wants his swan Odette. Rothbart and Odile arrive. Rothbart has tricked his little sister, (who secretly admires the Prince), into going to the ball to win his affections. She doesn't realise that he has given her a mask to make her look like Odette. Siegfried falls for the disguise and thinks it is Odette and he dances with her so happily. He publicly swears his love for Odile.
Just as he does this, Odile sees a vision of her friend Odette as the swan and realises, looking at herself closely, that her brother has deliberately disguised her to look like Odette. Though
she would love to stay quiet and keep the Prince's love for herself, she knows she has to do the right thing and look after her friend. She takes off her disguise, tells everyone that Rothbart has
tricked them, and says that the true love belongs to Siegfried and Odette. She begs Rothbart to undo his spell but he refuses and leaves. The Prince hurries back to the lake to find Odette. Odile follows because she is worried what the angry Rothbart may do to Odette and Siegfried.
Act II scene 2
Odette is heartbroken because she thinks her prince loves someone else. Her friends comfort her. A furious Rothbart appears and tries to take Odette away but the swans protect her, and he leaves. Siegfried finds her on the floor surrounded by her friends, and thinking she is dead he falls to his knees – but she rises up and forgives him.
Rothbart appears and reminds the Prince that he has publicly sworn love to Odile. Odile arrives and begs Rothbart to break the spell but he refuses and tries again to get Odette away. Odette, Siegfried and Odile fight with Rothbart and Odile is thrown to the floor. Rothbart immediately realises that he has done something terribly wrong.
After being helped up by her friend Odette, Odile goes to her brother and forgives him. Odette thanks Odile for saving them all. Odette and Siegfried are now free to love one another forever. Odile takes Rothbart's wings from him, he gives up his evil powers, and they all live happily ever after.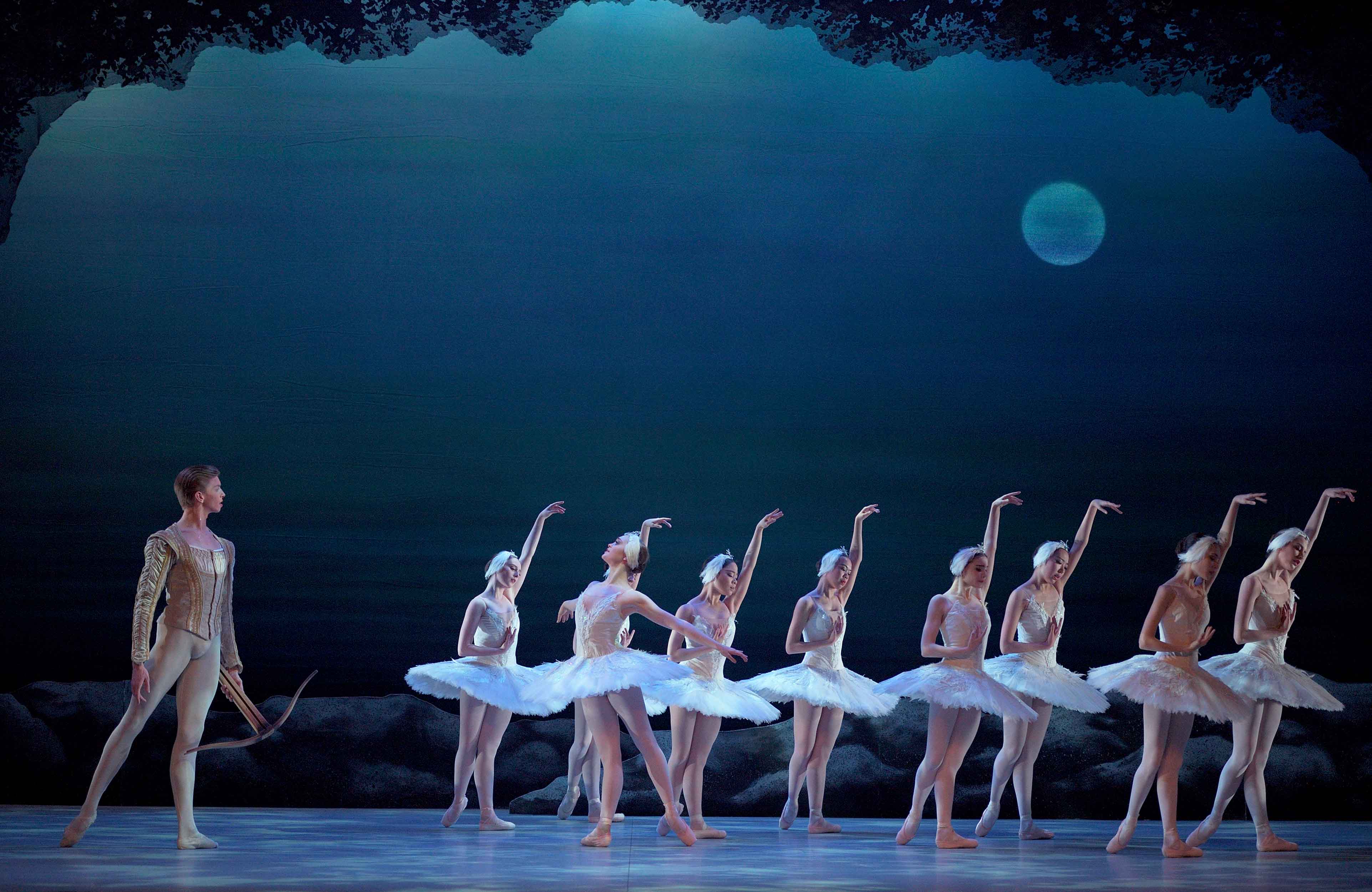 Reviews
"Highly recommended for dance lovers of all ages"
"Exceptional for the young and young at heart"
Seen and Heard International
Symbol Resources
English National Ballet are delighted to be working in partnership with Widgit to make ballet more accessible to children with learning difficulties and disabilities, by creating a range of symbol resources.
Widgit symbols support written text to make the meaning clearer and easier to understand. All of these resources are available to download for free (PDF format) and you will also find extra activities in our printed programmes at theatres throughout the tour.
The My First Ballet: Swan Lake Symbol Resources are designed for use before, during and after performances.
Download now:
Relaxed Performance
Wednesday 10 April 2pm will be a relaxed performance.
A Relaxed Performance is a less formal theatre experience for anyone who would benefit from a more relaxed atmosphere to enjoy a show. They support noise and movement within the auditorium during a show, re-entry when needed so house lights are left on throughout, and a separate chill-out space for anyone who might need it at any time during their visit.
We also provide a Visual Story so people can familiarise themselves with the theatre and key details about the show in advance.