Dr. Shirley J. Thompson OBE
Shirley J. Thompson was born, brought up and still resides in the east London (Newham). As well as being a leading British composer she is also an academic, and an artistic director that stages her own operatic productions.
The conceptual music of composer Shirley J. Thompson is performed and screened worldwide and often described as 'superbe' (Le Figaro) as well as 'powerful and striking' (Planet Hugill). A visionary artist and cultural activist, Thompson has pushed the boundaries of classical music composition and performance with ground-breaking productions that have attracted new audiences worldwide.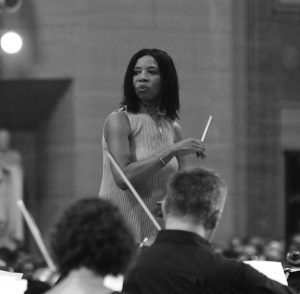 Thompson is the first woman in Europe to have composed and conducted a symphony within the last 40 years. New Nation Rising, A 21st Century Symphony performed and recorded by the Royal Philharmonic Orchestra is an epic musical story celebrating London's thousand-year history, This extraordinary work was originally commissioned to celebrate Her Majesty the Queen's Golden Jubilee in 2002 and the concept was latterly assumed as a framework for the 2012 Olympics Opening Ceremony.
She co-scored the ballet PUSH that toured to over 40 of the world's major opera houses, including The Marinsky Theatre, La Scala and Sydney Opera House. Her opera series, Heroines of Opera, encapsulates hidden narratives of iconic women in history and challenges the concept of the femme fatale, the usual portrayal of women in the operatic cannon. Thompson has consistently demonstrated in her creative and professional work, a strong belief in the transformative power of music, dance and the arts to affect social, cultural and political change.