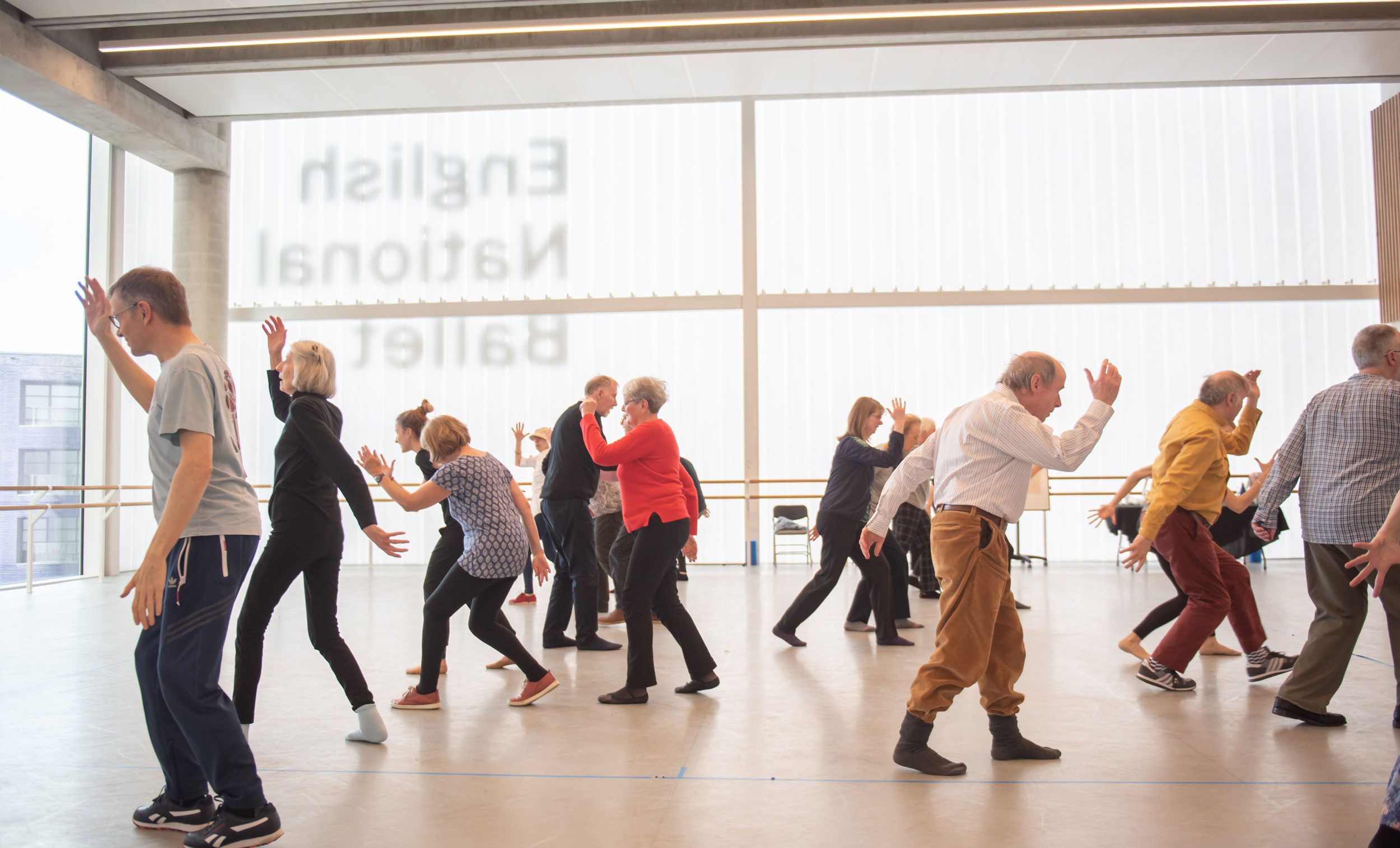 Dance for Parkinson's Summer Special
Workshops and classes to embody and practise creativity
Fri 12 Aug 2022
Yoga for Parkinson's: online only
11am – 12:30pm
Zoom
£6
Fri 26 Aug 2022
Deep Listening: Online only
11am – 12:15pm
Zoom
£6
We will be running a series of classes over the summer, both in person and online activities, focusing on how we can embody and practise creativity.
Workshops will be delivered by ENB Associate Artists, alongside a number of special guest artists. Each class is unique and will deepen our artistic practice whilst centering our bodies and minds. In-person workshops will take place at the Mulryan Centre for Dance in Canning Town, with online workshops taking place on Zoom.
Places are limited, so please book early!
Schedule:
Movement & Art – an exploration: in-person only
Friday 29th July, 11am – 2pm
Join in an extended, creative, exploratory workshop combining movement, art, and music. Taking inspiration from THE FORSYTHE EVENING, dancers will have the opportunity to work with independent artist Ruairiadh O'Connell who worked on the Patterns of Perception project in 2019 alongside ENB Associate Artists Kate and Matt Hartley-Stevens.
Refreshments will be served after the workshop to allow for reflection.
Cost: £15 (includes refreshments)
Location: Mulryan Centre for Dance
ENB Associate Artist and Dance for Parkinson's teacher, Abbie Biscoe, will lead a Vinyasa-inspired (Vinyasa meaning 'breath synchronised movement') chair-based yoga series focusing on gentle movements, stretches, breathing techniques and meditations, leading us to feel calm in the mind and relaxed and restored in the body.
Cost: £6 per workshop
Location: Online via Zoom
Creative Exploration – Touch & Massage: in-person only
PLEASE NOTE: Due to planned transport strikes on Friday 19 August, this session has been cancelled. We hope to reschedule it for the autumn; please keep an eye out for communications regarding this.
Guest Dance Artist Delene Gordon leads a gentle movement and relaxation session increasing our self-awareness and connection to other moving bodies. There will be some partner massage and a gentle stretch to awaken and connect our bodies and mind. Delene delivered Rambert's Dance for Parkinson's programme, is a qualified masseur and has extensive experience in artistic practice.
ENB Associate Artist Jon Petter, an established musician who has worked on ENB's DfP since its inception, will introduce his work within the field of Deep Listening®, as developed by US composer, feminist and humanist, Pauline Oliveros. Come and experience a taster session – expect to use gentle body and breathwork, warm up your voice, try some listening exercises and interact within the group in a fun and playful manner.
Cost: £6
Location: Online via Zoom
BOOKING
Booking is open until 24 hours before each session.
For those who are unable to book via the website, please ring the Engagement department on 0207 590 2923 to book your place over the phone. Please note calls will be answered between 10am – 5pm, Monday – Friday.
We look forward to hosting this exciting summer programme for you! As always, please do get in touch if you have any questions.