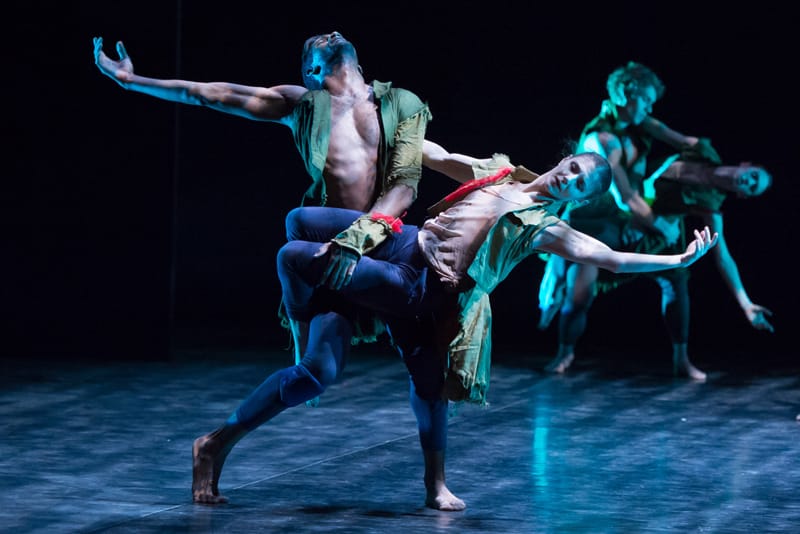 Performing Lest We Forget: dancers' interview
13 Aug 2015
When it premiered at the Barbican in 2014, Lest We Forget marked a defining moment for our Company with critics calling it "both moving and ambitious" (The Independent) and "full of promise for ENB's future" (The Daily Telegraph).
Featuring three new works by choreographers we had never worked with before – Akram Khan, Russell Maliphant and Liam Scarlett, Lest We Forget is a poignant reflection on World War I, focusing on the experiences of those who fought the war,and those who stayed behind.
"Lest We Forget is one of my proudest moments as Artistic Director so far" says Tamara Rojo. "Commissioning new dance works that push the boundaries of ballet is at the core of our vision. It is always a risk, but the reaction from critics and our audiences has been astounding, humbling and incredibly moving. I couldn't be happier that we are able to bring this programme back in our 2015/2016 season."
Lest We Forget was also a special experience for its performers. "Being part of the creation of the piece No Man's Land was a pleasure from beginning to end" says Soloist Alison McWhinney. "Liam Scarlett was so amazing to work with, always inspiring, we all felt very involved in creating his ballet."
Junor Souza relished the challenge of learning Russell Maliphant's more contemporary style: "Getting to grips with his movements was so very different from any other contemporary technique I'd done before. During the rehearsals, Russell introduced his own company dancers to demonstrate to us how the steps should look which was extremely beneficial."
First Artist, Tamarin Stott agrees: "Throughout the creative concept we really learned a great deal about Russell's techniques, so that the transition from our classical technique felt a very natural adjustment. Just being part of this original process was an amazing and rewarding experience, one that I want to pass onto future generations."
Through Akram Khan's Dust, we also reached an entirely new audience when we were invited to appear at the 2014 Glastonbury Festival, the first ballet company to ever perform on their Pyramid Stage. Soloist James Streeter was blown away by the 30,000 strong crowd. "This is fantastic for the Company to be recognised and be able to stand up next to the artists that are performing here. It's always incredible when you walk out on a stage and you feel the energy from an audience, and the power that they have, it can almost knock you back, off your feet."
After its revival in London, Milton Keynes and Manchester in 2015, Lest We Forget returns to Sadler's Wells, London on 20-29 Sep 2018.