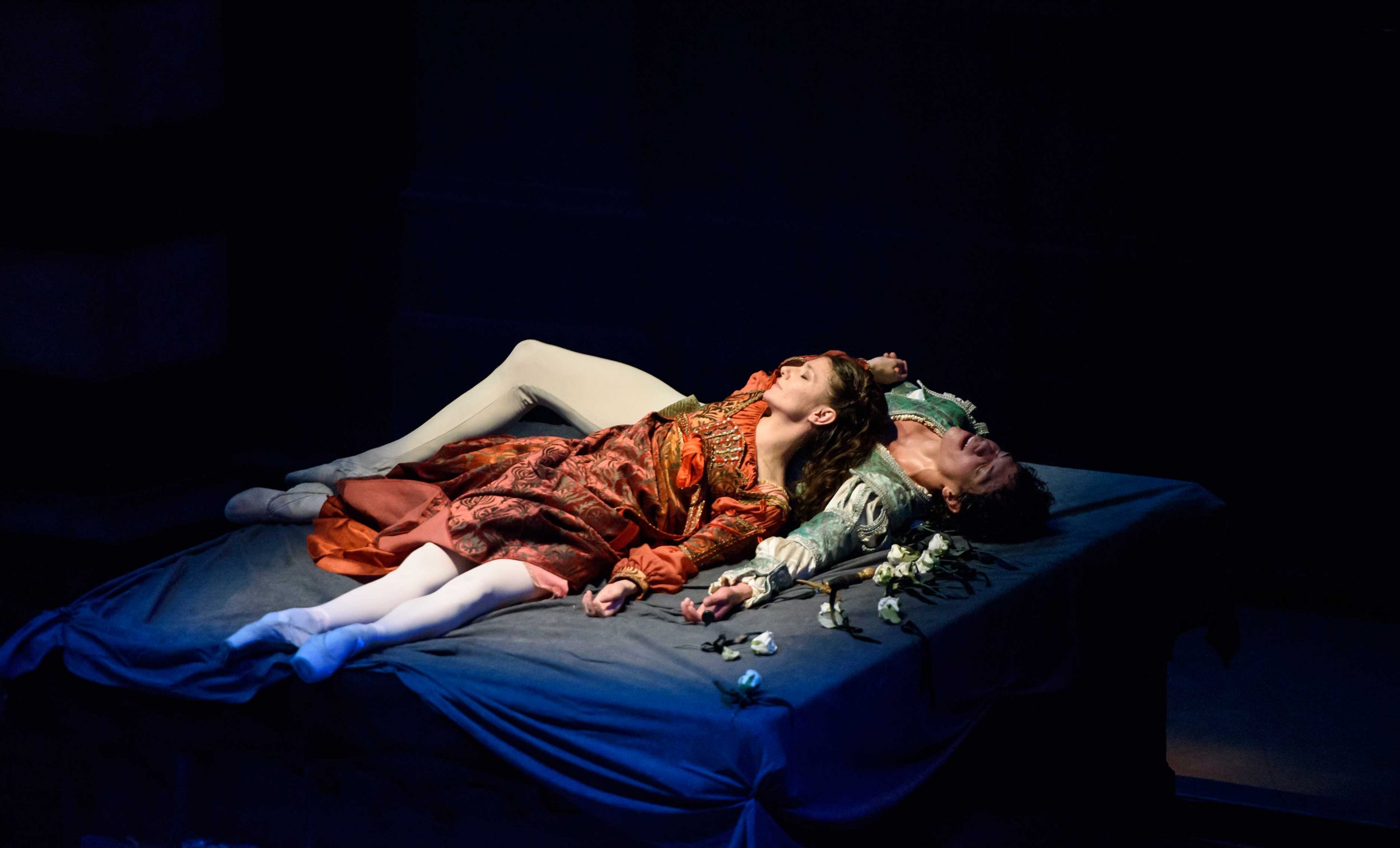 What makes Nureyev's Romeo & Juliet so special?
07 Jul 2017
Arguably one of the world's greatest love stories ever told, Shakespeare's Romeo & Juliet has inspired many composers and choreographers. English National Ballet boasts of having two different productions in its current repertoire: Derek Deane's in-the-round version, which we have performed at the Royal Albert Hall, and Rudolf Nureyev's, which was created especially for us in 1977 for the Queen's Silver Jubilee.
Hailed as a landmark production, Nureyev's production won the prestigious Olivier Award for Best Ballet Creation that year. In 1978, the Company embarked on a US tour, performing it at New York's prestigious Metropolitan Opera House as well as Washington DC. Nureyev would go on to adapt it for La Scala and Paris Opéra Ballet.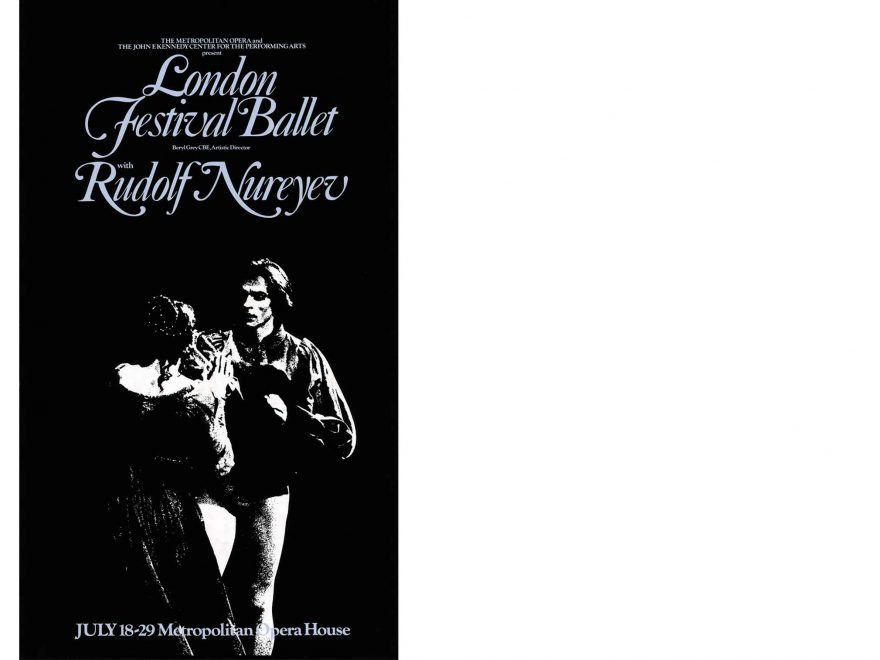 The 1978 poster of Nureyev's Romeo & Juliet at the MET when we English National Ballet was called London Festival Ballet.
What makes Nureyev's Romeo & Juliet so special?
His version of the story is often described as "the most faithful to Shakespeare" (The Times, 1977). 
Nureyev had an extraordinary memory and, when passionate about a subject, he delved deep into it. He knew the text of Romeo & Juliet extremely well, and even researched the earlier story it was taken from and the context in which it was written. As a result, his production is "very different from its predecessors and absolutely fascinating" (New York Times, 1977) and "full of masterful touches" (Daily Mail, 1977). For example, it opens with four figures, representing fate, playing dice. Later on, a cart full of corpses rumbling across the stage reminds us of the plague that devastated Europe at the time, another explanation for the dangerous atmosphere in the streets of Verona.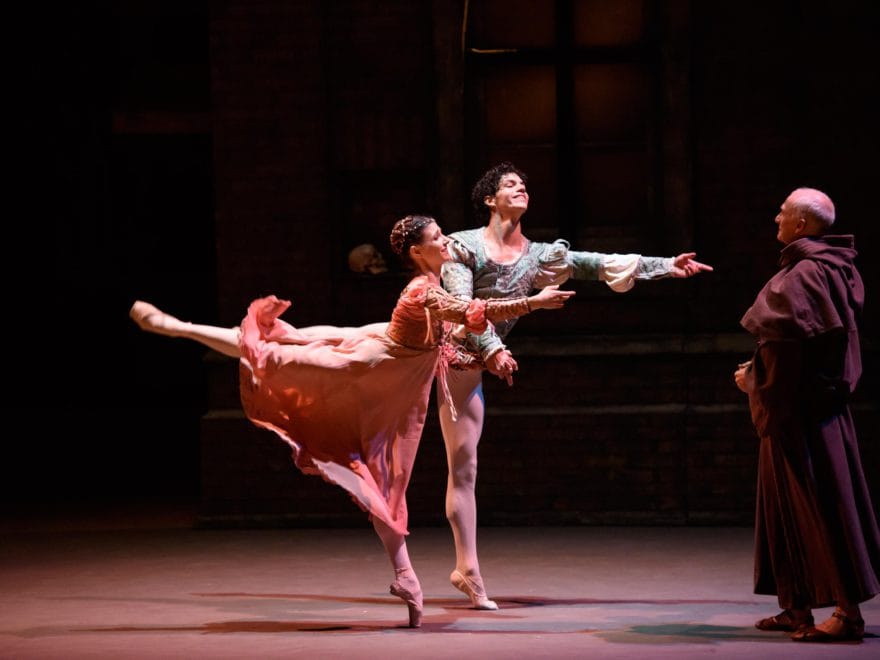 Alina Cojocaru and Isaac Hernandez in Nureyev's Romeo & Juliet. © Bill Cooper
It's a "vivid theatrical spectacle" (New York Times, 1981) and "powerfully atmospheric" (The Observer, 2011).
Stunning sets and costumes bring the story to life, with all its excess, bawdiness, humour, passion and colours. Nureyev's Verona is full of sex and violence, tricksters and bloody riots. Nureyev did not only show the darker side of life though: the Capulet's ball is a truly magnificent affair.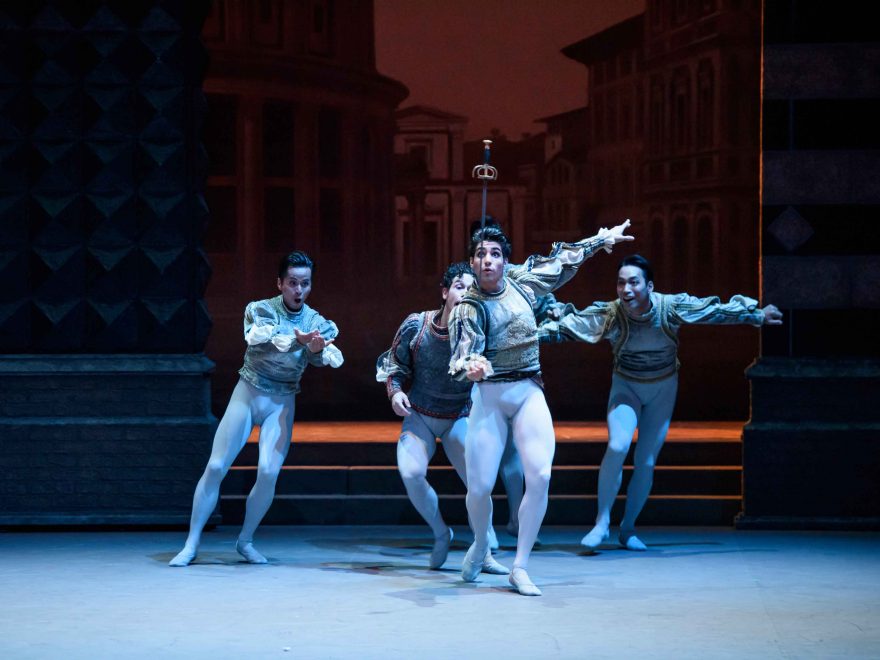 Cesar Corrales as Mercutio in Romeo & Juliet © Bill Cooper
The lead dancers must give their all. From sweeping leaps to tender lifts, the choreography's high demands are what make the lead dancers' performances in the title roles so unforgettable.
Patricia Ruanne, the original Juliet, said:
"Nureyev tended to put you more at risk. He felt that each performance required a dancer to cross a personal barrier of skill and endurance, and certainly I never felt I had every aspect of the ballet under complete physical and emotional control.

However, I realized that this feeling of being faintly panic-stricken by the uncertainty of controlling events was, in his mind, the key to how Romeo and Juliet would have felt. All that remained was to accept and make use of the sensation within the production."
The fight scenes are full-on. Nureyev wanted the fight scenes to look as real as possible, and brought in fight director B.H. Barry, who had worked with the Royal Shakespeare Company and on many Hollywood and TV productions, to help him stage them. Barry's stylised fight scenes brought a raw aggressiveness to the opening street brawl, and rather vicious duels in the central act.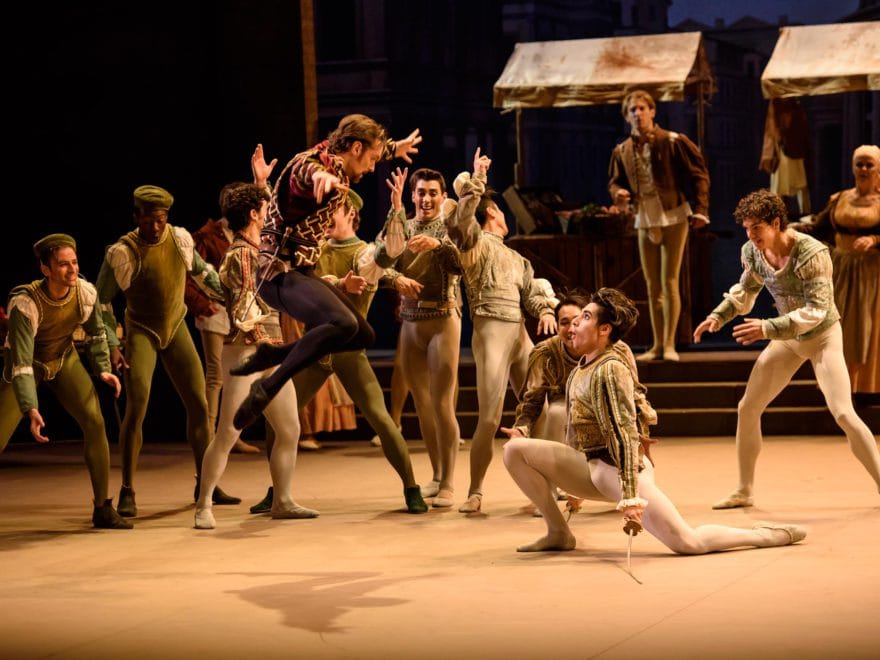 James Streeter as Tybalt and Cesar Corrales as Mercutio in Romeo & Juliet © Bill Cooper.
It showcases Nureyev's inventiveness, by using cinematic techniques such as freeze frame and slow motion movement, and other dance styles. At the end of Act II the crowd suddenly freezes after Lady Capulet discovers the murdered body of Tybalt. Then, as Juliet watches Lady Capulet cradling Tybalt's dead body, the crowd freezes once more whilst Juliet expresses her disbelief over the death of her murdered cousin.
Patricia Ruanne:
"The brief men's dance in the Capulet ballroom scene can be loosely recognized in Fiddler on the Roof, courtesy of Jerome Robbins; and certain moments of the fight in Act I owe something to the rumble in West Side Story (Robbins again).

Some steps in the acrobats' dance in Act II will seem familiar if you've seen the waiters' dance in Hello Dolly, and can be seen as a tribute to Gene Kelly."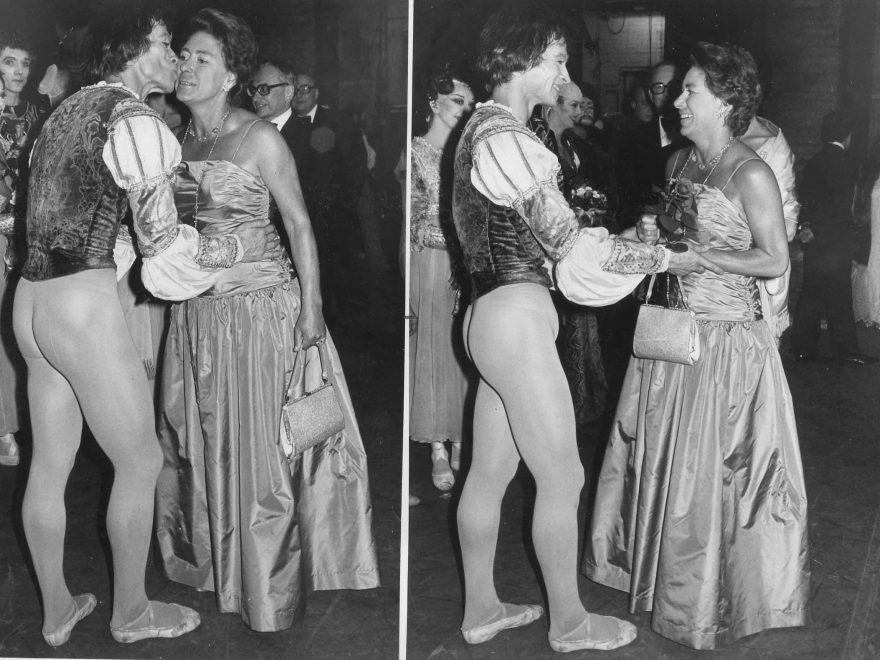 Rudolf Nureyev and HRH Princess Margaret at the Romeo & Juliet Royal Gala in 1977.