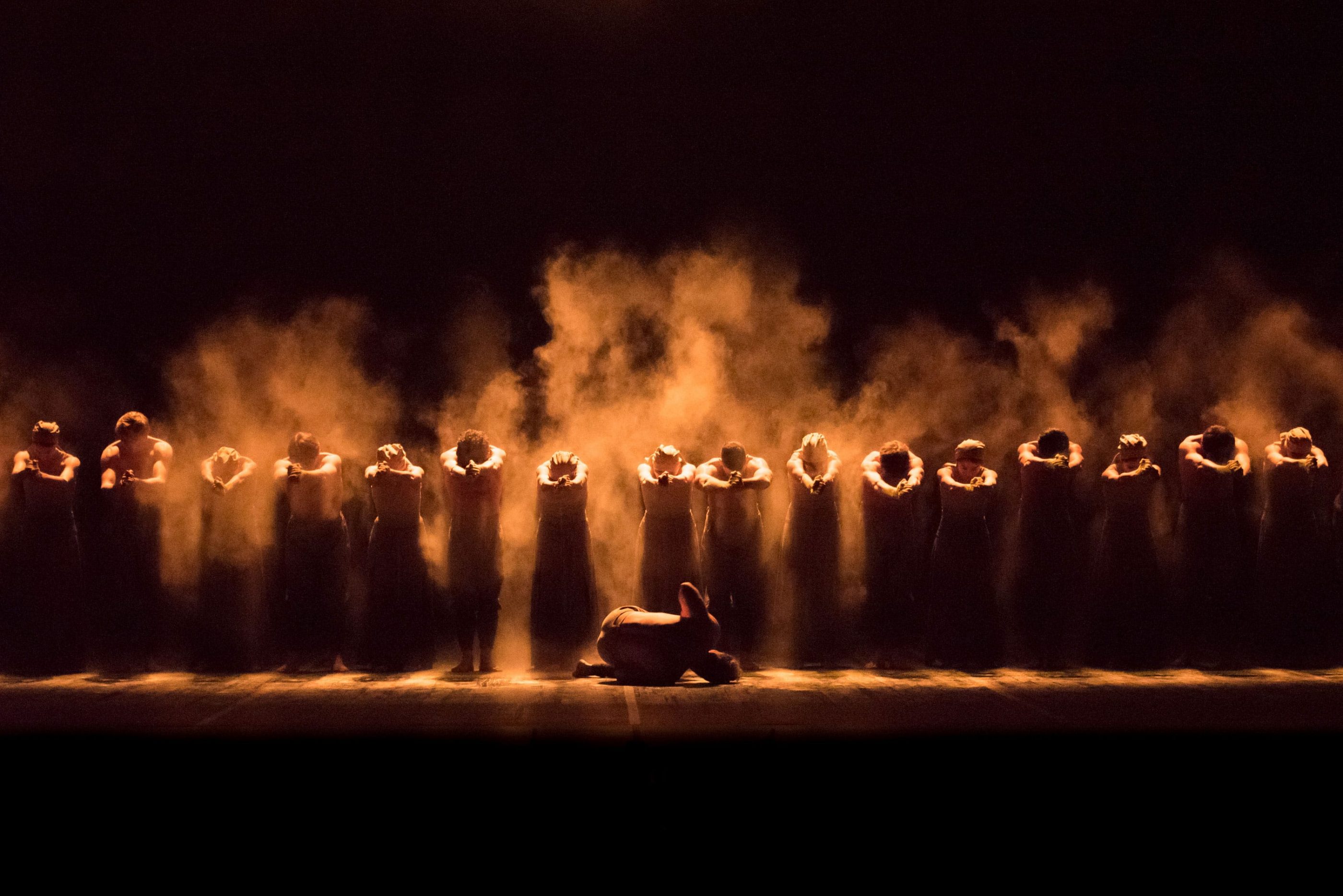 In 2014, choreographer Akram Khan created Dust, as part of Lest We Forget, our programme of ballets commemorating the First World War.
THE THEMES
The first inspiration, explored in the opening of Dust, are the trenches, and the men building them and living inside them.
Khan was intrigued by the thought that the men dug into the earth to build trenches, knowing that they were very likely to die as soon as they stepped out of them. "They were digging themselves into death", he says. As the piece progresses, the male dancers disappear – slowly climbing and falling off the edge of the set.
The middle section of the work was inspired by the huge social shift towards women. "They needed weapons made for the war, they needed a huge workforce. I felt this shift in role was interesting", says Khan.
In the final duet, Dust explores the relationship between them and their loved ones at the front: "The women knew they would be letting go of fathers, husbands, and sons; they might lose them. Yet they were making weapons that would kill others' fathers, husbands, and sons. But in order for someone to live, someone else was putting their life on the line. That cyclical thing was what I wanted to explore."
THE MOVEMENT AND CHOREOGRAPHY
Akram Khan's background is the Indian classical dance kathak, and in contemporary dance.
When he worked with us on Dust, it was the first time he'd ever worked with a ballet company. What was it like to work with classical ballet dancers?
"I admire classical dancers, because I was trained classically too. I was not trying to make English National Ballet's dancers into my dancers, but I was trying to find myself in their bodies. What ballet dancers can do is very different from what my own dancers do. It was very beautiful to see the transformation when they took my material and the essence of my aesthetic, and gave it something new. I also really wanted to emphasise the strength of the ballet body."
THE MUSIC
The soundtrack of Dust was written by composer Jocelyn Pook, and is performed by English National Ballet Philharmonic.
The score includes the use of a recording from 1916. "I collect unusual recordings, and I'd had this recording of a soldier, Edward Dwyer, for a very long time", says Pook. "He goes into that marching song: "we're here because we're here" set to the tune of Old Lang Syne. It's very moving… a faint, distant voice from the past.  Akram loved it and that was an idea for a starting point that I brought to the table right at the beginning of the process."
Listen out also for another song: Pook decided to set the famous poem In Flanders Fields (by John McRae) to music, and recorded it with counter tenor Jonathan Peter Kenny. It can be heard in the final duet.
"I wanted to add some otherworldliness to it, and with Akram's choreography, the lighting, the dancers, it just becomes something very special."