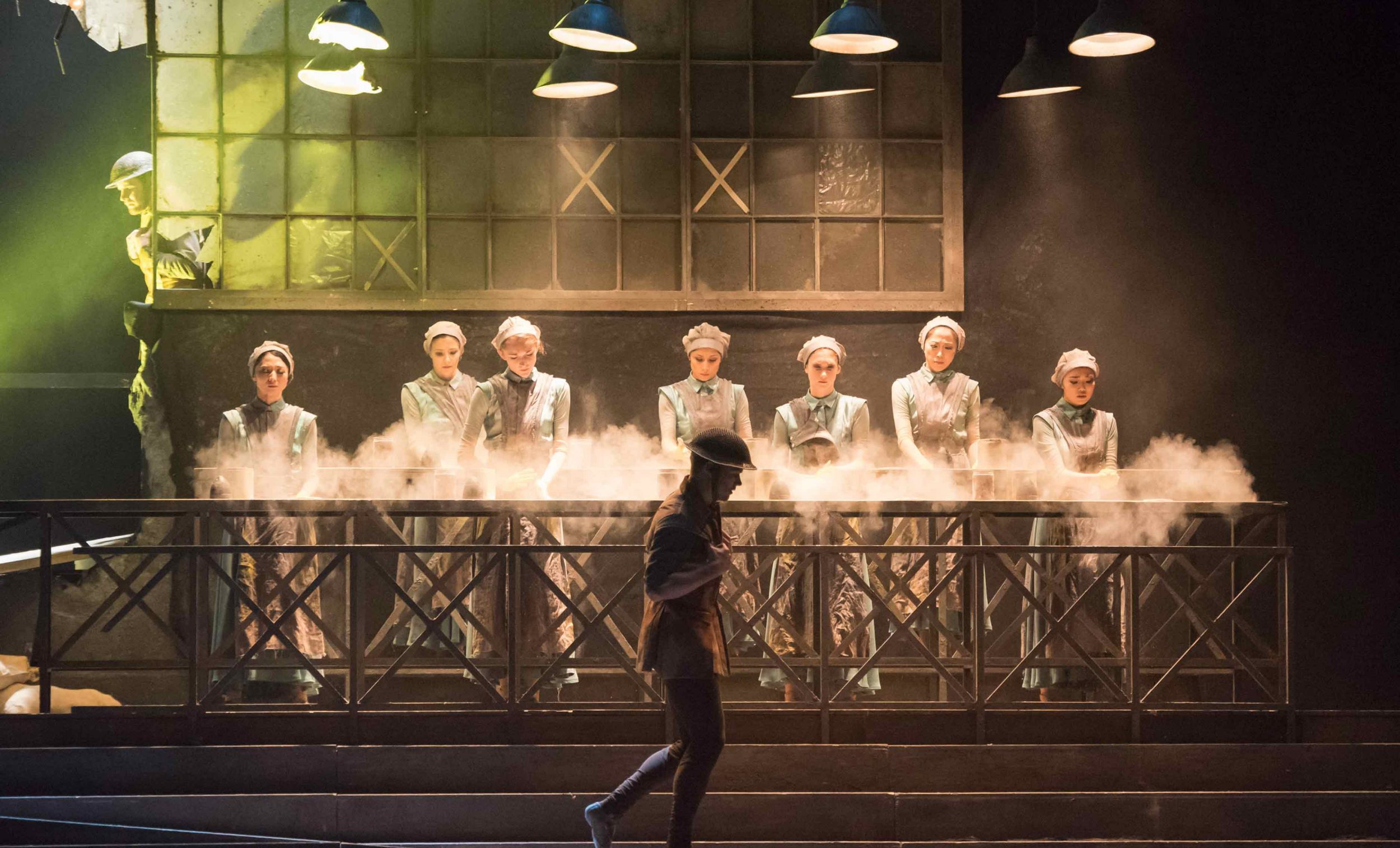 Creating No Man's Land: interview with designer Jon Bausor
07 Aug 2018
No Man's Land was created by choreographer Liam Scarlett in 2014, as part of Lest We Forget, our dance programme reflecting on World War I. In its review, The Daily Telegraph wrote that the piece was "atmospherically designed by Jon Bausor". We recently met with Jon Bausor to discuss the piece's creation and his inspiration.
How did you work with Liam Scarlett and where did the concept of the piece come from?
This was my third collaboration with Liam Scarlett. In our first meeting, he didn't have anything specific in mind, and we talked about war in the abstract. He recounted how he used to enjoy listening to his grandfather's experiences in the Second World War.
I told him about the canaries of the First World War – the women who worked in factories at home, packing explosives for bombs. Their hands were stained yellow from TNT and their lives were often very short as the chemicals they handled were so dangerous. They were made to drink milk as a preventative from lung damage and by all accounts led a pretty raucous lifestyle.
What was the inspiration for the costumes?
The costumes are based on real observations of the uniform of soldiers and 'munitionettes' I've seen in the Imperial War Museums. I saw both uniforms and the women's utility dresses as having the quality of medieval armour: they made me think of the carved figured on cathedral tombstones.
How did you make the costumes?
We went through a long process to select the fabric and how we would treat it. I wanted to give a look of heaviness to the soldiers' uniforms without actual weight for the dancers to move. I wanted to keep the feel of the fabric utilitarian, and used waxed cotton, made famous on Barbour jackets, which we then dyed in hot water allowing the wax to crack and disappear in a patchy way. All the fabric had to be dyed before it was cut and made up.
What about the women's yellow hands? What's the trick?
They actually wear gloves! But we had to find the right type to give the feeling of real stained skin without the dancers having to have yellow fingers in all the other pieces! We prototyped a number of versions of fine tulle gloves that were then ombré dyed from flesh to yellow.
Is designing for dance more challenging than other forms of theatre?
It's challenging in a different way; you have to be much more aware and sensitive to the movement and flow of the garment with the performer and not restrict them or the choreography. Fabric choices are different, they have to be lighter and move or stretch well whilst also being strong: you don't want them to rip or slip when exerted, hot and sweated into, especially when there are duets.
In terms of set design, space becomes the foremost thing when talking with a choreographer. Liam is always anxious that I've given him enough space for his choreography so I try to inch out as much of the area as possible using perspective tricks and precise technical drawing. As a designer you also have to think about cross light positions to sculpt the dancers and also floor surfaces for their correct slip and grip, particularly in pointe shoes.
How do you feel once you first see your designs on stage?
To be honest, at first, in the initial technical rehearsal it's horrible: a little like parading in front of everyone with your trousers down!
There are always technical tweaks to do so that dancers are happy and comfortable, however after the initial rush of panic, and once there is proper light sculpting the stage, there is always a moment of happiness seeing the work that has gone into transforming the initial model box and costume sketches into a fully realised 3D picture.
We perform No Man's Land as part of Lest We Forget, at Sadler's Wells, London on 20 – 29 Sep 2018.