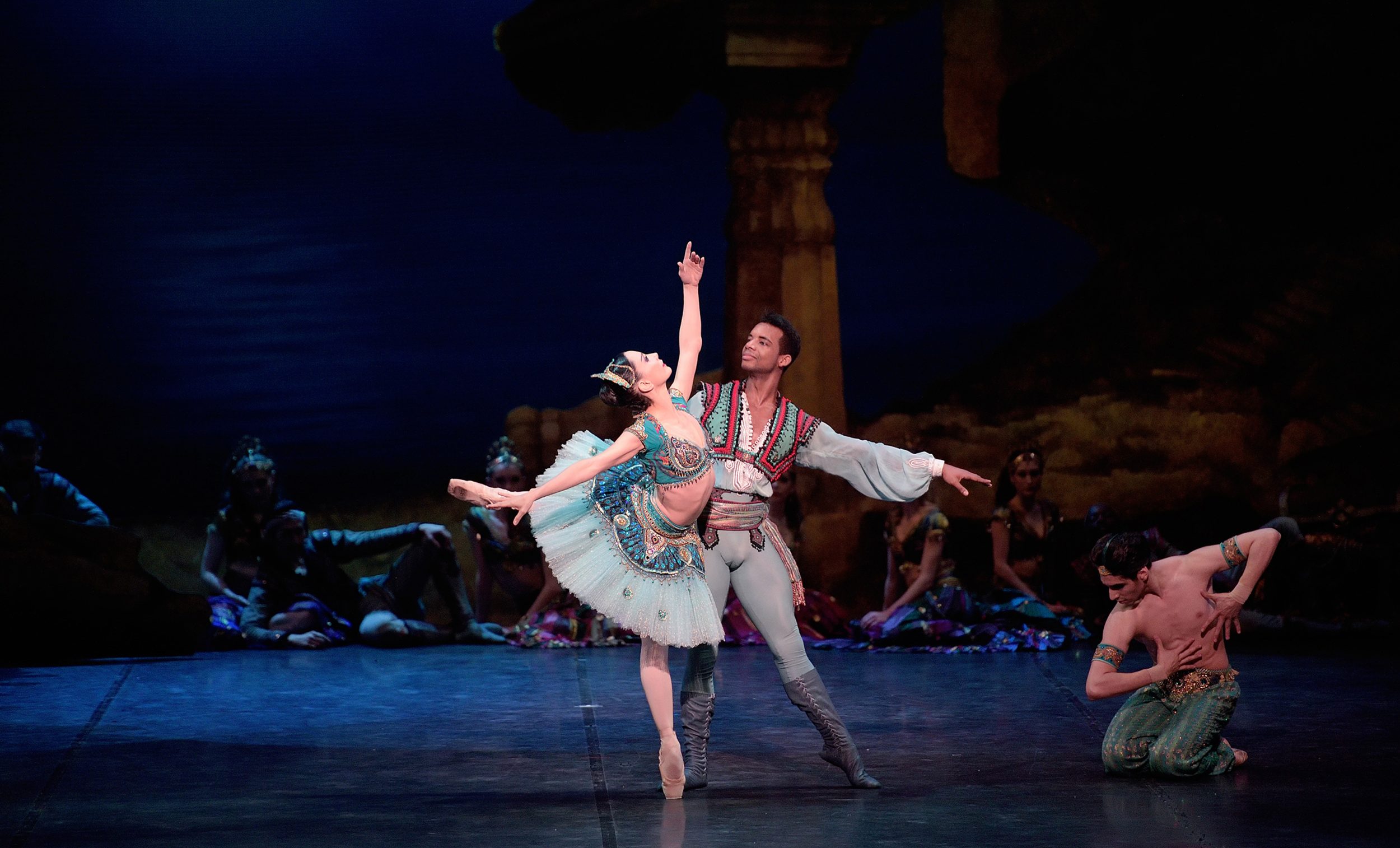 In conversation with Anna-Marie Holmes
20 Sep 2013
Anna-Marie Holmes talks about re-staging Le Corsaire for English National Ballet.
Video: Laurretta Summerscales as Medora in Le Corsaire © Laurent Liotardo
What does staging Le Corsaire for English National Ballet involve?
Staging basically means that I go from one ballet company to another and teach all of the dancers in the company, including principals, soloists, and corps de ballet, about the story of Le Corsaire, and pass on my knowledge of all the choreography, mime, floor patterns, etc. so that it can be performed by a new company. I have been working with English National Ballet's Artistic Director, Tamara Rojo, and Principal Repetiteur, José Martin, on this production. We have changed certain things like the costume and set designs, which gives the ballet a new flavour, but it still tells the same story of Le Corsaire – Conrad the pirate, Conrad, who is in love with a beautiful girl, Medora.
Can you tell me about the history of Le Corsaire and how you came to re-stage it all over the world?
It is a long story. I had trained as a ballet dancer in Moscow, and then had a career as a dancer in companies all over the world, before becoming Artistic Director of Boston Ballet. My old ballet teacher in Moscow called me and complained that it is such a shame that the original version of Le Corsaire was not being performed anywhere in Russia, as the Bolshoi Ballet were performing a new version. So I decided I would fly to Moscow, and I would buy Le Corsaire!
The Bolshoi Ballet's Artistic Director at that time, Vladimir Vasiliev, invited me into a negotiation to discuss this and we were able to agree a deal to bring the whole production to Boston.
It has changed quite a lot since it first came to the USA. Kevin McKenzie, who is the Artistic Director of American Ballet Theatre (ABT), came to watch a performance, and he asked me to work with his ABT as he realised that the ballet has so many great roles for male dancers. At the time, a film was being made in honour of Rudolf Nureyev, so we had to make the ballet shorter for this, afterwards, we realised that the condensed version worked much better anyway. The changes were good, and they helped keep the ballet fresh and alive.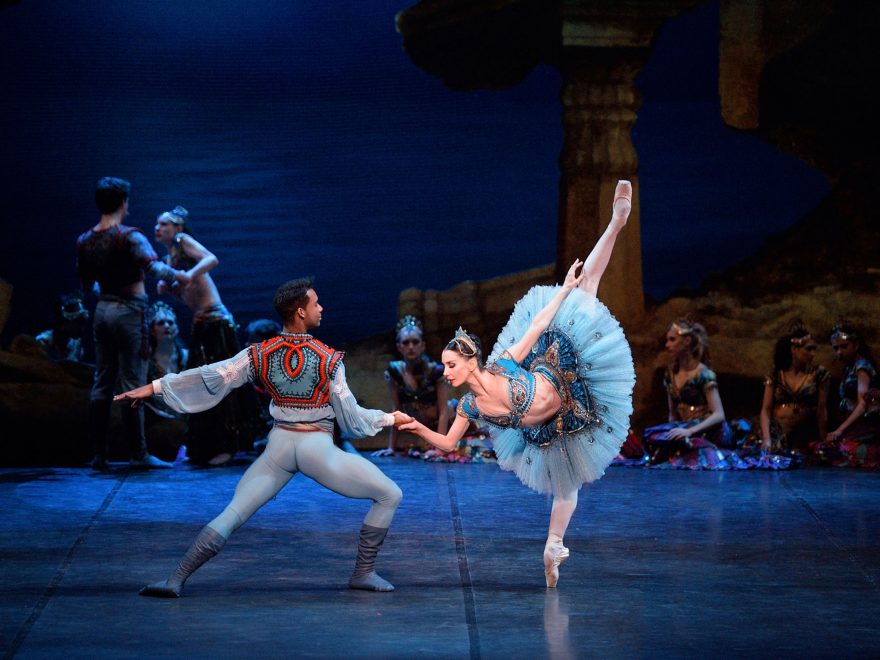 Tamara Rojo as Medora and Osiel Gouneo as Conrad in Le Corsaire © Laurent Liotardo
How does English National Ballet's production differ from other productions in the past?
Although we have kept a lot of the choreography very similar, we have had to move certain things around and make small changes. For example, because of big scenery changes, with new set designs by Bob Ringwood, we have had to change how the dancers enter and exit the stage.
Also, because the costumes are different, we have had to make small changes to some of the choreography, steps and positions. There are always subtle changes when you work with different dancers; even though a dancer might be doing the same steps, they will have different thoughts and ideas on each character, so they will all look very different. Dance is organic and always evolving.
Can you tell me about the process of re-staging the ballet: how you pass Le Corsaire from one ballet company to another?
It really depends on the company I am staging it on. In companies where I have worked previously, they have often had Guest Artists who join the company on a temporary basis to dance the principal roles, so they already know all the steps from dancing them before in other companies.
However, with English National Ballet, as this ballet has never been danced in England before, I have had to teach everything – all the principal, soloist and corps de ballet roles, as none of the dancers have ever danced in this production before, so it is very exciting!
José was my assistant when I staged Le Corsaire for a ballet company in Argentina, so he has helped me a lot. Re-staging Le Corsaire is not the same as re-staging Swan Lake or The Nutcracker – everybody already knows so much about these ballets. Le Corsaire is completely new – it has not been seen and danced a thousand times before so there is a lot for everyone to learn.
As the dancers in English National Ballet do not already know Le Corsaire, have you spent time talking about the story and the characters with them?
Yes, everywhere I go I am always thinking about the drama and the story each ballet is telling: ballet is never 'just steps'. It all has to make sense and it has to mean something to the dancers and the audience, otherwise it is pointless.
What have you found to be the biggest challenge so far?
I find teaching the mime sequences is always the most difficult. The dancers always spend hours practising and perfecting their dancing, but they forget about the mime!
I have to remind them that the mime is just as important as this is where so much of the storytelling takes places.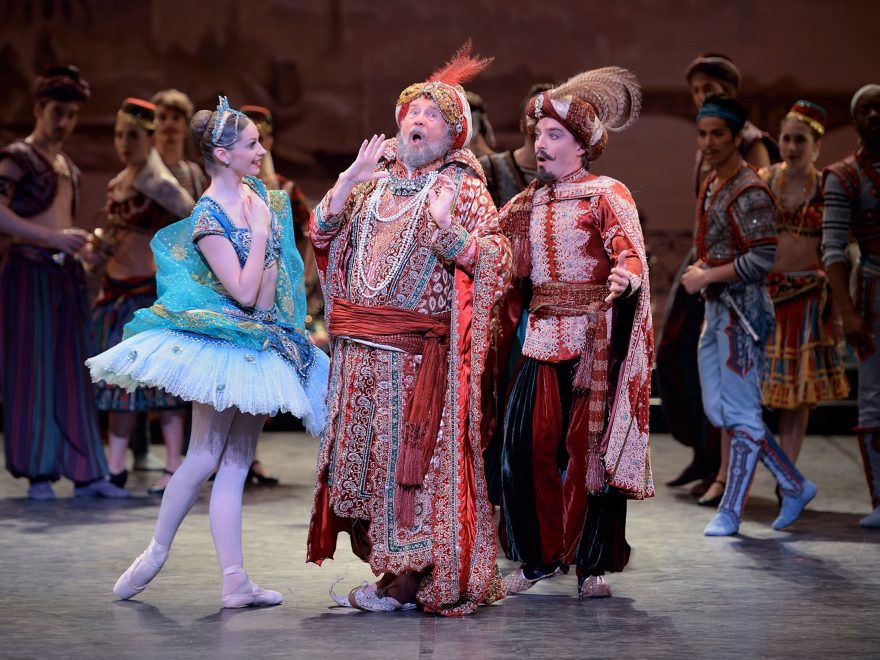 Laurretta Summerscales as Medora and Michael Coleman as Pasha in Le Corsaire © Laurent Liotardo
Do you have a favourite character?
I love Conrad and Medora, they have a beautiful pas de deux and their love story is so moving. In my version, I also made The Pasha character funny, whereas in the original Russian version he was a serious character, an evil villain. I turned him into a doddery, old, fat fool!
Throughout the whole of Le Corsaire there is a very serious side, but to contrast with the ballet's dark themes there are moments of comedy to lighten the mood. That's what I like about the ballet.
What have you enjoyed most about re-staging Le Corsaire on English National Ballet?
I have loved working with the Company's dancers as they are all so keen and hard-working. They have been very eager to learn this new production, and I can tell that they have enjoyed learning the new story and all of the different dances – they always have big smiles on their faces at the end of rehearsals. This ballet is also great for the males. I can see that the men love acting as swashbuckling macho pirates!
Le Corsaire is available to buy on DVD and Blu-Ray, starring Alina Cojocaru and Vadim Muntagirov.