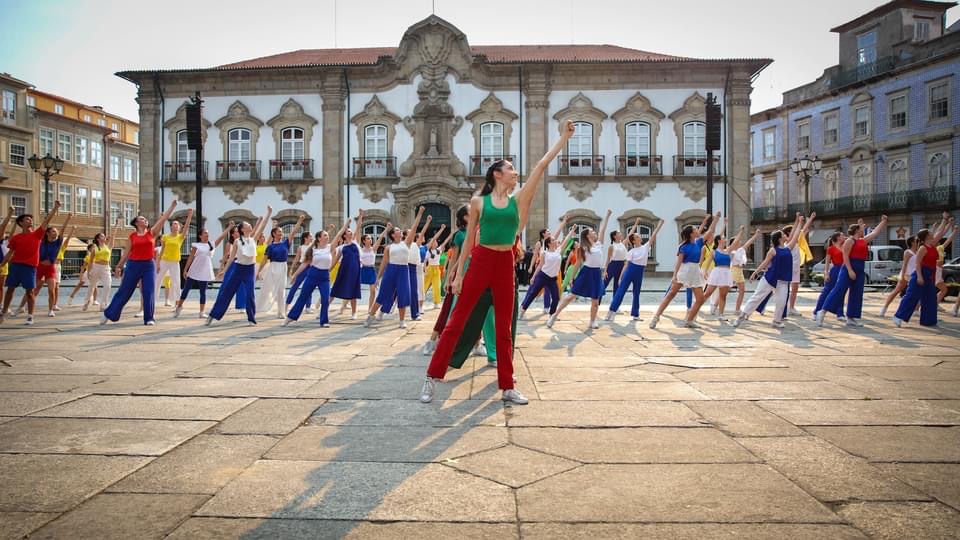 Case Study: UK-Portugal 650: Dance in Perpetuity
A cross-cultural performance to celebrate 650 years of the Anglo-Portuguese Alliance
English National Ballet's international Engagement work in 2022 took us to Braga, Portugal, to create original dance work Dance in Perpetuity as part of Portugal-UK 650, a series of  cultural events to celebrate the 650th anniversary of the Anglo-Portuguese Alliance.
An international creative team included choreographer Ruth Brill, composer Charlotte Harding, 91 young dancers from six Braga dance schools, and the Choir of The Queen's College, Oxford. The project culminated in a spectacular outdoor performance of Dance in Perpetuity inspired by the Alliance foundation values of peace, friendship, truth and constancy.
Dance in Perpetuity aimed to encourage inter-cultural dialogue, to develop participants' skills confidence and creativity, and to promote friendship and collaboration across cultures.
This exciting international project comprised several performance outcomes inspired by the values of the Treaty of Alliance, with future collaboration and creative output to come.
Renato Paroni de Castro's work "If intelligence and art are of great help to me" (Luís de Camões) was performed at Theatro Circo gala celebrations by several of English National Ballet's own dancers.
The legacy is Eternal Art / Arte Eterna, also by Renato Paroni de Castro, which will be performed by young dancers from ENB's youth dance company, ENBYouthCo, at the Mulryan Centre for Dance.
2024 will see the continuation of the project with a youth and community performance outcome in London.