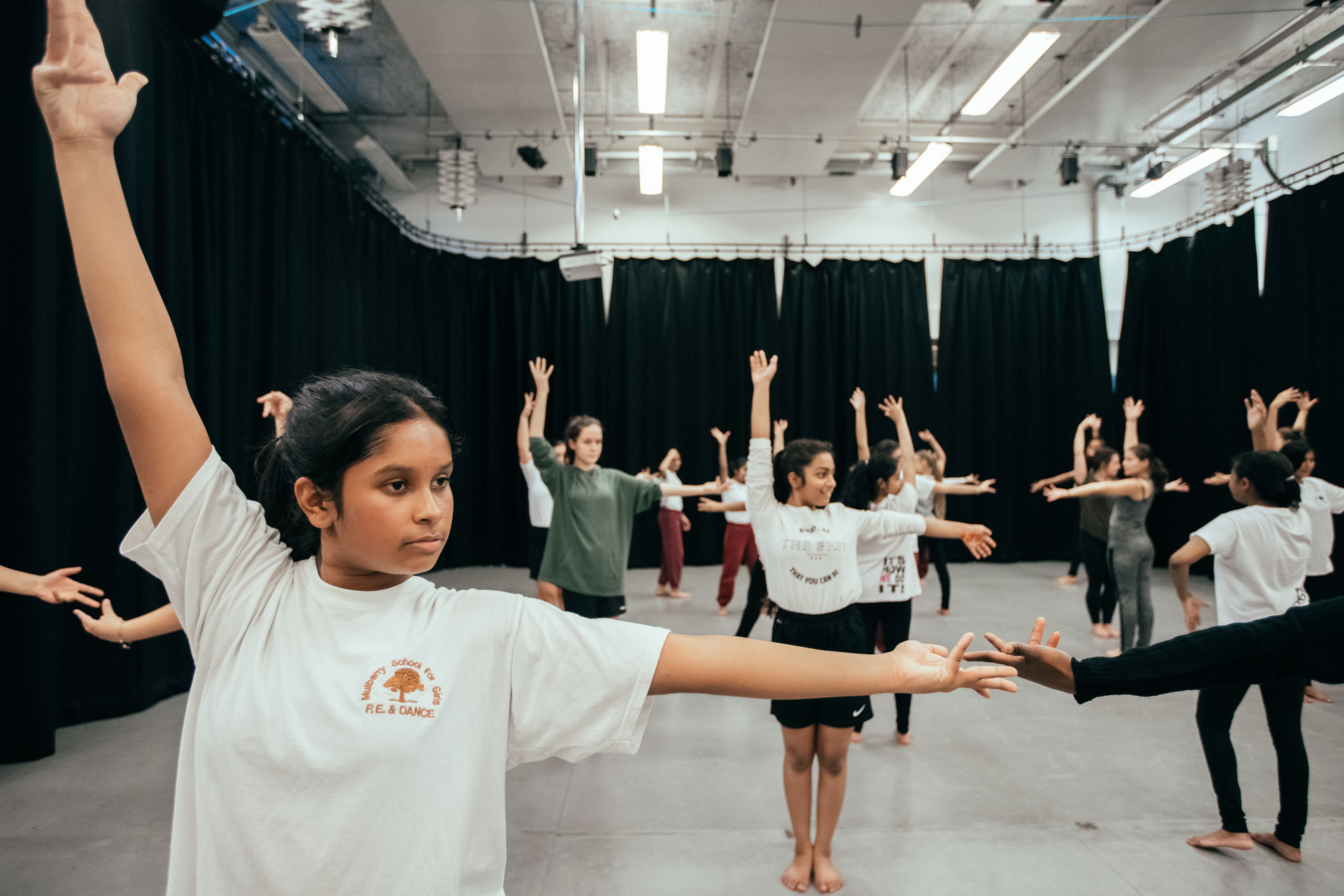 Ballet Explored
Connecting schools through collaborative dance workshops, exclusive cultural experiences and inspiring insights.
This year, Ballet Explored will delve into the acclaimed Akram Khan's Giselle, a classic story reimagined, about love, betrayal and forgiveness.
All secondary schools in east London have the unique opportunity to attend a dress rehearsal at Sadler's Wells Theatre, take part in an exciting dance workshop and attend a private cinema screening.
Exploring production concepts, themes and aesthetics, students will build knowledge and understanding of dance by learning repertoire and participating in practical creative tasks, in turn igniting passion, excitement and appreciation for dance.
Teachers will be supported with a Continuing Professional Development (CPD) workshop at our new studios on London City Island. This enriching workshop intends to support all curriculum teachers to gain the tools, understanding and confidence to deliver creative dance lessons, as well as developing a deeper knowledge of the production.
Free interactive resource pack features:
Online filmed repertoire phrases to watch and learn (featuring Company dancers)
Suggested music options
Cross-curricular activities
Creative tasks to generate choreographic responses
Offer includes:
Half day dance workshop for up to 20 students in KS3/KS4
Exclusive opportunity to attend the dress rehearsal of Akram Khan's Giselle at Sadler's Wells Theatre for all participants and accompanying teachers
A private screening of Akram Khan's Giselle at a local cinema, directed for the screen by Ross MacGibbon
Free interactive resource pack
CPD workshop for participating school teachers
Activity contributes towards Arts Award and Artsmark status
All members of staff who delivered the workshop made the whole experience for the students so exciting! Thank you also for your excellent resource pack – this will definitely play a key part in the planning and re-structuring of the new GCSE specification

Teacher, Tower Hamlets
If your school would like to take part contact:
Drew Potter
Creative Programmes Officer
drew.potter@ballet.org.uk
020 7581 1245
Credits
Supported by