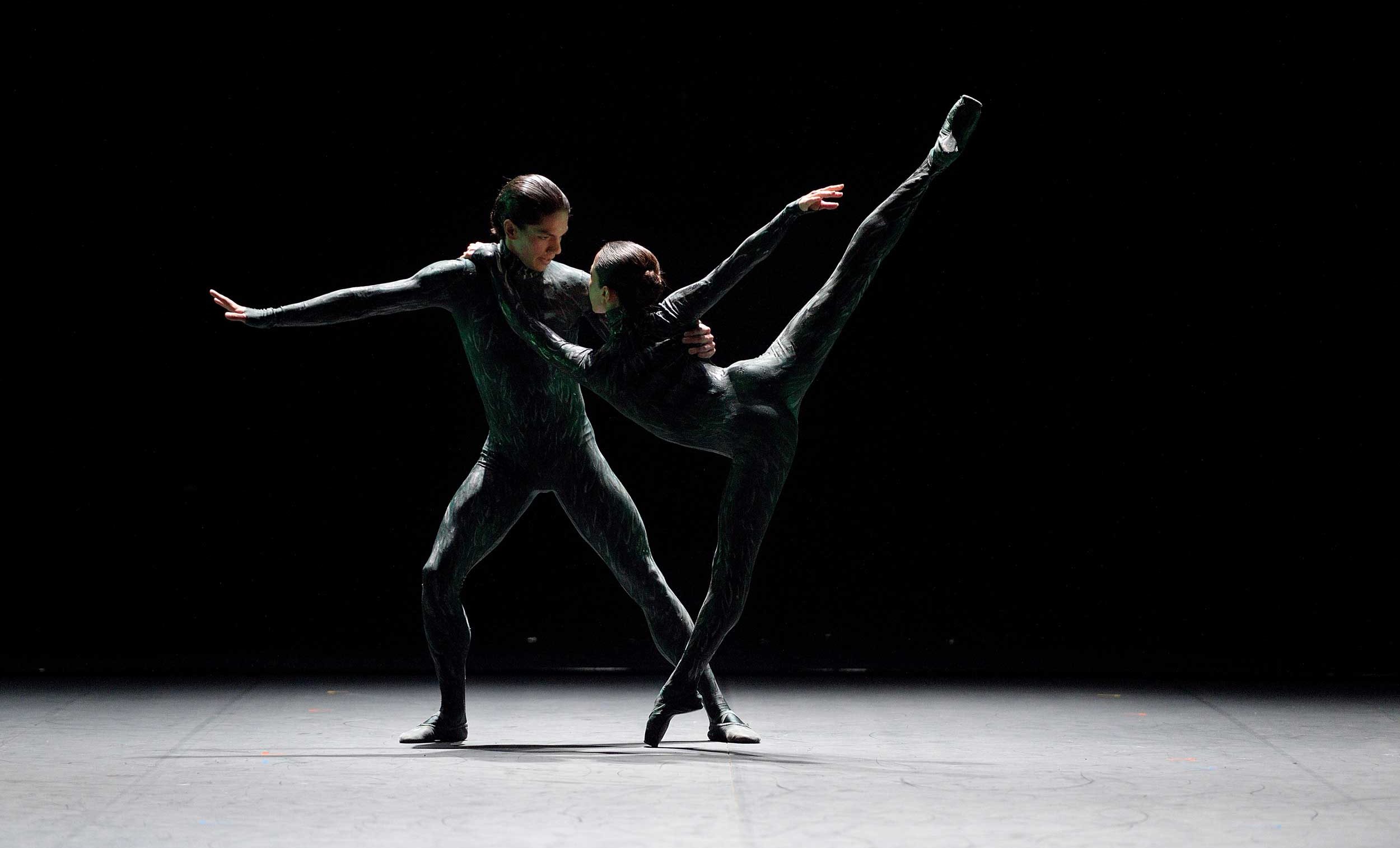 Introducing Voices of America – Part 2: An extension of classical lines
13 Feb 2018
What characterises North American, neo-classical ballet? In this blog, we look at its key choreographers' approach to ballet steps.
In April 2018, English National Ballet returns to Sadler's Wells with Voices of America, a mixed bill featuring works by three generations of North American choreographers: Jerome Robbins, William Forsythe and Aszure Barton.
For our Artistic Director, Tamara Rojo, it was a chance to dedicate a programme to the abstract, neo-classical style of ballet that is born out of America, something she had long wanted to do: "I believe these works typify the dynamism and energy of this style of ballet".
What gives a dance piece an American accent?
Part 2: An extension of classical lines
Balanchine, the father of American ballet, is famous for extending the classical vocabulary. He introduced a modern twist into the steps, with high kicks and new angles demanding long lines, sharp attack and great speed from his dancers.
At the same time, Robbins's ballets merged classical dance with more everyday movements and other genres, such as jazz. They require an openness and a liveliness that felt fresh and new.
In the 1980s, William Forsythe, who was busy working in Europe, went further, "pushing Balanchine's extensions of the classical vocabulary into even more extreme terrain" (New York Times).
Forsythe uses the familiar, beautiful arm and leg positions of classical ballet, and many of its long, graceful lines, then he buckles them, loops them, injects bursts of speed and switches of direction that would challenge the nimblest basketball player in trainers, and which in pointe shoes becomes a test of courage

Dance critic Ismene Brown, The Daily Telegraph (2001)
As part of Voices of America, we are performing Forsythe's piece Approximate Sonata 2016. Originally created in 1996, it was reworked in 2016 (hence the title), and is very much in the Forsythe mold: a series of complex, dazzling pas de deux reinterpreting classical steps and elevating dancers to their maximum.
Classical form is amazing, but to break free from it is, too

Aszure Barton
Aszure Barton's movement also emerges out of a drive to try something new. In Fantastic Beings, the work we're performing this April, she "inflects the classical language with a wonderful strangeness – brooding missed beats, skittering deviations, and an exhilaratingly bold eye for pattern" (The Guardian).
She, too, likes toying with ballet vocabulary and pushing it in a new direction.