Swan Lake
English National Ballet brings this timeless classic to life in this enthralling production.
Be captivated by the romance of Prince Siegfried's love for the Swan Queen Odette and the drama of their battle against the evil sorcerer Rothbart. Experience the magnificent sight of ballerinas in white tutus moving in unison: one of ballet's most iconic images.
Beloved for its superb dancing, beautiful sets and Tchaikovsky's glorious music, played live by English National Ballet Philharmonic, Derek Deane's Swan Lake is a thrill for dedicated fans or first-time ballet-goers alike.
A glorious Swan Lake packed with dynamic storytelling and sublime dancing.

The Daily Express
Friends of English National Ballet receive discounts on tickets (T&Cs apply). Become a Friend today.
Main image: English National Ballet in Swan Lake © Laurent Liotardo
CREATIVE TEAM
Derek Deane
Choreography (after Marius Petipa and Lev Ivanov)
Frederick Ashton
Additional Choreography
Pyotr Ilyich Tchaikovsky
Music
Peter Farmer
Design
Howard Harrison
Lighting
Synopsis
Prologue
Princess Odette is kidnapped by the wicked sorcerer Rothbart, who is half-man, half-bird. The evil sorcerer turns the Princess into a swan and condemns her to a life under his spell at the lakeside.
ACT I
The Palace
Preparations are underway to celebrate the birthday of Prince Siegfried. The palace courtyard is being decorated for the occasion with garlands under the watchful eye of the Prince's tutor. He announces Prince Siegfried's arrival and the entertainment begins.
In the midst of the celebration, the Queen arrives to give her son a magnificent crossbow for his birthday. Taking him aside, she tells him that he has now come of age and must consider marriage. The Queen departs and the celebrations continue.
Late in the afternoon, Siegfried is left alone with his thoughts. He sees a flock of swans flying overhead and, armed with his new crossbow, he sets out to hunt them at the lake.
ACT II
The Lakeside
The sorcerer Rothbart emerges from the mysterious waters of the lake to survey his domain. He sees Siegfried approaching and disappears into the forest. Searching for the flock of swans, the Prince arrives at the lakeside. Odette, Queen of the Swans, appears and captivates Siegfried with her beauty. Rothbart reappears and Odette flees from the lakeside with Siegfried chasing her into the night.
Summoning all his powers, Rothbart commands every swan to the lake. The lakeside is suddenly filled with swan maidens, girls like Odette who have been transformed into swans by the evil sorcerer.
Siegfried returns to the lake still searching for Odette. Upon finding her he swears undying love and promises that he will be faithful to her for the rest of his life.
Rothbart returns and steals the Swan Queen, Odette, from the Prince's embrace leaving Siegfried alone and desolate by the waters of the lake.
ACT III
The Great Hall of the Palace
A formal celebration is taking place in honour of Prince Siegfried's birthday. Guests arrive from many countries to join in the festivities. The Queen presents her son with six princesses and commands him to select a bride from among them, but he remains preoccupied and aloof because he intends to marry Odette.
With a flourish of trumpets, Rothbart arrives with his daughter Odile in cunning disguise as the Swan Queen. Believing she is Odette, Siegfried is entranced and Odile leaves the Great Hall with him in pursuit. After a display of national dances, Odile and Siegfried return to the hall and dance together.
Persuaded by the wicked Odile, Siegfried believes that she is his true love. He fails to see the real Odette outside the palace pleading with him to remain faithful to her. Siegfried swears undying love to Odile thus breaking the pledge that he has made to Odette. Rothbart is jubilant and summons Odette to show Siegfried that he has betrayed her for his daughter Odile. Rothbart and Odile leave the Great Hall in triumph.
In desperation, Siegfried flees to find Odette and beg for forgiveness, leaving the Queen and the court in chaos and despair.
ACT IV
The Lakeside
Realising that she has been betrayed, Odette returns to the swans at the lake's edge. Siegfried arrives to beg for Odette's forgiveness, which she eventually grants.
Rothbart appears and reminds Siegfried of his earlier promise to Odile. A fight ensues.
Odette decides that she cannot continue and throws herself into the lake. Siegfried follows and they are both drowned but Rothbart and his evil spell are destroyed by the power of Siegfried and Odette's love.
As the dawn of a new day rises, Siegfried and Odette are united in eternal love.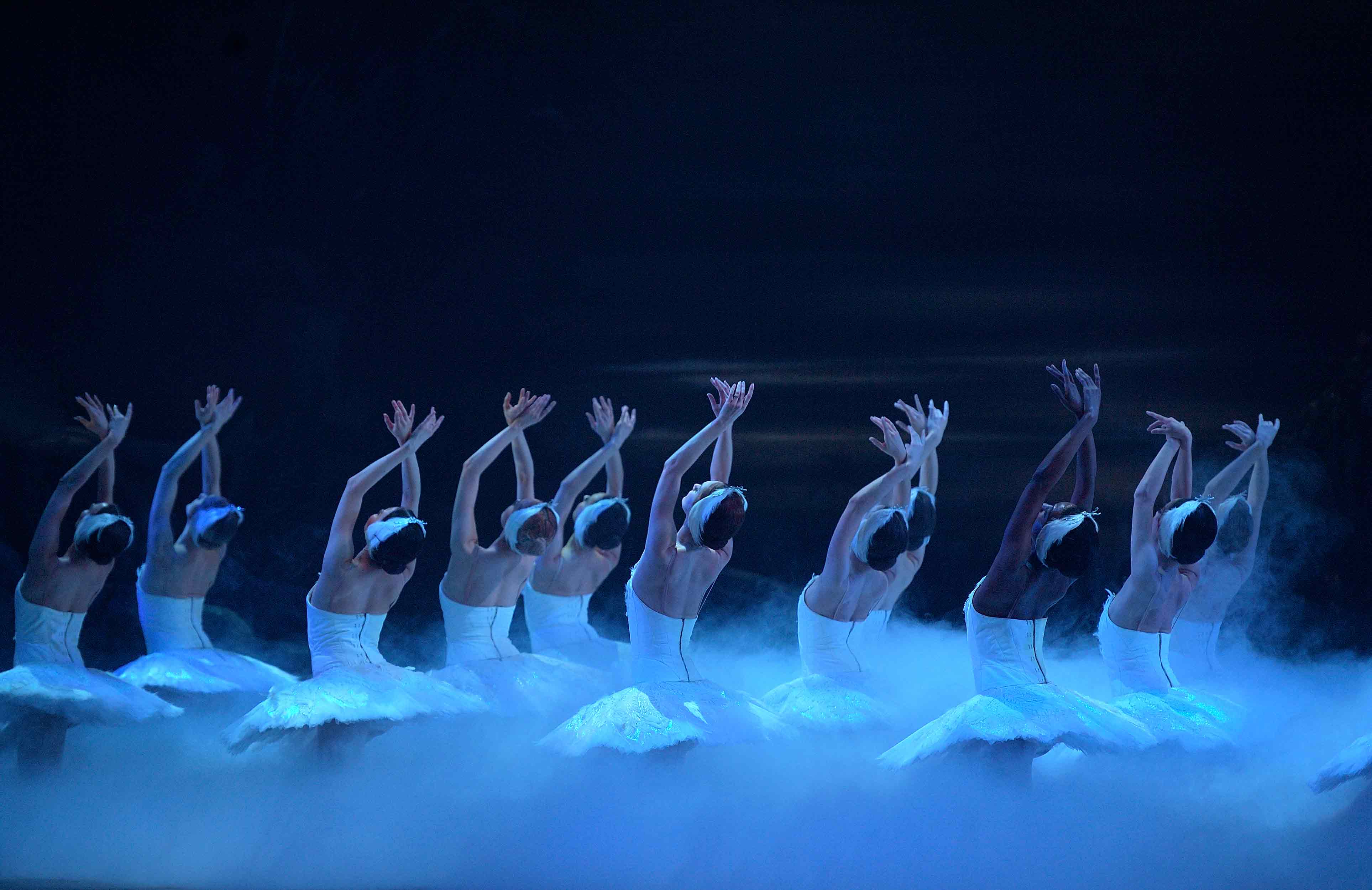 Reviews
---
"Rich in drama and spectacle."
"I know of no finer traditional Swan Lake than English National Ballet's."
"Danced with lively confidence."

Access All Areas
Become a member to get access to exclusive events
Your support makes a vital contribution to English National Ballet's core work, helping to nurture and develop our dancers and musicians who create some of the most extraordinary, high quality ballet performances.
Discounts
LIVERPOOL EMPIRE / MANCHESTER PALACE THEATRE
Only one discount per ticket. Subject to availability.
Friends of English National Ballet
Opening night: 50% off price bands A-C
Thu evening: £10 off price bands A-C
Become a Friend here.

Under 25s / Senior Citizens
£10 off price bands A-C on Wed and Thu
Schools
Groups of 10+ – £10 in price bands A-C on Wed and Thu
1 free teacher with every 10 students
Groups
Discount starts at £5 off for Groups 10+, on price bands A-C, on Wed and Thu
Local Heroes (NHS staff)
25% off in Bands P-D on Wed and Thu
LONDON COLISEUM
Only one discount per ticket. Subject to availability. Available from the London Coliseum Box Office, on all performances and all price bands unless stated otherwise.
Friends of English National Ballet
20% off Stalls, Dress and Upper Circle seats, max 6 per person. Become a Friend today to receive your discount code.
Children
Up to two children (under 16) can attend half price with every full paying adult. Children under 5 are not allowed in the auditorium,
Multibuy
Book for Nutcracker and Swan Lake at the London Coliseum at the same time and save 15%. Not valid on £95 tickets.
Groups 10+
Save 20% per ticket. Valid Mon-Thu (all performances) and Fri matinees. Call 020 7845 9300 to book. Not valid on £95 tickets.
Students / Senior Citizens / Westminster Rescard / Registered Unemployed
£5 off each ticket
School Matinee
Thursday 19 January 2.30pm
£10 per pupil (in Balcony) or £15 per pupil (in Upper Circle) + 1 free teacher ticket per 10 students. Available on selected areas only. For all other performances, the Groups rate and conditions apply.
Access
50% off all price bands.
Wheelchairs: £25 in price band A, £12.50 in price band B
Sign up to the London Coliseum Access Scheme here.
Terms and Conditions
We regret that refunds cannot be given on tickets purchased, and exchange is subject to conditions and availability. English National Ballet reserves the right to make alterations to the programme, casting, dates, times, discounts and prices as necessary. Information subject to change.