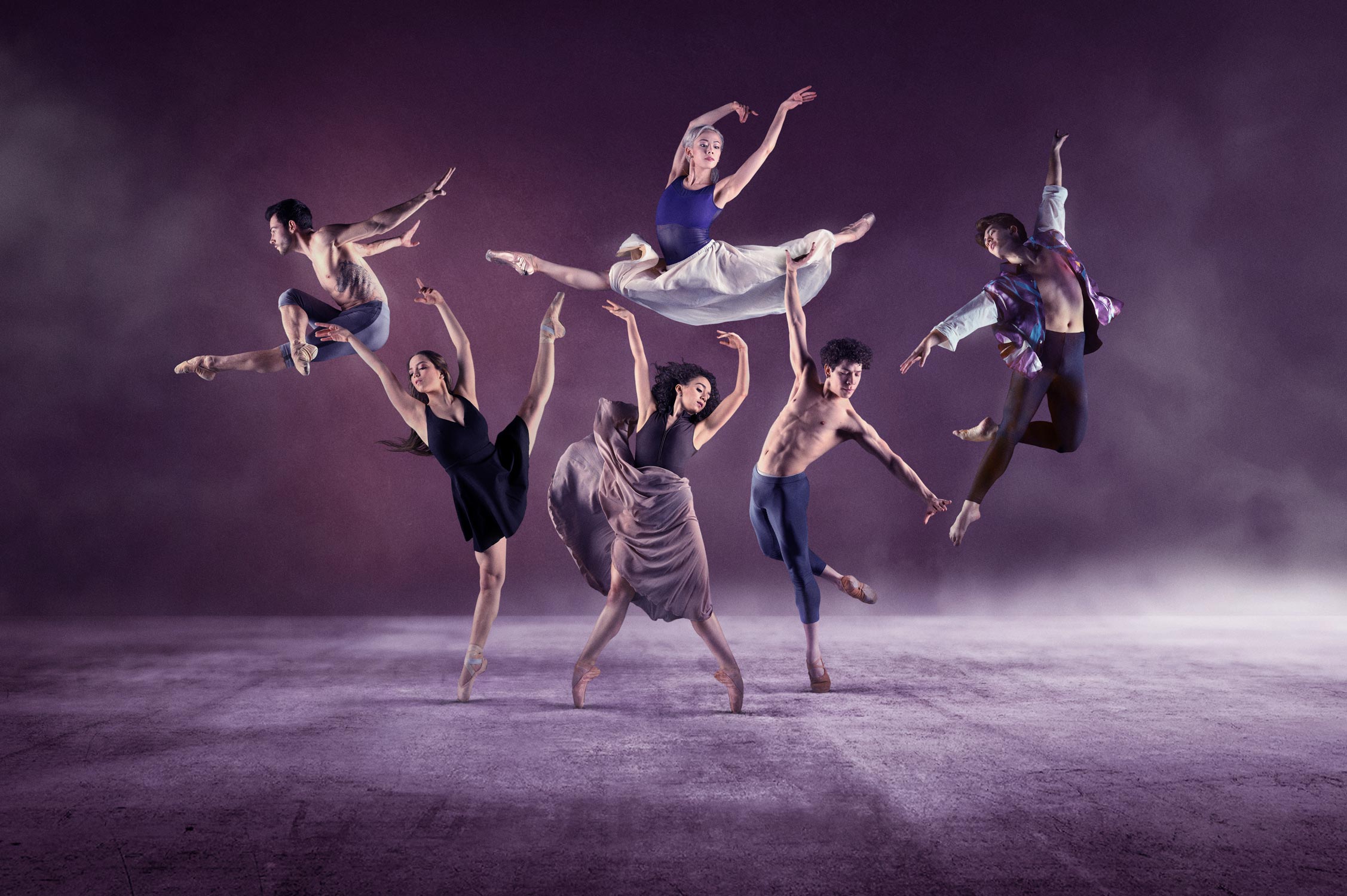 :
Emerging Dancer
Celebrating the talent of tomorrow's stars.
Join us for Emerging Dancer 2020, live-streamed from our Production Studio at London City Island on Tuesday 22 September from 7.20pm BST.
This exclusive pay-per-view event is available to watch for just £5 per ticket* and will remain available to view on-demand until 29 September 2020 10pm BST.
To complete your purchase, you will need to create a new ENB at Home account. Your existing account for memberships, donations and live events cannot be used to purchase this pay-per-view event.
Already purchased? Sign-in to watch event live.
---
Success in ballet requires talent and a huge amount of hard work, commitment and creative curiosity. Through this annual event, English National Ballet recognises the excellence of its artists.
Selected by their colleagues, six of our most promising dancers receive individual coaching and mentoring from their peers, before performing in front of an eminent panel of expert judges. One will receive the 2020 Emerging Dancer Award.
This year's finalists are Ivana Bueno, Carolyne Galvao, Miguel Angel Maidana, Victor Prigent, Emily Suzuki and William Yamada. They will perform classical pas de deux, and work with choreographers Jeffrey Cirio, Stina Quagebeur and Mthuthuzeli November on new contemporary dance pieces.
This inspiring evening is a fantastic opportunity to watch our rising stars flourish, and witness how far their dedication has taken them. It will also include performances by 2019 winner Julia Conway and 2019 People's Choice Award winner, Rhys Antoni Yeomans.
The recipient of the People's Choice Award will be selected by members of the public via text during the evening, and the Corps de Ballet Award, acknowledging the work on and off-stage of an Artist of the Company, will also be revealed.
Now in its 11th year, Emerging Dancer provides a great opportunity for talent and skill development for the performers and mentors.
English National Ballet are unique in celebrating their dancers with a very public event… very prestigious and special

DanceTabs
This year's judging panel consists of: Tamara Rojo CBE, Artistic Director of English National Ballet; Sarasota Ballet Choreographer and former Royal Ballet and Rambert dancer Matthew Hart; leading multidisciplinary dance artist and director of Kerry Nicholls Dance, Kerry Nicholls; The Royal Ballet Principal dancer Natalia Osipova' Northern Ballet's Artistic Director of Digital and Choreographer in Residence Kenneth Tindall; and former Royal Ballet Principal, Edward Watson MBE.
*International pricing also available. Your local pricing can be viewed on the
event booking page
.
Main image: The 2020 Emerging Dancer finalists: Victor Prigent, Ivana Bueno, Carolyne Galvao, Emily Suzuki, Miguel Angel Maidana and William Yamada. Photography © Laurent Liotardo, post-production by Nik Pate.
How to View
How can I buy pay-per-view access?
Select 'Purchase Digital Ticket' to create an ENB at Home account and purchase your place. Creating an account is easy and just requires an email address and password.
Once you complete your purchase, you will receive a confirmation email. This email will include instructions on how to watch and also a link that leads directly to the web page for the event you have purchased. If you do not receive this, firstly check your junk email folder.
Your card will be automatically charged on the release date and you will be sent an email to watch immediately. If your card is expired or does not have enough funds on the day of release, we will email and request you use another card for payment.
Please note that your ENB at Home account will have a different login from your main ENB account used to login to our main website for memberships, donations and live event tickets.
Please make sure you have a reliable internet connection and you are using a supported browser.
Find your purchased event in what's on and select the link to view event.
Login to your ENB at Home account.
The video page will load and the video will start playing immediately.
You can then make it full screen or leave a comment.
Access to the live stream will end when the event concludes but you will be able to watch on demand approximately 2 hours after the event has finished.
How can I watch after the event?
Emerging Dancer will be available to watch on demand until 29 September 2020 at 10pm (British Standard Time). Emerging Dancer will be available to watch on demand approximately 2 hours after the end of the live event. Watching after the event will look the same as watching the live event, therefore, the title image or countdown timer may display for a short period of time before the performance starts.
If you have not purchased your place in advance, you may purchase your access Emerging Dancer after the live stream has concluded within the 7-day on-demand window.
Repertoire
Classical pas de deux
Music performed live by members of English National Ballet Philharmonic
Emily Suzuki & Victor Prigent
Satanella
Ivana Bueno & William Yamada
Talisman
Carolyne Galvao & Miguel Angel Maidana
Diana & Acteon
Contemporary creations
Emily Suzuki & Victor Prigent
Hollow by Stina Quagebeur, with music by Giovanni Solima
Ivana Bueno & William Yamada
FULL OUT by Mthuthuzeli November, with music by David Lang
Carolyne Galvao & Miguel Angel Maidana
"both of two…" by Jeffrey Cirio, with music by Danilo Walde and Tomaso Albinoni
2019 winners
Julia Conway
Esmeralda variation
Rhys Antoni Yeomans
Mañana Iguana by Arielle Smith with music by Bobby McFerrin
Announcements
Corps de Ballet Award
People's Choice Award
Emerging Dancer Award
Order and repertoire subject to change
Supporters
We are very grateful for the support received from the Emerging Dancer production sponsors.
The Emerging Dancer 2020 finalists sponsored by Sue and Graeme Sloan
The People's Choice Award sponsored by The Buffini Chao Foundation
James Streeter's role in talent development sponsored by Christopher Saul Associates
FULL OUT by Mthuthuzeli November sponsored by Chris and Victoria Davison
Hollow by Stina Quagebeur sponsored by Karine Giannamore
The mentoring of the finalists sponsored by Carol Brigstocke, Janie Medlock and Julia Paton.
Generous support also received from Wanda Gase-Goodey and Mark Goodey, Jacquie and Paul Gulbenkian, The Porter Foundation, and those who wish to remain anonymous.