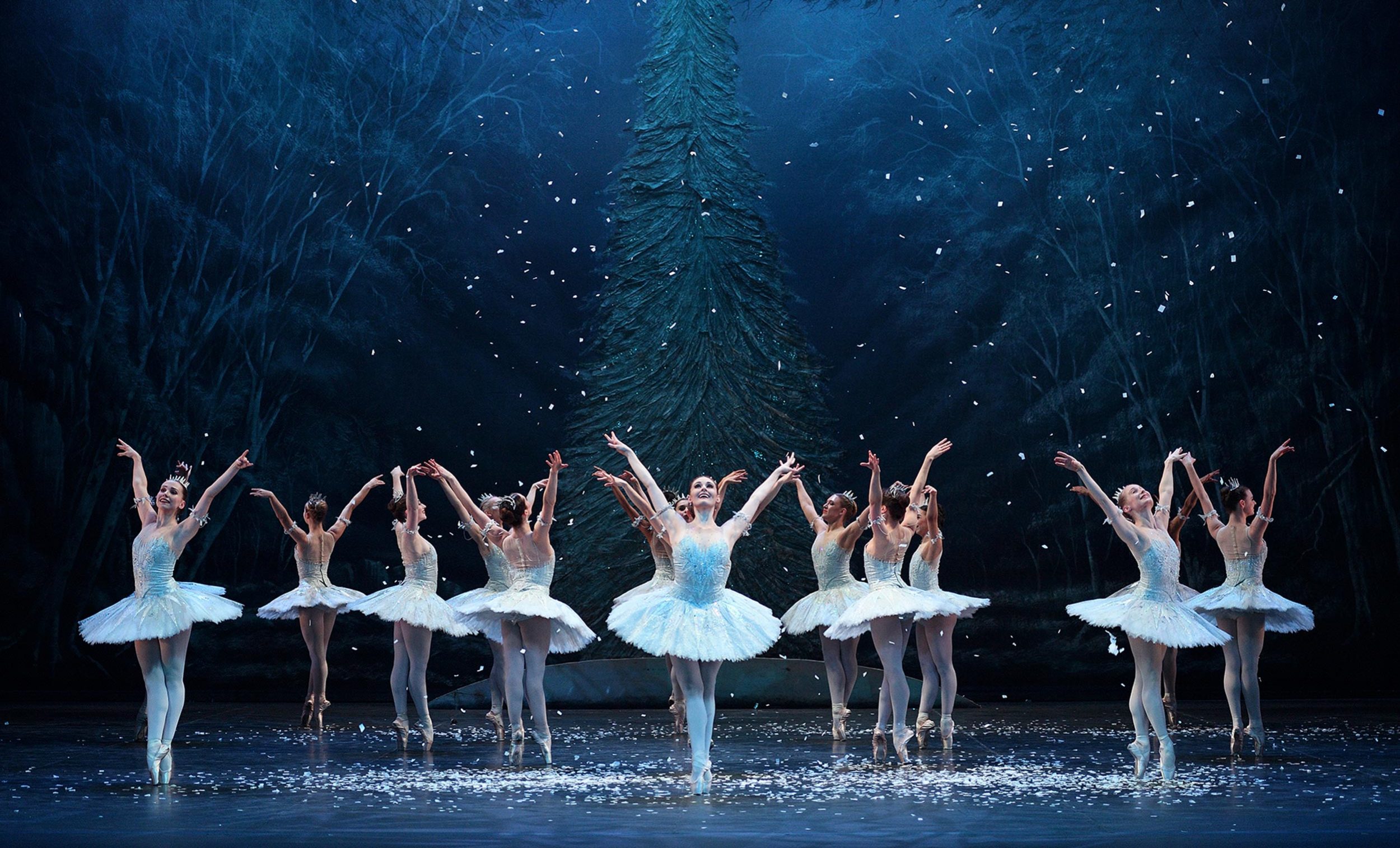 Nutcracker Delights
---
London Coliseum
17 Dec 2020 - 03 Jan 2021
Book now
Nutcracker Delights
A box of ballet treats for the festive season
Step inside the London Coliseum and open a box filled with exquisite dancing, beautiful live music, and festive cheer.
English National Ballet has been performing a version of Nutcracker every year since 1950. In 2020, the tradition lives on. With this special production, let our dancers and musicians take you on a whirlwind tour of the classic ballet's most popular moments, with Tchaikovsky's famous score played live.
Join Clara and her enchanted Nutcracker on a hot air balloon ride to the Land of Snow, and enjoy iconic scenes featuring the Sugar Plum Fairy, Snowflakes, Flowers and more.
Packed with delicious divertissements, Nutcracker Delights will be an unforgettable Christmas treat: make it a part of your holiday celebrations this year.
The performance will run for approximately 75 minutes with no interval.
Click here to read more about the London Coliseum's measures to ensure an enjoyable and safe experience for all ballet goers, and to plan your visit.
Only children aged 5+ are allowed in the auditorium.
Presented by English National Ballet Enterprises Ltd
MEET THE PRINCIPAL CAST
CREATIVE TEAM
Wayne Eagling
Choreography
Pyotr Ilyich Tchaikovsky
Music
Gavin Sutherland
New Reduced Orchestration
Toer van Schayk
Concept
Peter Farmer
Design
David Richardson
Lighting
Discounts
Only one discount per ticket. Subject to availability. Available from the London Coliseum Box Office, on all performances and all price bands unless stated otherwise.
Friends of English National Ballet
20% off Stalls, Dress and Upper Circle seats, max 6 per person. Become a Friend today to receive your discount code.

Please note that due to safety precautions, Groups and Schools bookings cannot be accommodated.
FAQ
What is the difference between this performance and the original Nutcracker? 
Nutcracker Delights is a shorter, simplified version of English National Ballet's traditional production of Nutcracker. The performance, running at 75 minutes with no interval, features highlights from the ballet. These include the Sugar Plum Fairy and the Prince, the Snowflakes, the Flowers, the Spanish dance and more.
Why is English National Ballet not performing their full version of Nutcracker? 
We have created Nutcracker Delights as a shorter, simplified version of our traditional production of Nutcracker in order to make it easier to maximise social distancing for the audience, performers, technicians and everyone involved in the production. A shorter running time, with no interval, will allow for complete, enhanced cleaning front and back of house between matinee and evening performances each day.
What measures are in place to make the London Coliseum Covid-secure and keep my visit secure?
Timed arrival, a one-way entry system, socially-distanced seating, compulsory face covering and enhanced cleaning are some of the measures put in place to ensure audiences' safety and comfort. Read more on the London Coliseum's website.
Click here to view the seating map.
Meet the principal cast
London Coliseum, Thu 17 December 2020, 7.30pm
Natascha Mair
Clara
Erina Takahashi
Sugar Plum Fairy
Joseph Caley
Prince
Aitor Arrieta
Nutcracker
London Coliseum, Fri 18 December 2020, 7.30pm
Katja Khaniukova
Clara
Fernanda Oliveira
Sugar Plum Fairy
Francesco Gabriele Frola
Prince
Junor Souza
Nutcracker
London Coliseum, Sat 19 December 2020, 3.30pm
Erina Takahashi
Clara
Shiori Kase
Sugar Plum Fairy
Isaac Hernández
Prince
Skyler Martin
Nutcracker
London Coliseum, Sat 19 December 2020, 7.30pm
Erina Takahashi
Clara
Shiori Kase
Sugar Plum Fairy
Isaac Hernández
Prince
Skyler Martin
Nutcracker
London Coliseum, Mon 21 December 2020, 3.30pm
Emma Hawes
Clara
Katja Khaniukova
Sugar Plum Fairy
Jeffrey Cirio
Prince
Fernando Carratalá Coloma
Nutcracker
London Coliseum, Mon 21 December 2020, 7.30pm
Emma Hawes
Clara
Katja Khaniukova
Sugar Plum Fairy
Jeffrey Cirio
Prince
Fernando Carratalá Coloma
Nutcracker
London Coliseum, Tue 22 December 2020, 3.30pm
Natascha Mair
Clara
Erina Takahashi
Sugar Plum Fairy
Joseph Caley
Prince
Aitor Arrieta
Nutcracker
London Coliseum, Tue 22 December 2020, 7.30pm
Natascha Mair
Clara
Erina Takahashi
Sugar Plum Fairy
Joseph Caley
Prince
Aitor Arrieta
Nutcracker
London Coliseum, Wed 23 December 2020, 3.30pm
Fernanda Oliveira
Clara
Emma Hawes
Sugar Plum Fairy
Junor Souza
Prince
Fernando Carratalá Coloma
Nutcracker
London Coliseum, Wed 23 December 2020, 7.30pm
Fernanda Oliveira
Clara
Emma Hawes
Sugar Plum Fairy
Junor Souza
Prince
Fernando Carratalá Coloma
Nutcracker
London Coliseum, Thu 24 December 2020, 3pm
Erina Takahashi
Clara
Shiori Kase
Sugar Plum Fairy
Isaac Hernández
Prince
Skyler Martin
Nutcracker
London Coliseum, Sat 26 December 2020, 3.30pm
Katja Khaniukova
Clara
Fernanda Oliveira
Sugar Plum Fairy
Francesco Gabriele Frola
Prince
Junor Souza
Nutcracker
London Coliseum, Sun 27 December 2020, 3pm
Natascha Mair
Clara
Erina Takahashi
Sugar Plum Fairy
Joseph Caley
Prince
Aitor Arrieta
Nutcracker
London Coliseum, Tue 29 December 2020, 7.30pm
Emma Hawes
Clara
Katja Khaniukova
Sugar Plum Fairy
Jeffrey Cirio
Prince
Fernando Carratalá Coloma
Nutcracker
London Coliseum, Wed 30 December 2020, 7.30pm
Shiori Kase
Clara
Natascha Mair
Sugar Plum Fairy
Isaac Hernández
Prince
Skyler Martin
Nutcracker
London Coliseum, Thu 31 December 2020, 3pm
Emma Hawes
Clara
Katja Khaniukova
Sugar Plum Fairy
Jeffrey Cirio
Prince
Fernando Carratalá Coloma
Nutcracker
London Coliseum, Sat 2 January 2021, 3.30pm
Katja Khaniukova
Clara
Fernanda Oliveira
Sugar Plum Fairy
Francesco Gabriele Frola
Prince
Junor Souza
Nutcracker
London Coliseum, Sat 2 January 2021, 7.30pm
Katja Khaniukova
Clara
Fernanda Oliveira
Sugar Plum Fairy
Francesco Gabriele Frola
Prince
Junor Souza
Nutcracker
London Coliseum, Sun 3 January 2021, 3pm
Shiori Kase
Clara
Natascha Mair
Sugar Plum Fairy
Isaac Hernández
Prince
Skyler Martin
Nutcracker