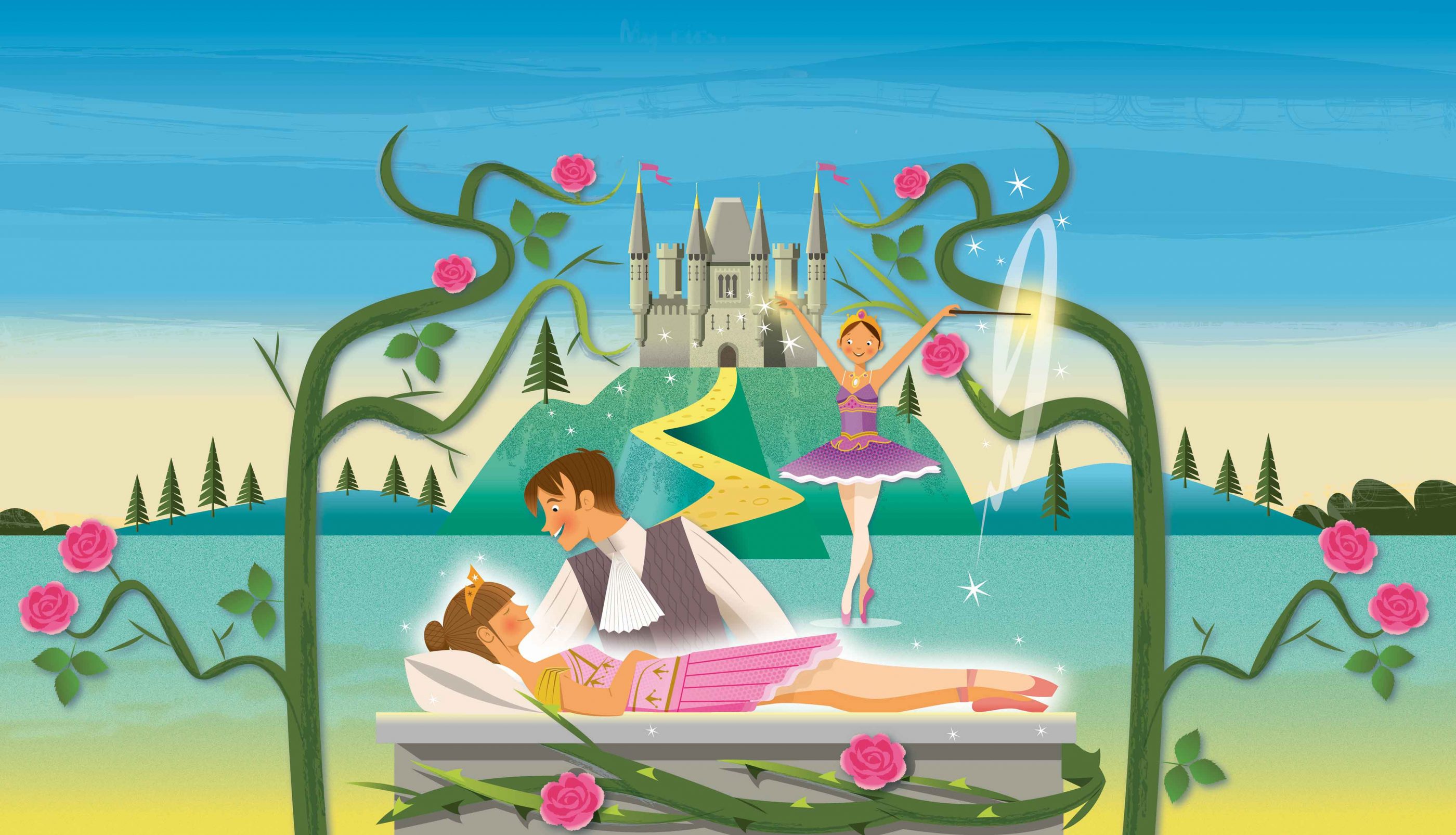 From the archive:
My First Ballet:
Sleeping Beauty
National Tour
1 hour 30 minutes including one interval
Give children a first taste of the magical world of ballet.
Enjoy the classic fairy tale ballet together, in this new version especially created for children aged three upwards.
As a baby, Princess Aurora is cursed by Carabosse: on her 16th birthday, she will prick her finger and die. Her godmother the Lilac Fairy alters the spell so Aurora will not die but will sleep for 100 years, only to be awoken by her true love.
From Aurora's christening in the grand hall of the palace, to her jubilant wedding celebrations, the popular story comes alive on stage.
With a narrator to help the young audience follow the story, and a shortened version of Tchaikovsky's gorgeous music, this is the perfect introduction to the beauty of ballet, and a fantastic family day out.
An enchanting first taste of ballet for both children and their parents

★★★★ Culture Whisper
Performed by second-year students of English National Ballet School, our My First Ballet series has been enjoyed by over 290,000 people since its creation in 2012.
Main image: Illustration by Mark Ruffle.
Synopsis
Introduction
Two young fairies, Carabosse and Lilac, are practising casting spells on their dolls. Lilac is turning hers into beautiful ballerina dolls, but Carabosse's dolls go wrong. Angrily, she turns them into human-like creatures called Dark Companions.
Prologue – The Christening
Some years later, the King and Queen are celebrating the birth of their baby, Princess Aurora. They are having a painting made to mark the occasion, and they have invited everyone to a party. Three fairies each give magical gifts – Strength, Wisdom and Beauty of the Heart – to the Royal Baby.
Lilac Fairy is just about to give the gift of love when a storm suddenly rages and angry Carabosse arrives with her Dark Companions. It seems they forgot to invite her to the party, and she's so upset that she casts a spell on baby Aurora – saying that on her 16th birthday, Aurora will prick her finger on the thorn of a rose and die!
The dark magic is so strong that Lilac Fairy can't completely undo it. But she changes the spell so that Aurora will instead fall into a long deep sleep that she can be awoken from if one with a heart as good as hers loves her. The King then bans all flowers with thorns from the kingdom forever.
Act I – The Spell
Years later it is Princess Aurora's 16th birthday. Aurora excitedly enters the garden where her birthday party will take place. Suddenly she sees someone (the angry Carabosse) sitting in the shade of a tree. Aurora approaches her and sees something she's never seen before – a beautiful red rose.
Carabosse pretends to be kind and gives Aurora the rose as a gift. Aurora is so pleased that she gives Carabosse a huge hug. Carabosse has never felt such warmth and friendliness before and
immediately regrets trying to harm the princess. She tries to hide the rose but Aurora sees where she puts it. Luckily though, realising it's time for her party to start – Aurora has to leave both the rose and Carabosse behind.
All of Aurora's friends have gathered at the party, as well as three princes who have come to seek her hand in marriage. The King asks everyone to dance. Aurora kindly dances with each of the princes, but she doesn't want to marry any of them – she just wants to dance and have fun with her friends!
Aurora suddenly remembers the rose, and rushes to show it to everyone. She pricks her finger on one of its thorns and falls into the arms of Carabosse, who had tried to stop her but was too late. Everyone is furious, and Carabosse panics and casts a spell that freezes them all.
Thankfully Lilac Fairy appears. She commands Carabosse to leave, and, after unfreezing the guests, asks them to carry Aurora away to rest. She then sends them all to sleep, and vows to set off on a long journey to find someone with a heart as good as Aurora's, whose love can awaken her.
Act II – The Prince
Many years have passed and we are now deep in the enchanted forest. A young Prince called Désiré, is playing in the woods with his best friend – Bluebird. A lady bluebird
runs by them, fleeing Puss in Boots and a wolf. The Prince decides to save her, and distracts the cat and wolf in a very unusual way!
Then, someone called Little Red Riding Hood passes through – lost and trying to find her grandmother's house. Then just when you think things couldn't get any stranger a sophisticated white cat slinks past, and a mouse has to be rescued very quickly!
Eventually they all become good friends, and the Prince tells them that he's feeling sad because he keeps dreaming that a beautiful sleeping princess needs him. His friends try to cheer him up and ask him to dance. Then, when they decide to go to Red Riding Hood's grandmother's house, Désiré stays in the forest. Some of his new friends feel sorry for him, so stay with him.
Lilac Fairy appears and shows Désiré a vision of Princess Aurora. He knows immediately that he must go to her. They set off on the long journey towards her.
When Désiré sees Aurora he rushes to her. Carabosse, who has been watching over Aurora, doesn't trust the prince and pulls him away. They fight and Carabosse is thrown to the floor. Lilac Fairy tells the Prince to hug Aurora, and as he does so, his good heart gives life to the princess and all her family. Everybody begins to wake up.
Aurora sees her family, and Carabosse, and then the Prince – who she immediately knows has a heart as good as hers, and they begin to fall in love. Carabosse is sorry for what she has done and is quickly forgiven.
Act III – The Wedding
Everyone celebrates the wedding of Princess Aurora and Prince Désiré. All their enchanted friends have come to pay their respects and this time Aurora herself has made sure that Carabosse has been invited. Lilac Fairy blesses their happy union.
Catalabutte begins to paint the picture of the happy moment.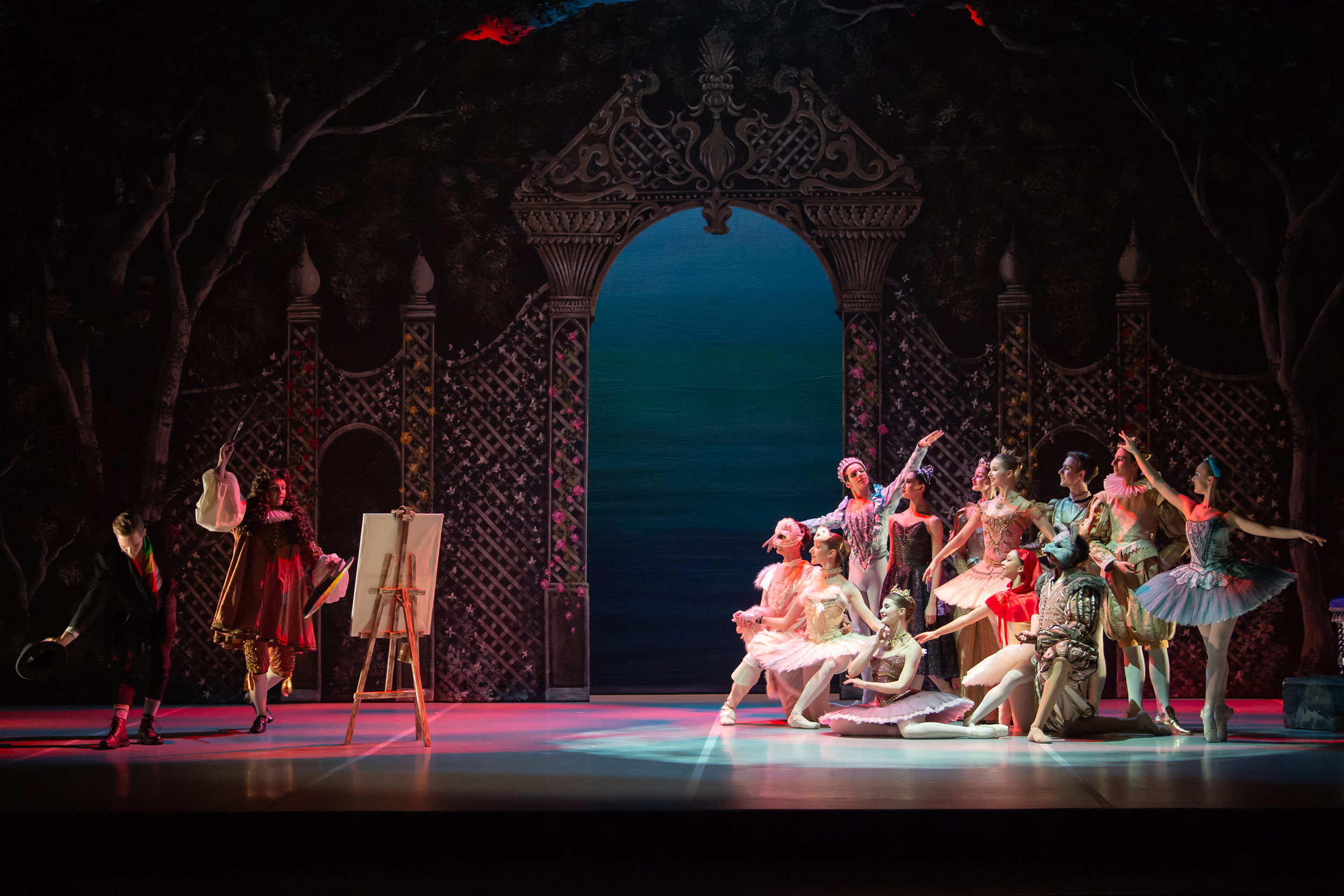 Reviews
"A ballet that families will treasure forever"
The Wonderful World of Dance
Symbol Resources
English National Ballet are delighted to be working in partnership with Widgit to make ballet more accessible to children with learning difficulties and disabilities, by creating a range of symbol resources.
Widgit symbols support written text to make the meaning clearer and easier to understand. All of these resources are available to download for free (PDF format) and you will also find extra activities in our printed programmes at theatres throughout the tour.
The My First Ballet: Sleeping Beauty Symbol Resources are designed for use before, during and after performances.
Download now: