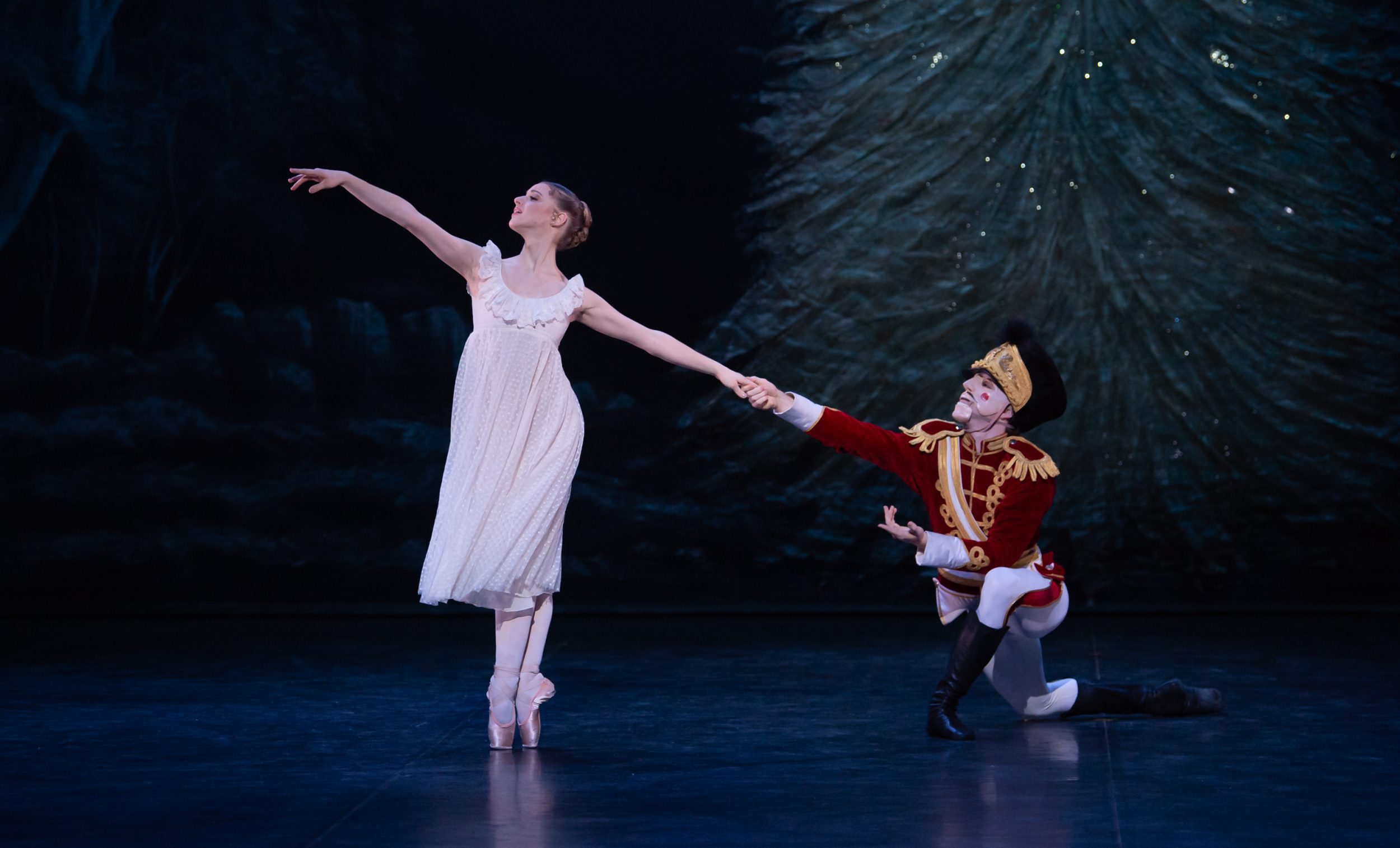 From the archive:
Online
Nutcracker Delights
Online:
Nutcracker Delights
A Christmas gift from English National Ballet, specially filmed for this festive season.
As a gift to its audiences this Christmas, English National Ballet will make a recorded performance of Nutcracker Delights available to watch for free on our YouTube channel and Facebook page, from 2pm Thursday 24 December, for 30 days.
To receive a reminder from YouTube, which will notify you when the premiere is about to begin, click on the button that reads 'Set reminder' next to the bell icon. To receive a reminder from Facebook, click on the button that reads 'Get reminder' next to the star icon.
As London moved into Tier 4 COVID-19 restrictions with the subsequent cancellation of all scheduled performances of Nutcracker Delights, the Company decided to film and share a recording of this specially-adapted production with its audience as a thank you at the close of its 70th Anniversary year. Nutcracker Delights was filmed on 18 and 19 December at the London Coliseum by Michael Nunn and William Trevitt.
View the Nutcracker Delights digital programme here
CAST
Clara
Natascha Mair
Sugar Plum
Erina Takahashi
Prince
Joseph Caley
Nutcracker Doll
Aitor Arrieta
Drosselmeyer
James Streeter
Mouse King
Daniel Kraus
Lead Snowflakes
Precious Adams
Alison McWhinney
Snowflakes
Claire Barrett
Paige Bestington
Rebecca Blenkinsop
Georgia Bould
Ivana Bueno
Emilia Cadorin
Julia Conway
Breanna Foad
Carolyne Galvao
Chloe Keneally
Sarah Kundi
Emily Suzuki
Spanish
Ivana Bueno
Jung ah Choi
Daniel McCormick
Chinese
Carolyne Galvao
Miguel Angel Maidana
Rhys Antoni Yeomans
Russian
Breanna Foad
Ken Saruhashi
Alicia Townsend
Lead Flowers
Precious Adams
Alison McWhinney
Matthew Astley
Skyler Martin
Flowers
Claire Barrett
Rebecca Blenkinsop
Emilia Cadorin
Julia Conway
Giorgio Garrett
Kevin Hale
Thomas Holdsworth
Sarah Kundi
Van Le Ngoc
Victor Prigent
Eric Snyder
Emily Suzuki
Animated film
Animation by MediaNerd Ltd
Illustrator: Ain Vares
Creative Director: Villu Vares
Producer: Jonathan Horne
Animation: William Brown, Jason Folwer, Gui Jorge, Villu Vares
Narrated by Simon Callow

Synopsis
Nutcracker Delights is a special adaptation for 2020: it comprises a sparkling selection of divertissements from Eagling's festive favourite, all set to Tchaikovsky's sublime score, in a new orchestration by Gavin Sutherland.
The performance runs for 75 minutes and will include the following scenes:
Introduction to the story — animated film
Nutcracker doll and Clara pas de deux
Snowflakes
Hot air balloon adventure
Nutcracker, Clara and Drosselmeyer pas de trois
Spanish dance
Russian dance
Chinese dance
Flowers
Sugar Plum Fairy and Prince pas de deux
Coda
Finale