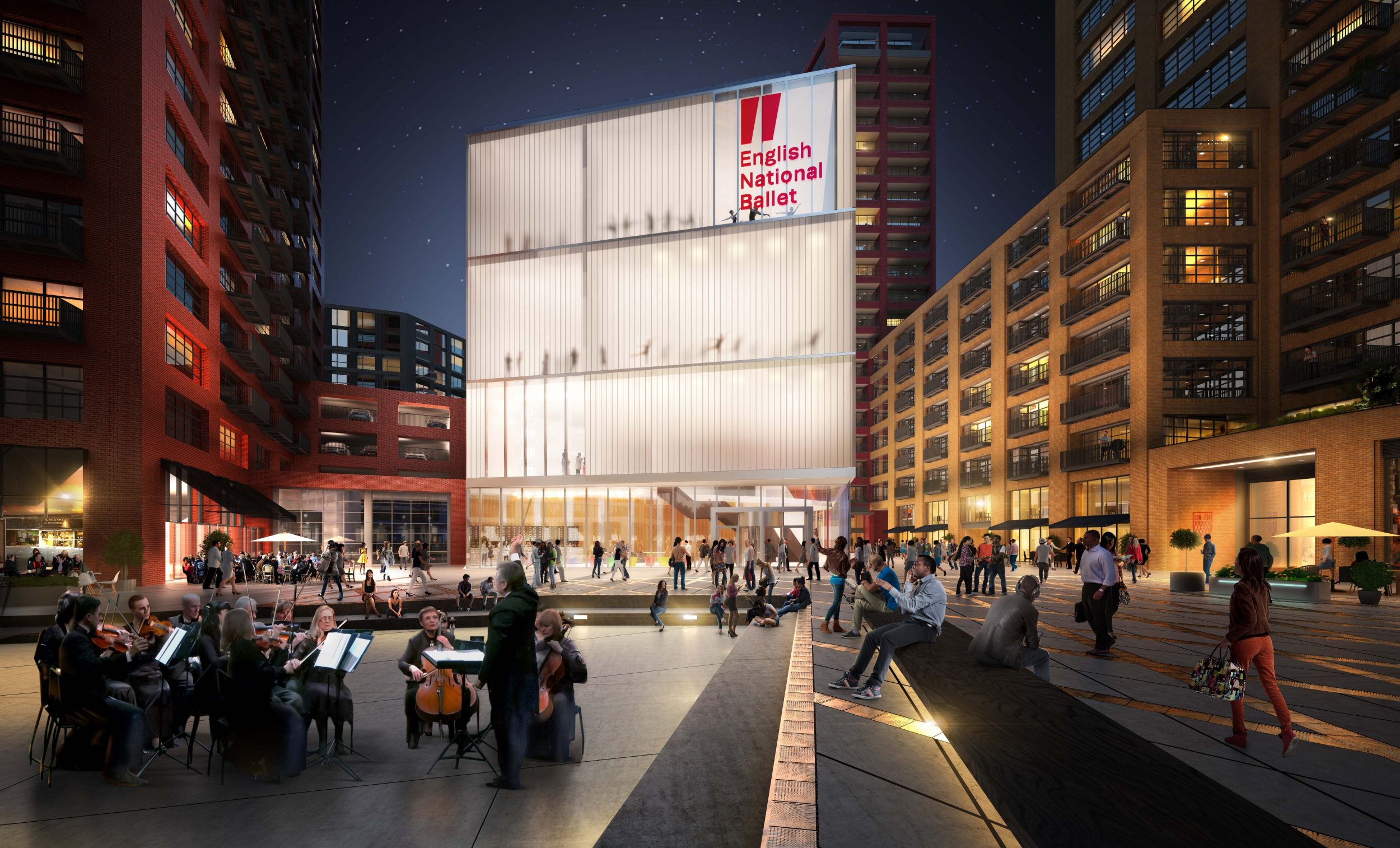 A space that will echo the sound of creative Britain.

Tamara Rojo, Artistic Director of ENB
Despite our reputation as one of the UK's leading ballet companies, English National Ballet's current home limits us. We moved to our much-cherished home, Markova House, in 1977 but have out-grown the premises 40 years on. With only two rehearsal studios, no dedicated education space and cramped rehabilitation facilities, we find ourselves restricted in how much work we can create and share, in the opportunities for development for our students and dancers, and the breadth of audiences we can engage with.
This all changes in 2019 when we move to a new purpose-built home at London City Island. English National Ballet and English National Ballet School, a specialist ballet school for students aged 16-19 years old, will come under one roof for the first time in 20 years. We will share a building that is open, collaborative and offers the space we need to create, innovate, rehearse and deliver ballet to the highest standard. We will be based in a new East London neighbourhood, London City Island, in Canning Town. ENB will joining a thriving cultural community, close to the Royal Drawing School and Trinity Buoy Wharf, and the redevelopment at the Olympic Park.
At 93,000 square feet, the building is 4 times the size of our combined current homes. There will be seven rehearsal studios and a Production Studio, with fly-tower and full rig where we can rehearse productions with full technical support before we go on tour. There will also be two education spaces, both adjoining rehearsal studios, gym and pilates areas for the Company and School, a hydrotherapy pool, music room and a public foyer, café and areas for viewing rehearsals.
From our new home, we will:
Create more work, by using our Production and Rehearsal Studios to expand our repertoire, innovate and invest in new work – strengthening our position as a leading force in the art form.
Develop and nurture talent, by developing clear pathways for career progression in dance, music, craft and teaching.
Reach more people, by enabling more performances, more digital content, a larger touring footprint, and by engaging thousands more in our creative learning and engagement programmes.
Become more resilient, with a more enterprising business model that ensures the Company and School are thriving for future generations.
English National Ballet's move to east London will transform the future of ballet, both in the capital and nationwide. It will mean they can put on more inspiring performances, can develop the stars of tomorrow and reach more people through their education programmes than ever before. It will also breathe new life into City Island – highlighting the importance of embedding cultural projects into the heart of a major new development. I have no doubt that the ENB's relocation to City Island will further cement the city's status as a global hub for dance and the performing arts.

Mayor of London, Sadiq Khan
Contact
Thank you very much for generously supporting Our Next Step. To find out more about supporting English National Ballet please contact the Development Team on support@ballet.org.uk or call 020 7590 2950.