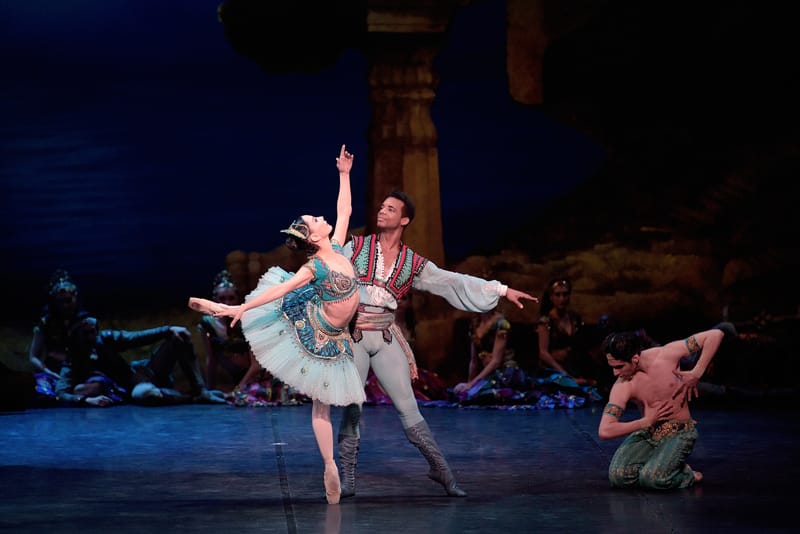 Le Corsaire at the London Coliseum: Opening Night reaction and reviews (2016)
15 Jan 2016
We've been hyping it up for weeks: Le Corsaire has finally opened at the London Coliseum, two years after its first run at the theatre. Did it live up to it? We think so – but then we would say that, wouldn't we? Let's take a look at what audiences and critics said about the production.
With its story of dashing pirates and damsells in distress, Le Corsaire is at the "loopier end of 19th-century Ballet", a classic, full to the brim with "jolly set pieces, vibrant character dances, sophisticated classical formations and sweet allegro" (The Times).
Add to that designs that are a riot of colour, and this production becomes "a one-stop antidote to the mid-January blues" (The Daily Telegraph) and "an entertainingly sparkly spectacle for a grim January night" (Evening Standard).
The following tweets probably best capture how you might react when watching it.
So ridiculously loved Le Corsaire tonight. Colours! Leaping! Prettiness! Thank you @larkingrumple!

— Alexandra Coghlan (@AlexaCoghlan) January 14, 2016
Oh. My. God. Le Corsaire is such a ridiculous ballet but OOOOH WHAT GLORIOUS DANCING

— Maria W. Norris (@MariaWNorris) January 13, 2016
 
Now, about that glorious dancing: opening night had plenty of it, with Tamara Rojo leading the cast as Medora ("a heartfelt and beautiful performance", according to The Times), and Laurretta Summerscales as her friend Gulnare ("dances with clean technique and a sense of naughtiness", wrote The Independent).
But Le Corsaire is best known for having great roles for men, demanding physically explosive performances, and we did get a few.
Guests artists Brooklyn Mack and Osiel Gouneo impressed the home crowd: Mack gave "a sensational performance" as Lankendem (The Independent), with The Arts Desk describing him as a "demonic technician", while Gouneo "brings a big grin and elastic leaps as hero Conrad" (Evening Standard).
As Birbanto, Yonah Acosta's "bold, gleeful dancing [was] matched by the detail and gusto of his acting" (The Guardian).
And Cesar Corrales also shone in the role of Ali, Conrad's sidekick: "the junior soloist danced like an international star, knitting the most challenging jumps and pirouettes into lithe, liquid, musical phrases" (The Guardian). The pas de trois in Act II a particular highlight: "Rojo, Gouneo and Corrales made the famous pas de trois go with a bang, trading ever faster spins, higher jumps, more outrageous displays of bravura" (The Independent).
To be frank, Le Corsaire shows off more than just some individual dancers, but our entire company: "the orchestra matches the rampaging dance-action in boisterous energy" wrote Financial Times, there is "sterling work from the corps" (The Daily Telegraph), and DanceTabs says "audiences everywhere should be impressed by the consistently high standard of the company's dancing. ENB is proof that artists from many different countries, backgrounds and training can be formed into a cohesive ensemble."
What a great evening. Forgive the pun but @ENBallet have come on leaps and bounds. Hugely talented company. Go see #LeCorsaire ASAP

— Alex (@booshkla) January 13, 2016
I've waited a long time to see @ENBallet Le Corsaire. It was worth it.Incredible cast. Beautiful staging. A fabulous and exciting production — Georgia Tarrant (@gmaetarrant) January 13, 2016
We'll end this post with the comment of a surprise guest, an actor who knows good dancing when he sees it (remember the film Take the lead? 🙂 ): Antonio Banderas!
Enjoying the strength and delicacy of @TamaraRojo1 Spanish Art in the @ENBallet #London https://t.co/luaRHKQi4z pic.twitter.com/pg4EQAgOXB

— Antonio Banderas (@antoniobanderas) January 14, 2016
Le Corsaire runs at the London Coliseum until 24 January. Buy tickets here.