From Page to Stage
The history of Nureyev's Romeo & Juliet
28 Jun 2017
To mark the 40th anniversary of its creation, we're presenting Rudolf Nureyev's Romeo & Juliet on 1 – 5 August at Southbank Centre. Created especially for English National Ballet in 1977, this blazing ballet retells Shakespeare's heartbreaking tale of two star-crossed lovers with Nureyev's inventive and passionate choreography. Find out more behind the story's history and this "deeply romantic" (The Daily Express) version: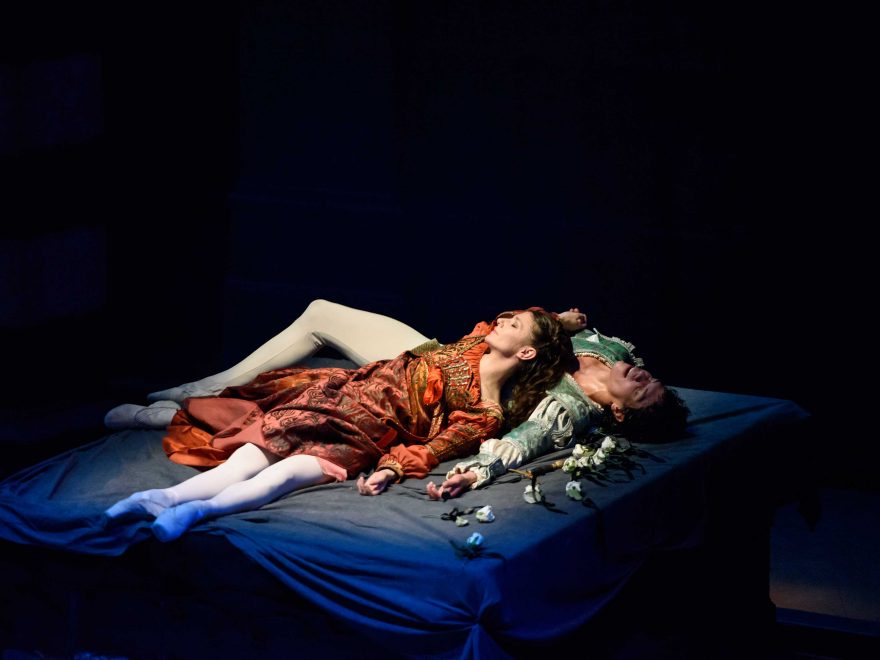 Alina Cojocaru and Isaac Hernandez in Romeo & Juliet © Bill Cooper
The story William Shakespeare told in Romeo and Juliet (1595) was not new but its success was such that all subsequent narratives of the universal story of young lovers from opposing factions coming together, usually with tragic results, are traced back to his play.
The story has been adapted for numerous media inspiring paintings, symphonies (most notably Hector Berlioz' dramatic Roméo et Juliette 1838-9), operas (including those by Vincenzo Bellini and Charles Gounod), and musicals.
The 1957 Leonard Bernstein-Stephen Sondheim West Side Story (choreographed by Jerome Robbins) is probably the most widely known adaptation of the play, shifting it's time and place to highlight, through its portrayal of gang-land warfare in New York, the plot's relevance to twentieth-century society. The immediacy of West Side Story was repeated four decades later in Baz Luhrmann's 1996 film of Romeo + Juliet and the imagined creation of the play provided the basis of the film and stage play Shakespeare in Love.
Scholars agree that Shakespeare's plot had its origin in the literature of Renaissance Italy beginning with Luigi da Porto's Istoria Novvellamente Rivovata di Due Nobili Amante. This is based on the social and political conditions of the first half of the Fourteenth Century documenting the violent life of some Italian City States in which bloody feuds between dominant clans, here the Montecchi and Cappellelli families, were common.
Da Porto's story was popularised by its re-telling in Matteo Bandello's collection of stories in 1554 and in French by Pierre Boaiastau five years later. This, in turn, inspired Arthur Brooke's 1562 long poem, The Tragical History of Romeus and Juliet and the prose version 'The goodly history of the true and constant love between Rhomeo and Julietta' in William Painter's The Palace of Pleasure. Shakespeare seems to have been familiar with these English-language versions, particularly Brooke's poem, from which he took the outline of every character except Mercutio, but he adapted the narrative further by, for example, reducing Juliet's age to fourteen.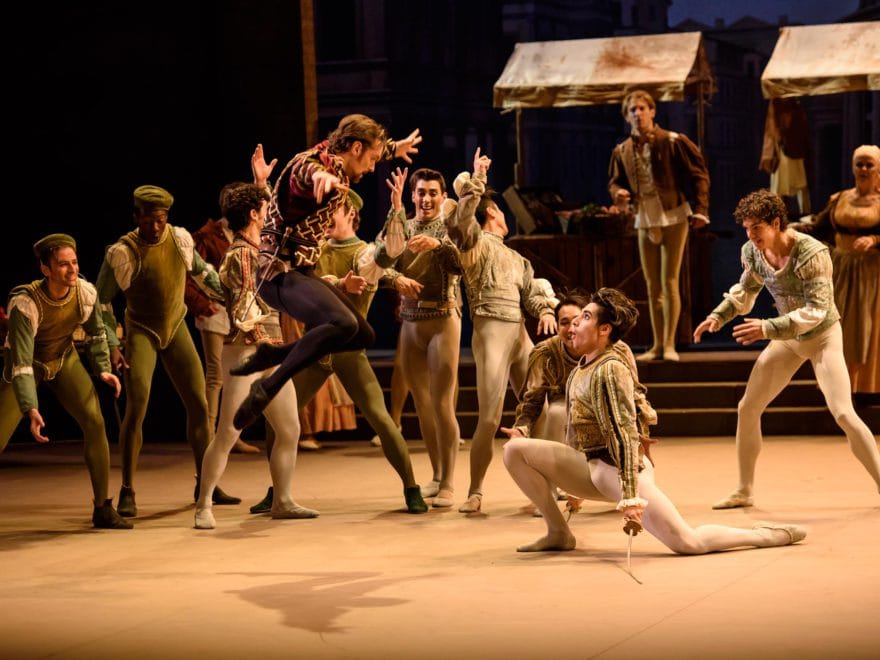 James Streeter as Tybalt and Cesar Corrales as Mercutio in Romeo & Juliet © Bill Cooper.
Romeo and Juliet has been presented in a variety of styles for different audiences. It has been updated, relocated, and whole chunks of it rewritten. For two centuries, it was played with a happy ending. In Shakespeare's day, the play was performed by an all-male cast but in the mid-Nineteenth Century, particularly in America, it became fashionable for the role of Romeo to be played by a woman.
Dance, too, has seen curious adaptations of the play. Vincenzo Galeotti's production in Copenhagen in 1811 was hampered by a 51-year-old Romeo. Bronislava Nijinska's 1926 surreal Romeo and Juliet saw hero and heroine elope in a plane. Various music (original compositions and adaptations) has been used but it was with Serge Prokofiev's score written in the 1930s that Romeo became part of the standard repertory of leading dance companies. It was first choreographed by Ivo Vano Posta in Brno, Czechoslovakia, in 1938. This production combined classical and modern dance techniques avoiding pointe-work for Zora Semberova as Juliet felt conventional ballet would prevent her from expressing the emotional subtlety of Prokofiev's music.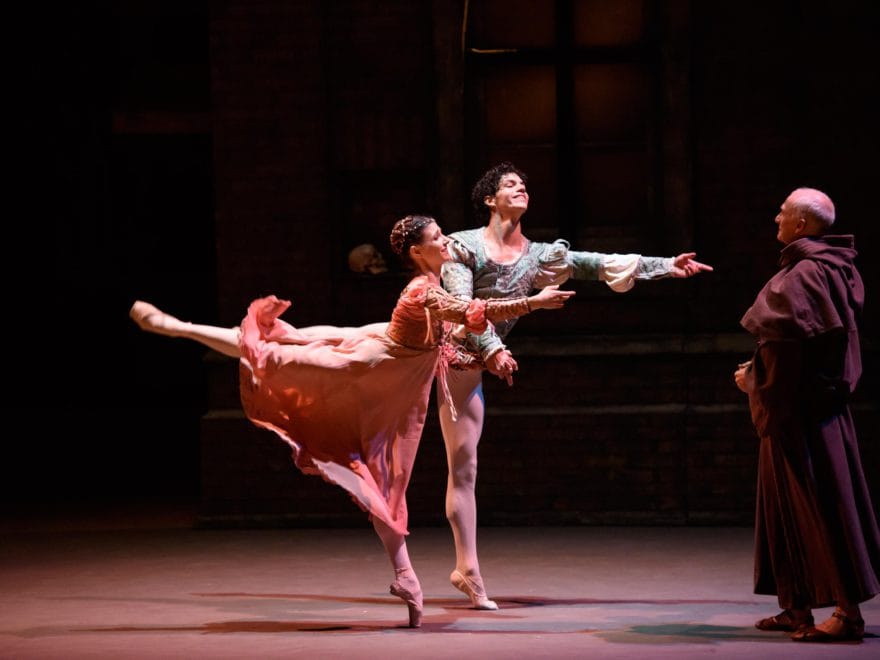 Alina Cojocaru and Isaac Hernandez in Nureyev's Romeo & Juliet. © Bill Cooper
The success of the Brno production encouraged the Soviet authorities to accept Romeo and Juliet and Léonide Lavrovsky's 1940 Kirov ballet exerted an enormous influence on productions for the next three decades. The most widely performed version is Kenneth MacMillan's choreographed in 1965. This derived some of its production ideas from Franco Zefferelli's landmark 1960 staging of the play at the Old Vic. In a similar manner, ideas, notably the comradeship between Romeo and his friends, Mercutio's fake death and the duel scene played for laughs, filtered into Nureyev's production from Trevor Nunn's 1976-77 Royal Shakespeare Company production.
Danced Romeo and Juliets take many forms. Angelin Preljocaj's presented Verona as an Orwellian totalitarian state (danced to a mixed score of Prokofiev's music and Goran Vejvoda's electronic soundscape) and elements of Mats Ek's staging to Tchaikovsky were inspired by the events of the Arab Spring. Krzysztof Pastor spread the action to set consecutive acts in the 1930s, 1950s and 1990s while Rennie Harris created the hip-hop Rome and Jewels. At the same time, there have been plenty of more traditional productions including Derek Deane's mega in-the-round staging for English National Ballet in 1998 at the Royal Albert Hall in which Tamara Rojo created the role of the young heroine.
Next to all other danced versions Nureyev's Romeo and Juliet, created for London Festival (now English National) Ballet 40 years ago, stands the test of time. It incorporates a range of dance-styles, contemporary and classical, to enrich the production which is a remarkably literal re-telling of the play in dance. Nureyev, for example, does not rely on his audiences' familiarity with the plot and includes scenes such as those relating to Romeo's stay in Mantua, the failure of Friar Lawrence's message to reach him and the tragic consequence of Benvolio bringing him news of Juliet's 'death'. He is also aware that the play is more than a simple paean of romantic love. Nureyev's great achievement is his rich portrayal of Renaissance society and the symbolic imagery drawn from Shakespeare's text that he has meshed into his own Romeo and Juliet.
To see Nureyev's Romeo & Juliet at Southbank Centre this August, book your tickets here. Watch the trailer below: