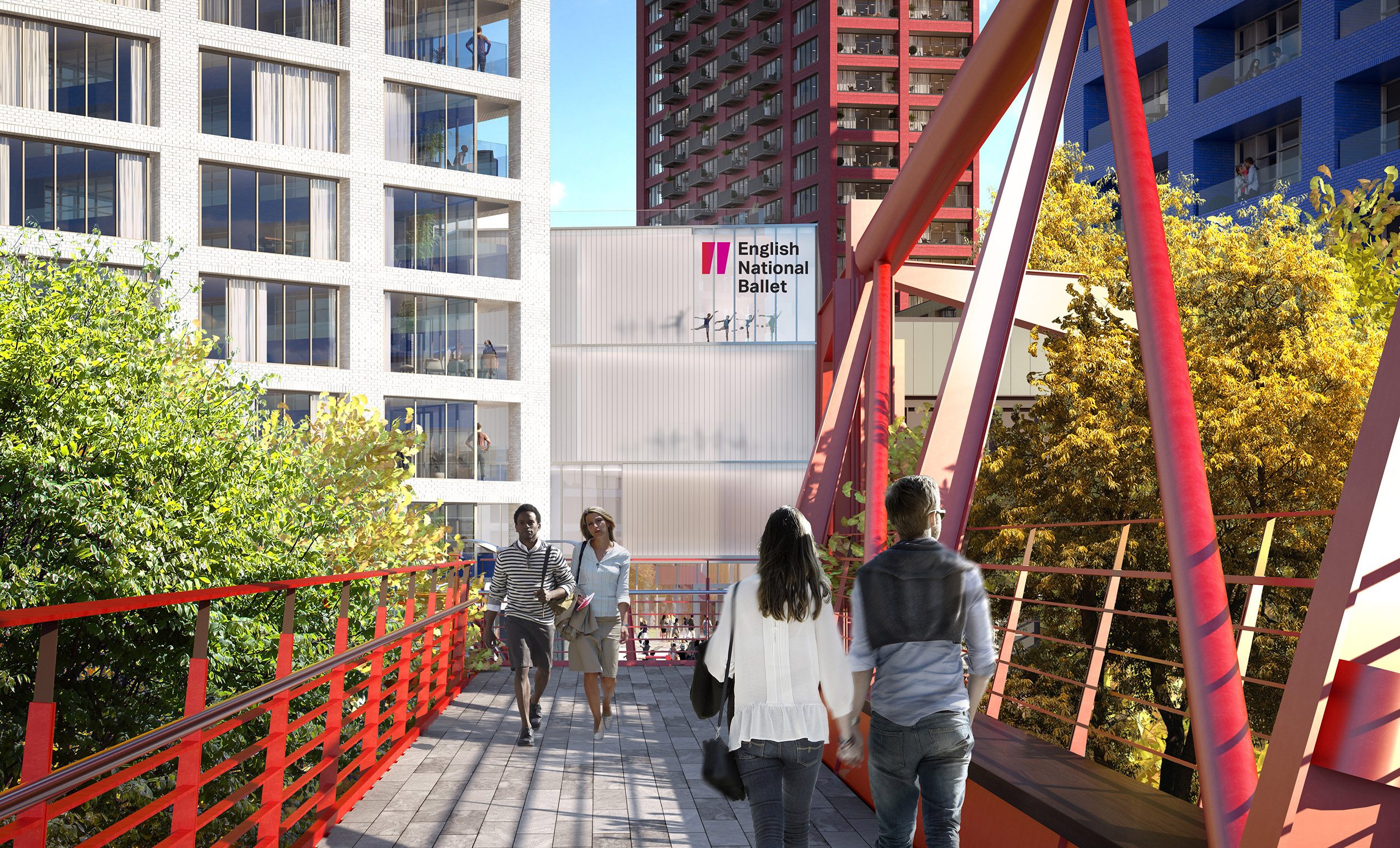 Exciting updates on our new home at London City Island
14 Mar 2019
The Mayor of London's Good Growth Fund supports English National Ballet's Bridging Neighbourhoods – Growing Talent project
The Mayor of London's Good Growth Fund has committed to a £1million grant to support our move to London City Island, Canning Town, and our East London focused project, Bridging Neighbourhoods – Growing Talent. Through this project English National Ballet will share its new world-class cultural infrastructure on the Lea River Estuary as a multi-disciplinary creative hub for active participation and skills development, and as a catalyst for bringing communities together through the sharing of culture.
The project will generate 8 new FTE jobs, 20 new Associate Artists and deliver a new skills development programme that provides training, apprenticeships, volunteering, residences and learning opportunities for 4,000 people over the next three years with a focus on recruitment from the local area and across East London.
Patrick Harrison, our Executive Director, said:
This grant is greatly valued in supporting our ambitious aims as we make our move to East London. As the cultural anchor on London City Island, we will use public spaces, exhibition and shared workspace, a costume-making workshop and production studio to bridge relationships with creative partners and local communities, and make space available for learning, apprenticeships and employment.
Deputy Mayor for Planning, Regeneration and Skills, Jules Pipe, said:
We are pleased to support English National Ballet in its new home at London City Island, and that the Mayor of London's Good Growth Fund has helped unlock significant wider benefits from this project. I'm confident our support will translate into a programme of local learning and employment opportunities in the future for Londoners in this area and across the capital.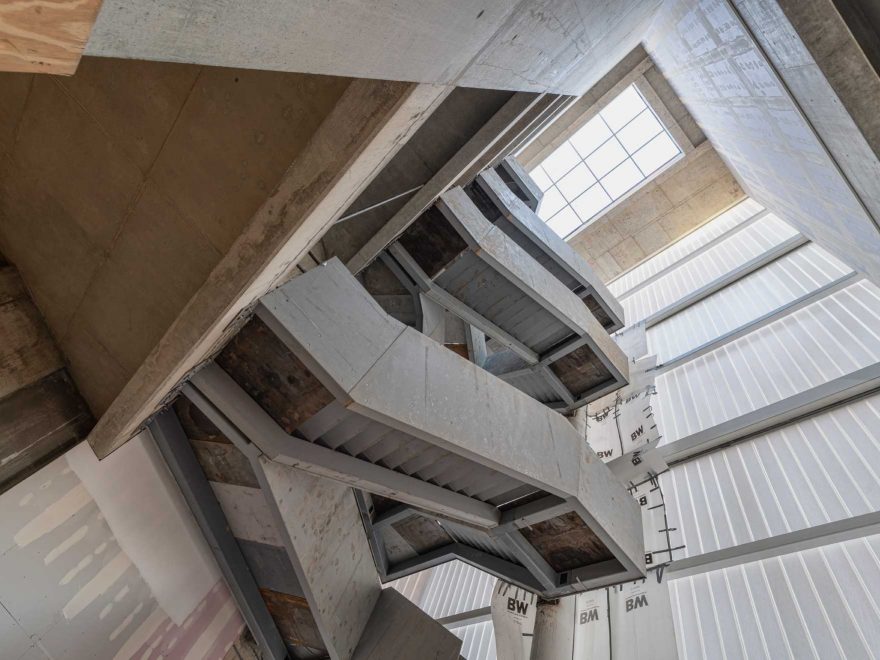 Feature staircase at London City Island © Michael Molloy
English National Ballet's Capital Fundraising Campaign
We're thrilled to also announce generous support from the Dorfman Foundation (Sir Lloyd CBE & Lady Dorfman), Stavros Niarchos Foundation, Rothschild Foundation, 29th May 1961 Charitable Trust, alongside donations from individual supporters.
Thanks to this and to early supporters of the project including Arts Council England, Linbury Trust, Garfield Weston Foundation, the Wigoder Family Foundation, Foyle Foundation, Clore Duffield Foundation and Wolfson Foundation, £34million of the £36million needed to build English National Ballet and English National Ballet School's new home at London City Island has already been raised.
To raise the final £2million, our fundraising campaign continues, with a new capital campaign microsite launched today. Every donation facilitated by the microsite contributes towards equipping the new home with state-of-the-art facilities and equipment, from sewing machines for the costume workshop, to mirrors for the studios, to treatment beds for the health suite.
Help us make this extraordinary new building a creative hub for current and future generations by donating today.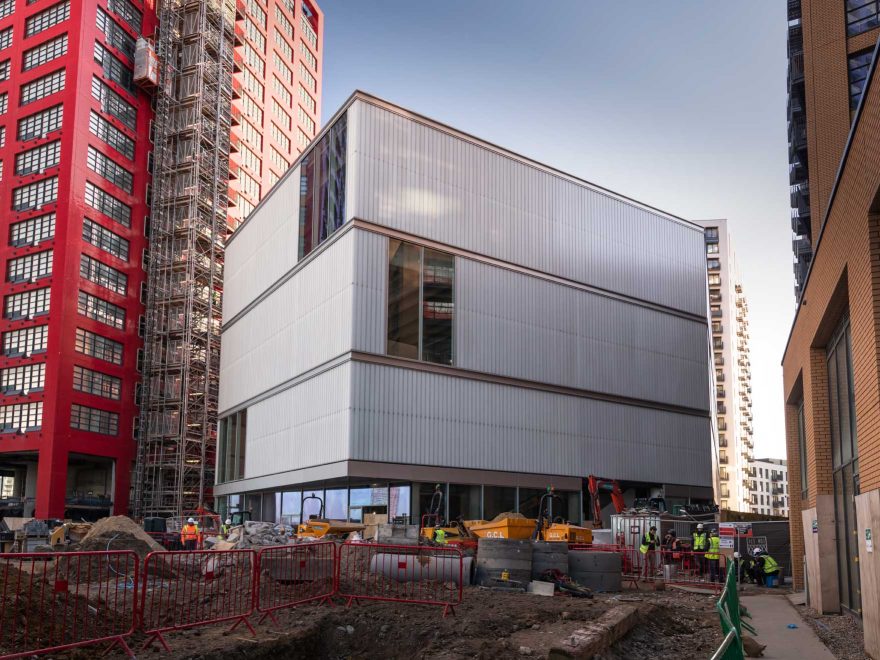 Entrance to the building, seen from Hopewell Square © Michael Molloy
English National Ballet appoints first Medical Director
Continuing our commitment to our dancers' health and well-being, English National Ballet has appointed Andy Reynolds as Medical Director, a new role within the organisation which leads on the provision of science and medicine to all dancers at English National Ballet.
Reynolds joins the Company from Harlequins Rugby Football Club where he was Head of Medical Services and brings with him extensive experience as a medical lead having managed all aspects of medical care for the First XV Premiership team and other squads within the club. His role saw him act as lead diagnostic clinician and manager of a large multidisciplinary team delivering medical and rehabilitation provision.
The Medical Director will work to maximise the benefits of the new premises state-of-the-art fitness and rehabilitation facilities which include a gym, Pilates studio, hydrotherapy pool and treatment rooms, implementing processes and strategies to allow English National Ballet's dancers to prepare, perform, and recover to the best of their abilities.
Tamara Rojo said:
The appointment of a Medical Director is integral to our ambition to establish English National Ballet as a renowned centre for medical, fitness, and injury rehabilitation provision in the dance world. I look forward to welcoming Andy to the team as we strive to further invest in the health and well-being of our dancers in a way that supports their artistic development, so they can reach their full potential as artists.
English National Ballet moves to London City Island in Spring 2019 with English National Ballet School joining ahead of their new academic year starting in September 2019. Find out more here.