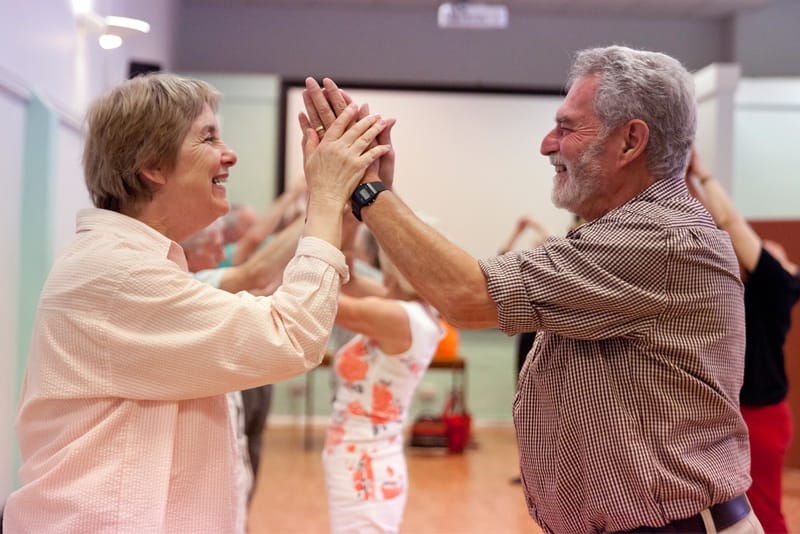 Dance for Parkinson's study results announced
30 Oct 2015
On Tuesday 27 November, English National Ballet and University of Roehampton released findings of a three-year study into the effects of dance on people with Parkinson's.
The research examined English National Ballet's national Dance for Parkinson's programme, which, in collaboration with local hub partners, provide classes in Cardiff (National Dance Company Wales), Ipswich (DanceEast), Liverpool (MDI), London and Oxford (Oxford City Council).
Dr Sara Houston and Ashley McGill MSC collected data to understand more about the physical, psychological, social and emotional changes experienced as a result of participation in English National Ballet Dance for Parkinson's classes.
The results suggest that dance activity:
Helps people with Parkinson's nurture an active lifestyle, not just physically, but also socially.
Is a good and challenging mental workout for people with Parkinson's and allows some participants to cope better with symptoms and disability.
Offers a positive environment where there is a community of support through dance, allowing participants to nurture positive attitudes to the future and a sense of independence.
Is a meaningful activity to participants and is valued highly by them.
Is an activity that encourages a sense of feeling good about themselves, and a feeling of being more capable, despite worsening symptoms.
Helps people with Parkinson's to stay motivated and maintain, or improve, other non-motor aspects of daily life.
It was also evident that:
The dance class was a place to experience freedom and capability in spite of what was happening in participants' daily lives, but which had the potential to expand into everyday life.
Parkinson's Dancers consistently saw trends towards less interference of symptoms on everyday life, whereas the control participants consistently saw trends towards their illness interfering more.
Parkinson's Dancers saw trends towards an improved certainty about future life, (including maintaining social relationships, having hope for the future, continuing to learn new things and developing self-confidence) while the controls saw a trend towards a decreased certainty in the long term.
We can conclude that dancing offers participants a physical activity that is commensurate with other physical activities. Its specialness comes in its ability to offer an activity that resonates deeply on intellectual, social and emotional levels.
The findings of Dance for Parkinson's: An Investigative Study 2 were presented and discussed at a special symposium, which was live streamed in partnership with ArtStreamingTV.
To coincide with the release of those findings, our Dance for Parkinson's programme was featured on BBC Breakfast and on Channel 4 News, where it received fantastic response from across the world, with many describing it as "amazing", "wonderful" and "inspiring".  You can watch the report on the Channel 4 News facebook page.
"Whilst Parkinson's may be closing doors on sufferers physical abilities, dance and Dance for Parkinson's opens the door to new artistic and emotional experiences", says Tamara Rojo, our Artistic Director, who finds that the most important effect of the classes is that "through the intimacy of dancing, the dancer's inherent experience of achieving artistic and emotional expression surpasses the physical limitations imposed by the body."
What next for the programme? "We want to be able to offer more opportunities for people with Parkinson's to dance, to develop and perform their own dances, and to have a range of quality cultural experiences" says Rojo.
To meet our ambitions, we will be raising funds for our Dance for Parkinson's programme on 4 and 5 December during The Big Give. Any gifts received on that weekend via The Big Give website will be matched, so your donations will be worth double. Help us bring Dance for Parkinson's to more people across the UK by donating on 4 and 5 December.