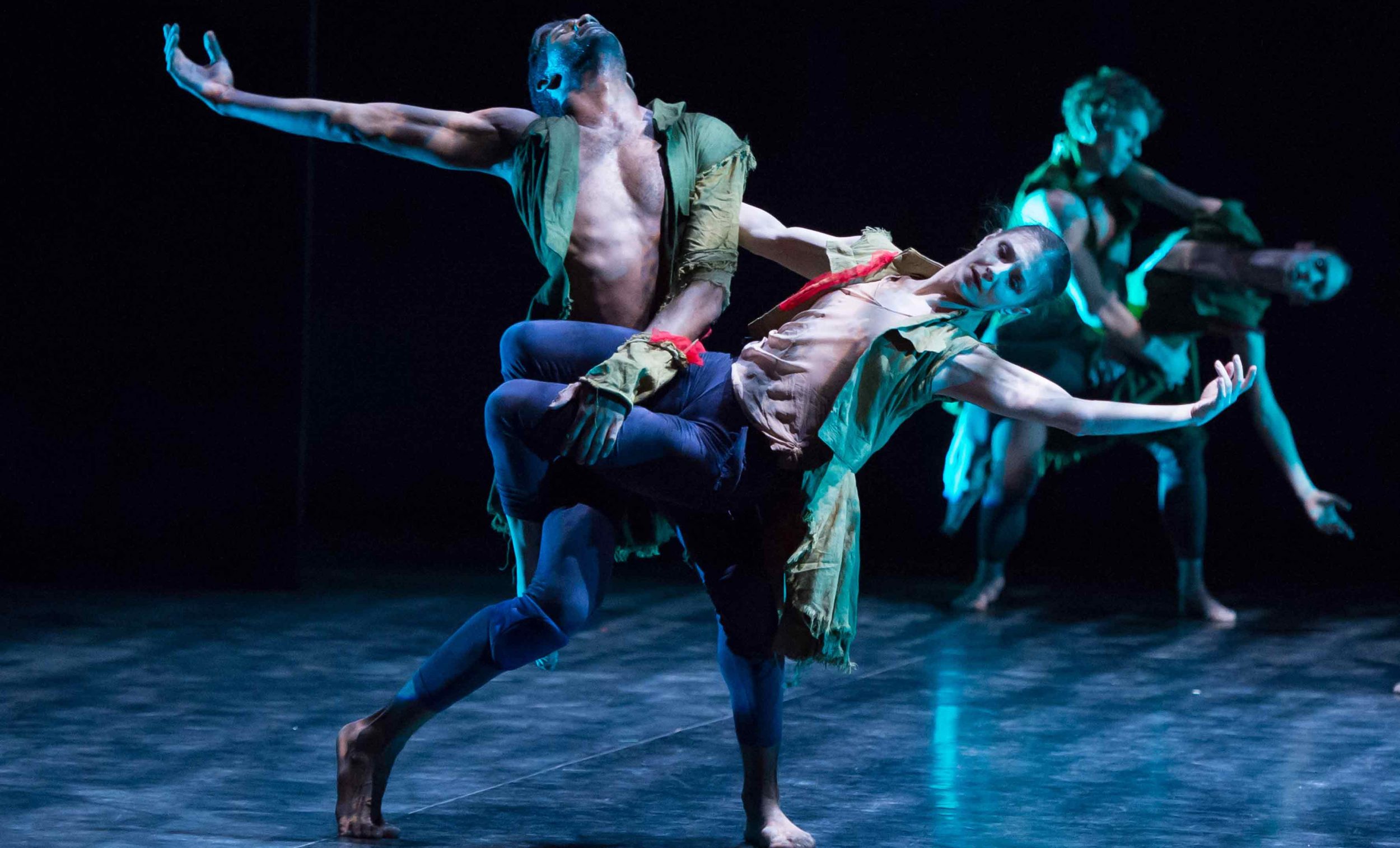 Creating Second Breath: interview with designer Stevie Stewart
30 Jul 2018
Second Breath was created by choreographer Russell Maliphant in 2014, as part of Lest We Forget, our dance programme reflecting on World War I. We met Stevie Stewart, costume designer for Second Breath, to discuss the piece's creation and her inspiration.
What were your inspirations for the costumes?
Both Russell and I began by looking at all the different army uniforms from World War I. Initially we thought about using uniforms from different countries but then decided to create our own army. These consisted of a variety of shades of green, khaki and olive tones for the jackets which were reminiscent of a traditional army uniform but with a modern edge.
What are they made from?
For the leggings I sourced some amazing linen lycra from Ireland and it dyed really well while also having the bonus of lycra for movement. The jackets were made properly but with their hems left to fray. I wanted to show a bullet hole so we made a hole in the jacket sleeve and added ruched fabric, chiffon and georgette, sewed them around the hole/wound to symbolise broken and wounded limbs.
During one of the technical rehearsals one of the dancers was wearing a red knee pad, the colour looked so dramatic in the light that we decided to add red chiffon to our fabric wounds to resemble blood.
What are the main challenges when it comes to designing for dance?
The lighting plays an important part in all of Russell's work which then has an effect on the costumes.
Rather than creating lots of drawings on paper we made sketches with toiles or cut up clothes, created recipes for different dyes and produced samples in the linen lycra fabric. Russell really liked the variety of colours so we decided to use our whole range of colours which we'd created! This gave us the symbolism of different countries.
Original leg shapes had a slight jodhpur feel but we decided on a tighter leg so we could see the lines of the choreography. We wanted to see the waist of the body so as with traditional uniforms had a waisted jacket with pleated back and skirt resulting in a modern frock coat look.
We perform Second Breath as part of Lest We Forget, at Sadler's Wells, London on 20 – 29 Sep 2018.