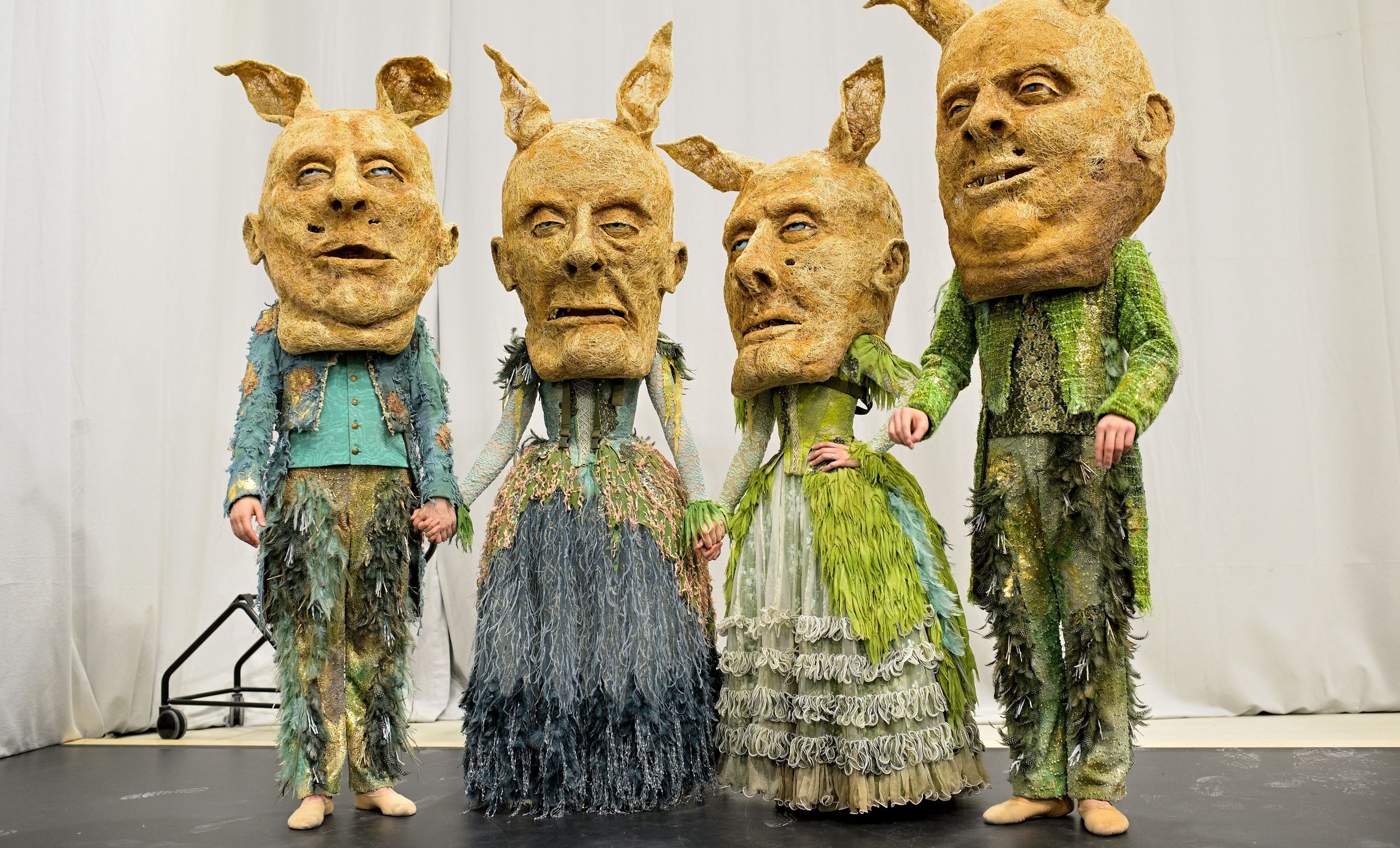 Creating Cinderella's costumes
28 Apr 2019
Our Wardrobe department is making 370 costumes for Cinderella in-the-round at the Royal Albert Hall. Find out more about all the work and craftsmanship that goes into bringing the fairy tale to life.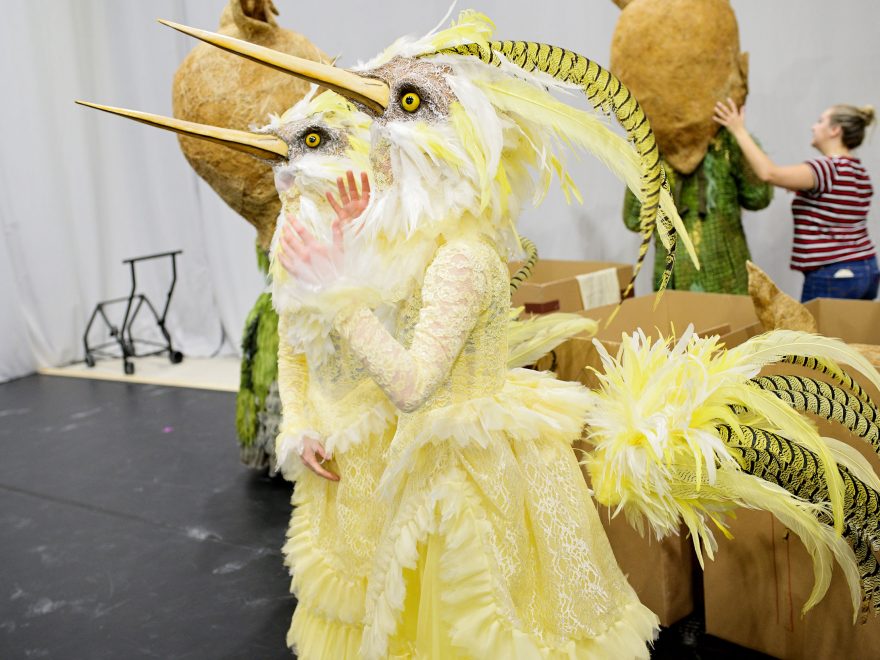 Costume parade: bird ladies of Cinderella © Laurent Liotardo.
Christopher Wheeldon's Cinderella is becoming a grand spectacle fit for the space of the Royal Albert Hall. The team at English National Ballet is working with over 60 costume makers to make costumes that range from outlandish masks to a gorgeous Ball dress, all designed by Julian Crouch.
There are 197 roles in the ballet, split between over 90 dancers (there are over 130 dancers working on the production) who will be using 215 costumes in each performance.
To make things even more challenging for the Cinderella costumiers, our heroine, her prince, the stepsisters and many other roles need up to four costume changes throughout the ballet. In total, 370 costumes will be made from scratch.
As well as this vast number, the range of costumes is varied: in this production, human characters live alongside more fantastical ones, such a bird ladies and dancing conkers!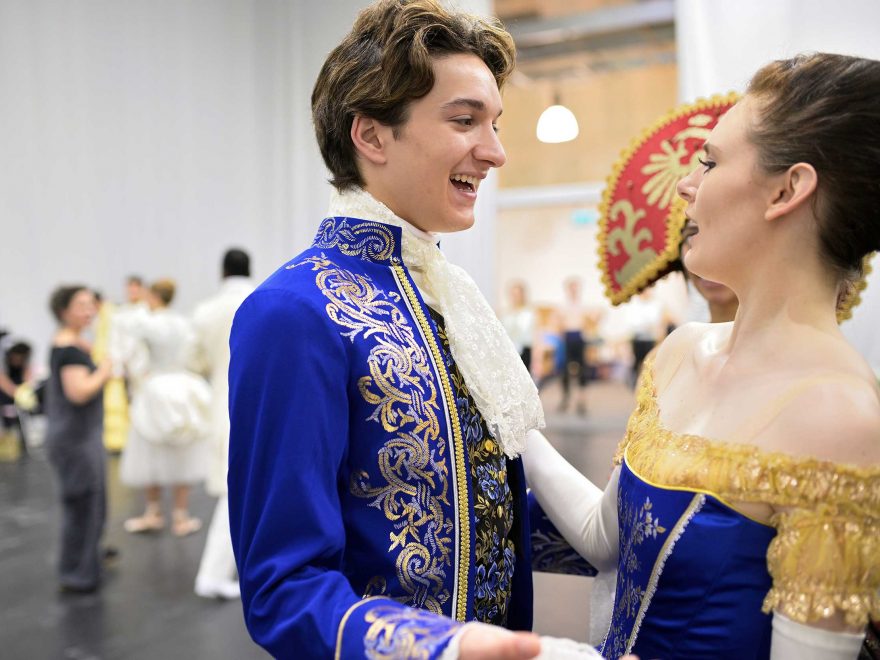 Shale Wagman and Angela Wood in the costumes of Cinderella © Laurent Liotardo.
Each piece of costume is made to fit our dancers, and involves a huge amount of craft.
Look at the details on the beautiful costumes for the Ballroom scene: each of the 24 male dancers wears a waistcoat with hand-painted flowers and a frock coat. It takes Symone Frost, our Dyer/Painter, four hours to paint the fabric for one waistcoat. Multiply that by 24 waistcoats, that represents 12 working days of painting.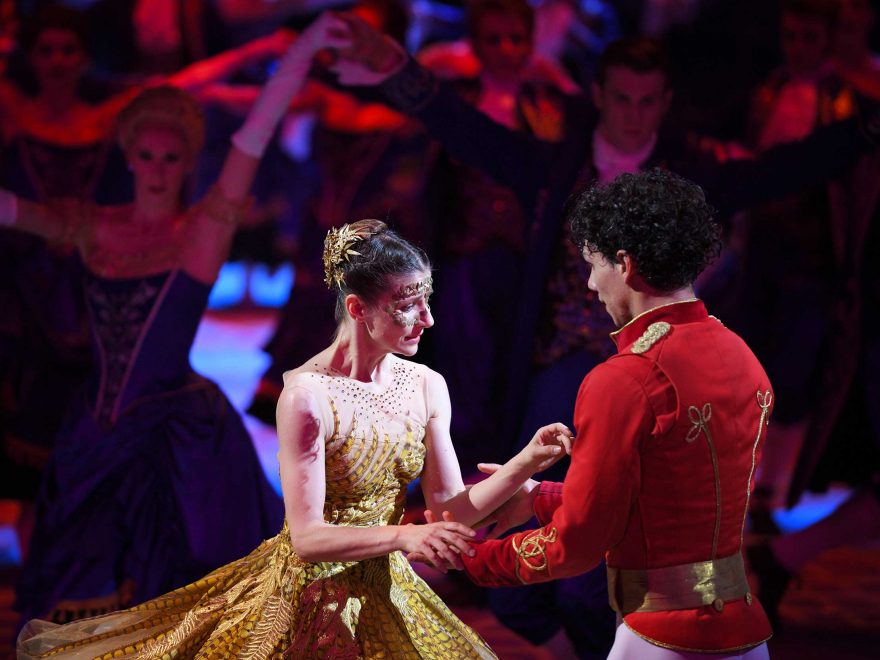 Alina Cojocaru and Isaac Hernandez in Cinderella in-the-round © Laurent Liotardo.
Cinderella's ball dress has three layers of net: two under-layers, one pale green and one pale pink, and a top skirt which is a combination of a sparkly, golden net and a soft net digitally printed with a distinctive feather pattern.
The bodice has a soft, skin tone net base on top of which the feather patterned net is stitched to create an organic, fan shape. An embroidery is then appliqued on top of it, along with more than 200 crystals.
Come and see those costumes in their full glory next month, and have a sneak peek at some photos from our Costume Parade.
Video: Alina Cojocaru and Isaac Hernandez in Christopher Wheeldon's Cinderella in-the-round © Laurent Liotardo.