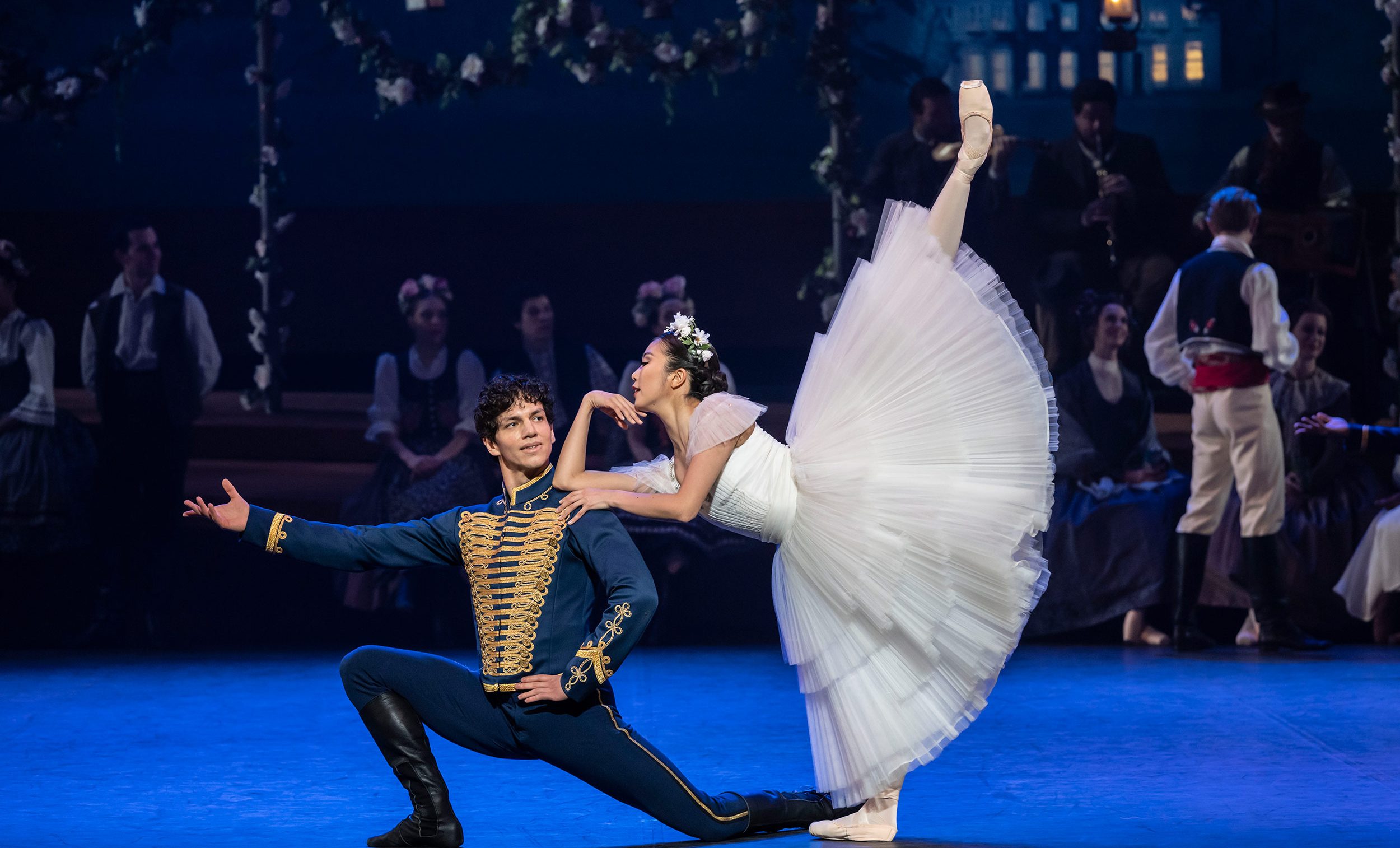 Congratulations to our newly promoted dancers
22 Jan 2022
Shiori Kase is promoted to Lead Principal, and Aitor Arrieta and Emma Hawes are promoted to Principal.
This weekend, a surprise awaited audiences and our dancers after two performances of Raymonda.
On Friday 21 January, Tamara Rojo, Artistic Director of English National Ballet, took to the stage after the performance to announce that Aitor Arrieta and Emma Hawes will be promoted to Principal dancers from next season.
Arrieta and Hawes had just finished performing the roles of John de Bryan and Raymonda.
On Saturday 22 January, it was Shiori Kase's turn to receive a promotion, to Lead Principal dancer, the highest rank in the Company. Earlier in the week, critics had praised Kase's opening night performance. The Daily Telegraph called her "a lovely, lyrical Raymonda, making the characters various dilemmas register subtly but clearly, her footwork strong, her arms so light they seem at times to be floating on air".
Everyone at ENB wishes to congratulate them all on their promotions!
Shiori Kase joined English National Ballet in 2009 and was promoted to Principal in 2016. She has performed in numerous lead roles including Odette/Odile in Swan Lake, Clara/Sugar Plum Fairy in Nutcracker, Medora in Le Corsaire and the title role in Cinderella. She received critical and audience acclaim for her opening night performance in the title role of Raymonda earlier this week. She received English National Ballet's Emerging Dancer Award in 2011.
Since joining English National Ballet in 2016, Aitor Arrieta has been promoted to First Soloist and been the joint winner of 2017's Emerging Dancer Award. He has performed in lead roles including John de Bryan in Raymonda, Albrecht in Akram Khan's Giselle, Nephew/Prince in Nutcracker, Prince Siegfried in Swan Lake, Des Grieux in Manon and Prince Guillaume in Cinderella.
Emma Hawes joined English National Ballet in 2018 and has danced lead roles including Odette/Odile in Swan Lake, Gulnare in Le Corsaire, Clara/Sugar Plum Fairy in Nutcracker and the title roles in Manon and Cinderella.