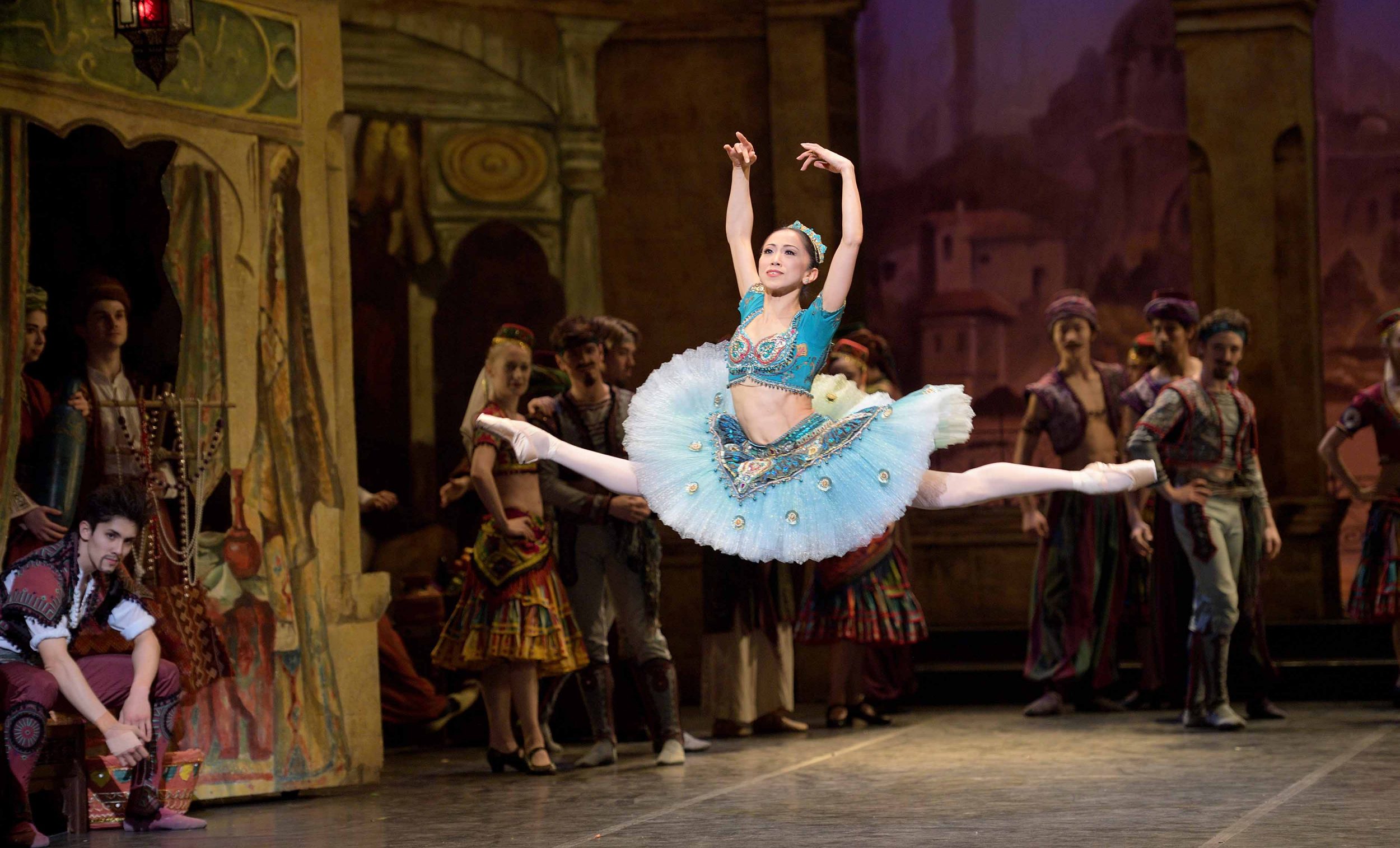 Celebrating Erina Takahashi and her 25 years at ENB
03 Aug 2021
The 2021-22 Season marks Lead Principal Erina Takahashi's 25-year anniversary with English National Ballet – an incredible milestone and achievement worthy of a great ballerina.
Archive images of Erina Takahashi
Erina Takahashi joined English National Ballet in 1996, as a fresh graduate from ENB School. In 2000, she was already promoted to Principal, and then lead Principal Dancer in 2007. Over her 25 years with us, she's danced for The Queen; for thousands on the Pyramid Stage at Glastonbury festival; at the Royal Albert Hall, at the Bolshoi and at Palais Garnier, amongst many other stages around the UK and the world.
"I want to congratulate Erina as we celebrate her 25 years with the Company. During this time, Erina's artistry, generosity, professionalism and complete commitment have been a constant source of inspiration to all at ENB and brought joy to the many thousands who have seen her perform", says our Artistic Director Tamara Rojo.  
"Erina is an integral part of the English National Ballet family; she brings warmth and positivity into the studio every day and myself, the artistic team and her fellow dancers and colleagues are deeply grateful for her dedication and love working with her."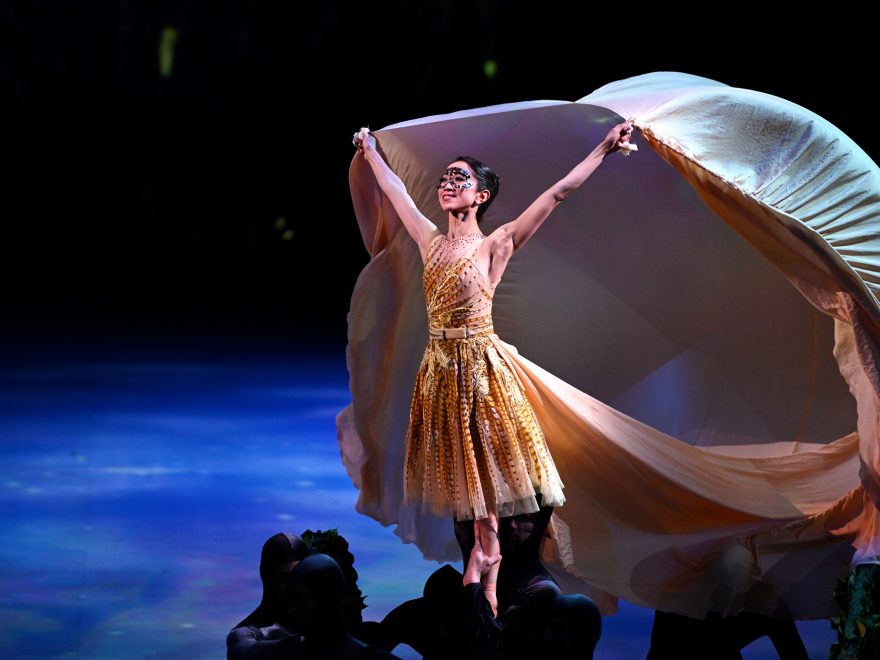 Erina Takahashi in Christopher Wheeldon's Cinderella in-the-round at the Royal Albert Hall © Laurent Liotardo
An inspiration
"She is an inspiration to all youngsters having started at ENB School, worked hard in the Corps de ballet and ascended her way up the ranks to become a Lead Principal", says former Character Artist Jane Haworth, who shared the stage with Erina in countless performances over the years. 
Erina was one of the first graduates of ENB School to join the Company in 1996. 
"Erina went through all the ranks, from ENB School through corps all the way to Lead Principal, to a mother. She is our home-grown ballerina, who still works the hardest. We are so lucky to have someone like her to look up to" says First Artist Jung ah Choi.
"I remember I saw Erina dancing Romeo & Juliet for the first time when I was a student", says Artist of the Company Rentaro Nakaaki. "She did everything so easily and effortlessly, and it taught me that was the standard of ENB. For me she is a legend!" 
First Artist and Associate Choreographer Stina Quagebeur agrees: "She's a true ENB legend. I'm continuously amazed by her talent as an artist, her willpower and her immaculate attention to detail: she sets a precedent in the company."
Junior Soloist Precious Adams adds: "Erina is the epitome of grace, humility and quality. Every time. Every performance. Every day. She inspires me every time I see her dance." 
For First Soloist Ken Saruhashi, she is "professionalism at its finest. Skill, dedication, quality, fighting spirit: you name it!". 
Principal Natascha Mair got to know Erina a year ago when she joined ENB: "from the first day I met her she was inspiring me! Not just as the beautiful ballerina she is, who always works hard and sets an example to all of us, but as a such a kind and humble human being! I feel so lucky to look up to her every day!"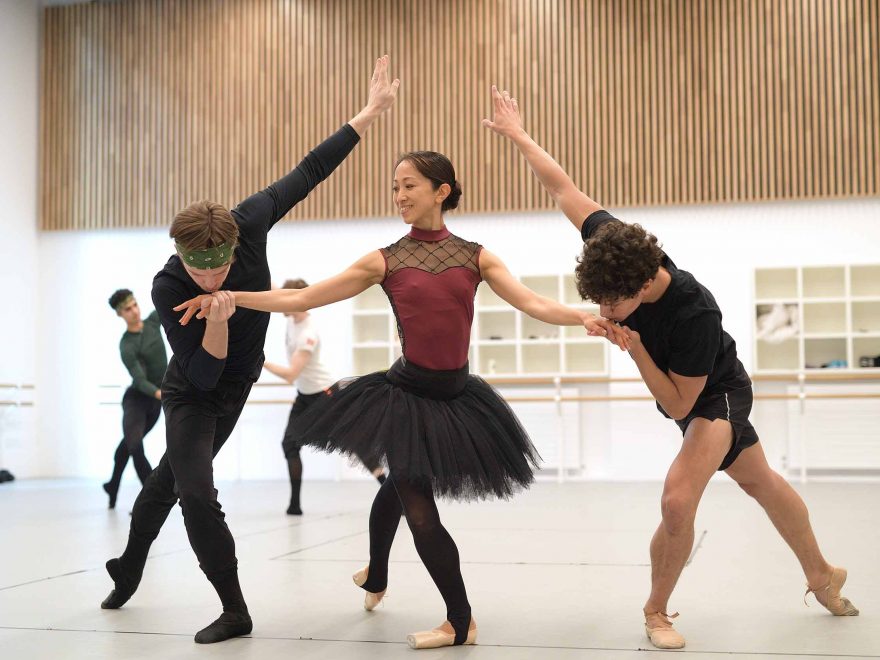 Joseph Caley, Erina Takahashi and Isaac Hernández in rehearsals for Etudes © Laurent Liotardo.
At the heart of our ENB family
Over her 25 years at English National Ballet, Erina has been at the heart of our ENB family.  Everyone we spoke to wanted to talk about her dedication, humility, and generosity. 
"Erina is the hardest working person I've ever met", said Junior Soloist Senri Kou, who is leaving ENB this month after 16 years with us. "She's not just an amazing dancer, she is so caring, kind and perfect mother + ballerina!". 
"Erina has always inspired me beyond words. Her work ethic and generosity of spirit are one of a kind", added First Artist Sarah Kundi. "She's always been willing to help with an abundance of advice to those who look up to her. It has been an absolute pleasure sharing the stage with this extraordinary artist. Such purity and quality in her dancing which I have always admired and loved to watch no matter which role she dances!" 
Artist of the Company Lucinda Strachan remembers: "When I was on a temporary contract with the Company, earlier in my career, Erina was pregnant and therefore not taking on full rehearsals. While I was practising at the back in the studio she came and helped me, coached me and gave me advice both from a ballet point of view and a career perspective. I never forgot her care, attention, and advice!" 
"Whenever I am in the same studio with Erina, I try to absorb as much as I can. I will be forever grateful for her generosity and all the time she dedicated to me in the studio: having Erina coaching me is an experience I will never forget" says Artist of the Company Emilia Cadorin.
Erina Takahashi in Romeo & Juliet © Laurent Liotardo
It is fitting to end this celebration with a few words from her husband, First Soloist James Streeter. They have been married for 10 years and have a son, Archie, who often visits us in the studios or in the wings!
"Erina is a true inspiration in every sense, not only as a dancer but as a mother too. She is one of the most dedicated and hard working people I have met, a perfectionist in all she does and a perfect role model.  Her love and care for others and ENB goes far beyond. ENB is her home from home, her family.
Erina is the love of my life she has given me everything I could have ever dreamed of. I am so proud of her and all she has achieved. From performing privately for the Queen to 50,000 people at Glastonbury to a life long dream of performing at The Palais Garnier.  Erina has had the most incredible career. I feel so honoured to have been by her side to share and celebrate in all her success, I know there will be far more to come."
Congratulations Erina on your incredible 25 years with ENB, and thank you for everything you bring to your colleagues in the studio, and your audiences when you shine on stage.
This year, Erina will star in the world premiere of Creature by Akram Khan, as well as Nutcracker and Tamara Rojo's new version of Raymonda – once more showing the range of her artistry.
 You can watch Erina on Ballet on Demand, in a recording of Le Corsaire and the dance film Laid in Earth.