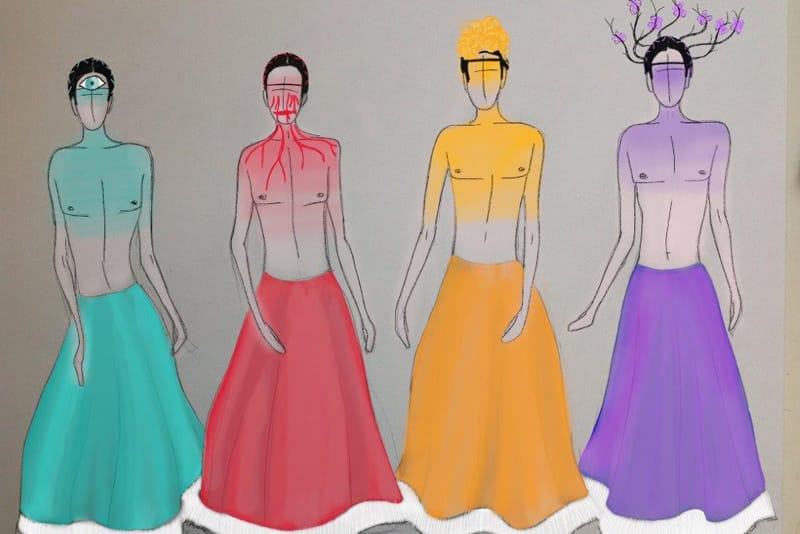 Broken Wings: interview with designer Dieuweke van Reij
20 Jan 2019
On bringing Frida Kahlo's style and paintings to life through costumes.
Dieuweke van Reij is a prolific costume and set designer for opera, dance, theatre, comedy, musical and TV. She was invited by choreographer Annabelle Lopez Ochoa to design her piece on the life and work of iconic artist Frida Kahlo. How did she approach the challenge of bringing Kahlo's paintings to life? We chatted with her by email to find out.
Tell us all about your designs for Annabelle Lopez Ochoa's Broken Wings.
Creating the designs started with thorough research into Frida Kahlo's work, her life and her artistic journey. Together with Annabelle Lopez Ochoa, director Nancy Meckler, composer Peter Salem and lighting designer Vinny Jones, we had a couple of intense meetings, discussing Frida as a character, deciding what parts of her work and life we found inspiring and wanted to include in the piece. What is Frida Kahlo all about, for us? That was the big question.
From that I started designing. The challenge for me was to capture the powerful energy of Frida Kahlo's work without making exact copies of her paintings. Her work is so strong that I felt I had to find a translation of her personality and work for the designs. Trying to copy anything would never be as impressive as her own paintings. I started using elements and colours of her work and mixing them with the story we wanted to tell, the life she led. The final result has become a mixture of iconic Frida Kahlo images, with a big Mexican influence, a hint of time period and a glance of what we think her dreams and imagination were all about.
We've seen design sketches featuring large headdresses, and even body painting. Where did those ideas come from?
Frida Kahlo used a lot of body paint in her work: in her self-portraits there are tears all over her body, or an eye, or even her husband Diego Rivera painted on her forehead. That was the original inspiration.
Then Annabelle showed me the work of Ryan Burke, a photographer and make-up artist who uses very extreme and powerful make-up and headdresses in his work. That inspired me to take this body paint idea further.
In the piece, there are ten men dressed as Frida Kahlo. They represent an enlargement, an extension of Frida herself, all the sides of herself that she feels or longs for. That's why I needed to make a big statement and transform her self-portraits into real, physical pieces of art.
Because they all enter as a group, I chose to have one strong style for all with a variety of details and headdresses. Their torsos will be painted on. Make-up artists from MAC are helping me make it happen: they are amazing to work with, so kind and excited to work on this project. Their expertise is invaluable: they mixed the colours exactly like the fabric colours I chose, and made beautiful samples for me to look at. We really inspire each other and I really feel they became part of the whole show as well.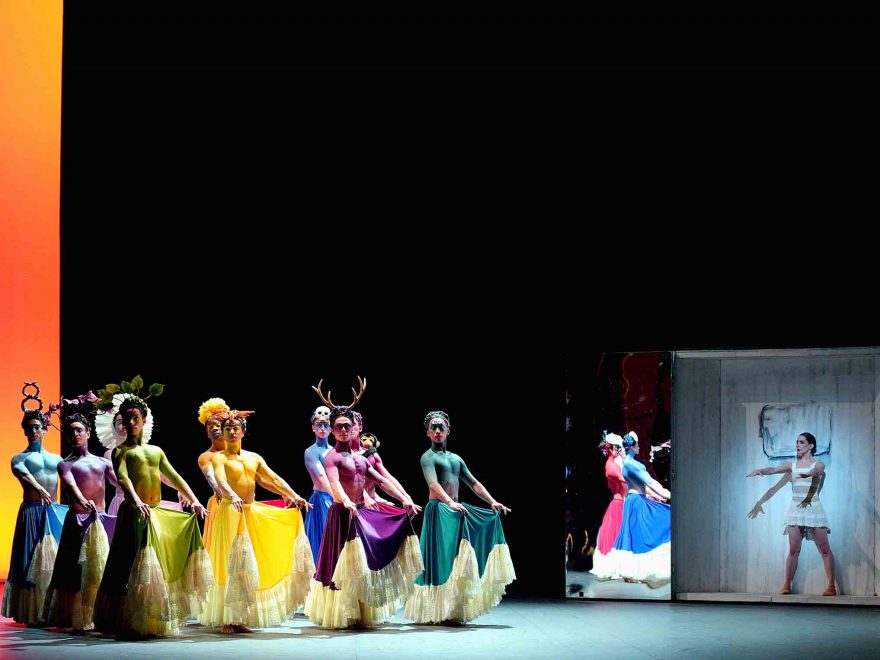 English National Ballet in Annabelle Lopez Ochoa's Broken Wings © Laurent Liotardo.
What about the headdresses?
There are lots of different designs, based on Frida's paintings. I've been lucky that Mark Wheeler has been asked to make the headdresses. He has a great creative mind and really knows how to translate my designs into real pieces of art that are still easy to wear and dance with.
The base for all the pieces are the wigs. I worked with Mark and Amelia Carrington from English National Ballet's wig department to puzzle together all items together into one structure. Some headdresses are just the hair mixed with strips of fabric from the costumes, some have huge forms like antlers or sculls entwined in the hair, sculptured out of really light foam. Others have real feathers or wire in them. It is really a mix of materials that suit the different designs best.
https://www.instagram.com/p/BDixy1VAWas/
You've worked with Annabelle before. Has the process for Broken Wings been the same?
For me all new productions feel like a new journey. Creating the scenography for Annabelle's ballet Les Liaisons Dangereuses was a challenge for me because it was the first time I worked outside of the Netherlands and the first time I worked with Annabelle on a ballet production. Since then we have worked together on pieces at the Nacional Ballet de Cuba and Joffrey Ballet Chicago.
The more you work together the better you get to understand each other's way of thinking and creating, where priorities lie, what the focus should be. I have the feeling our work together grows because of that and I must say that dealing with such a great artist as Frida Kahlo made the whole process more intense this time: there is so much material to use and choose from! Every little detail you find opens a dozen new boxes of inspiration you'd not seen before and you want to absorb it all.
My set design is also a box with many secrets. It starts with a very literal image, to show where we are and what's going on, and throughout the piece it develops to a strong end image that embraces Frida as a celebration of her personality and art.
Rehearsals are under way: is your concept changing as they progress, compared to your original ideas?
I think both Annabelle and me know very well what we want and once the designs have been made we will pretty much stick to them. Of course there is always room for change, I like to keep a clear eye on the bigger picture, on the dramaturgical line we've made. We keep room so we can react to the creative process and the rehearsals: they can create new beautiful ideas that could not have been foreseen before the interaction between Annabelle and the dancers. While working on the realization of the designs many details will be finalized. I'm convinced they will look even better in real than in my imagination: the people at English National Ballet are very skilled and talented and it is a great pleasure to work with so many motivated people to make both set and costumes come to life.
How do you think you will react once you see the final run through?
That will be a day full of extreme emotions! (Laughs) Because the costumes include lots of big headdresses, long skirts, an extreme make-up, there will be a lot to worry about that day. Will it all work, stay in place, move the way I hope it will?
I am looking forward to this day very much. It is the day I can finally see everything I've worked on for over a year together on stage. We will have ironed out the most difficult challenges during all the rehearsals at English National Ballet, so I'm sure I will enjoy the final run to the max!
She Persisted is sponsored by Cunard.